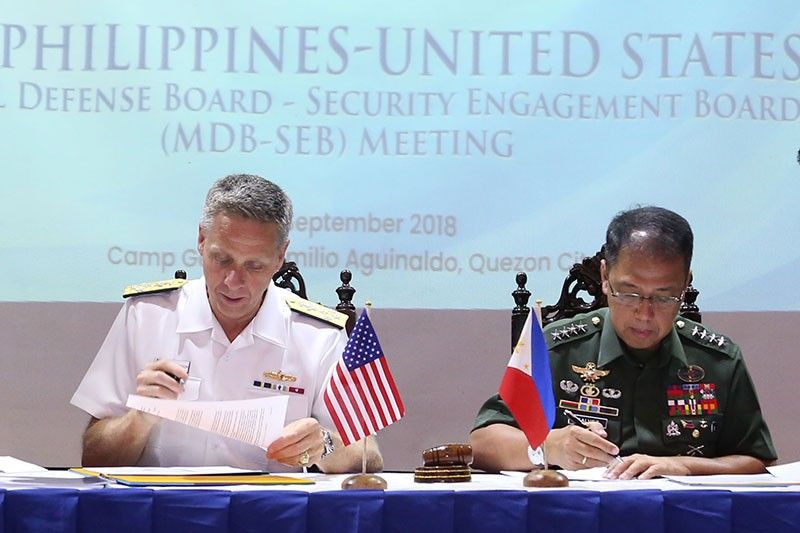 US Navy Admiral Philip Davidson, commander of the U.S. Indo-Pacific Command, and General Carlito Galvez, chief of staff of the Armed Forces of the Philippines, sign agreements on security cooperation activities for 2019 at this year's Mutual Defense Board and Security Engagement Board (MDB-SEB) Meeting on Thursday, 27 September 2018 at Tejeros Hall, AFP Commissioned Officers Club, Camp Aguinaldo, Quezon City.
PAO AFP/SN1 Donald Viluan PN
Philippines, US agree on more joint security activities in 2019
MANILA, Philippines – The militaries of the Philippines and the United States have agreed to conduct 281 security cooperation activities next year, the Armed Forces of the Philippines said.
This is more than the number of joint activities between the two militaries this year, according to the AFP, without mentioning how many activities were done in 2018.
The agreement on more cooperation activities was made as Gen. Carlito Galvez, AFP chief, and US Navy Adm. Philip Davidson, US Indo-Pacific Command commander, concluded the 2018 Mutual Defense Board and Security Engagement Board (MDB-SEB) meeting last Thursday.
"We have been doing this year after year and yet there is still so much left to learn. We hope that this year would be another fruitful interaction that will lead to favorable outcome," Galvez said in a statement.
'Continued, robust relations'
The meeting between Galvez and Davidson resulted in a commitment of continued, robust relations between the Philippine and US militaries, the AFP said in a statement.
The MDB and SEB work together to form a framework for defense and security cooperation between the countries.
Defense Secretary Delfin Lorenzana and US Secretary of State Mike Pompeo have reaffirmed the commitment of the two countries to the 1951 Mutual Defense Treaty (MDT) during the former's recent visit to Washington.
In their meeting, the two top government officials discussed mutual defense and security challenges.
"Secretary Pompeo and Secretary Lorenzana discussed cooperation on addressing regional security challenges, including the militarization of the South China Sea and the threats posed by terrorism and efforts to achieve denuclearization in North Korea," US Department of State spokesperson Heather Nauert said.
The US Secretary of State also conveyed Washington's willingness to extend support to the modernization of the AFP.
Aside from the MDT, Manila has two more standing military agreements with Washington – the Visiting Forces Agreement and the Enhance Defense Cooperation Agreement.
The present relationship between the Philippine and American militaries veer away from President Rodrigo Duterte's previous hostility toward the US.
'Balikatan' exercises
When he first assumed office in 2016, Duterte declared an end to the annual Balikatan joint military exercises between Philippine and US troops.
The joint military exercises in 2017 were toned down and focused on humanitarian and disaster response, contrary to the previous year's drills that included maritime defense drills.
The exercises this year, however, focused on mutual defense and counterterrorism, which also included lessons learned from the Marawi siege.