DENR eyes safer 'Minahang Bayan' sites after Itogon landslide
September 20, 2018 | 10:58am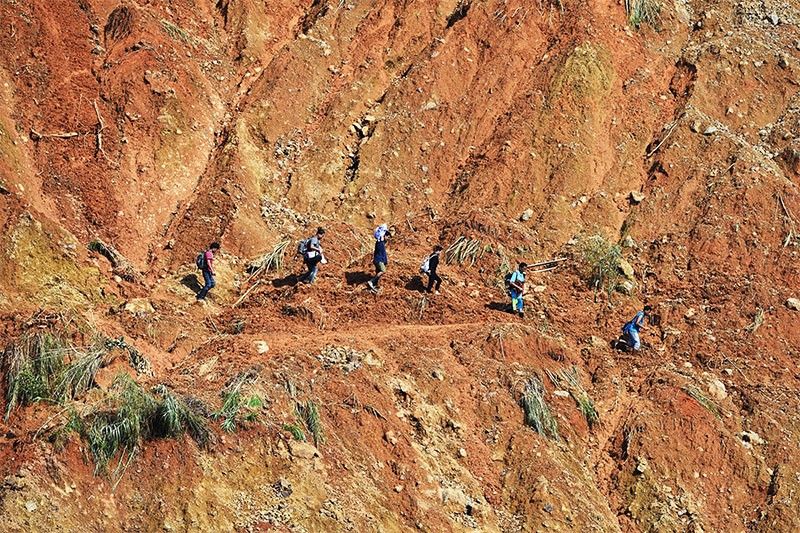 MANILA, Philippines — One of the Department of Environment and Natural Resources' long-term plans following the landslide in Itogon, Benguet is to establish "Minahang Bayan" sites in the area.
Dozens were killed in the massive landslide in the mining town of Itogon, where many are still believed to be buried in mud after Typhoon Ompong barreled through the region over the weekend.
Environment Undersecretary Jonas Leones said the government's long-term plan is to regulate small-scale mining operations in the area.
"Our plan there is, before we allow small-scale mining, we will make sure that we will have a 'Minahang Bayan' area there, where they can concentrate on their small-scale mining operations," Leones told radio dzBB in Filipino.
The DENR had suspended operations of small-scale mining operations in the Cordillera region following the incident in Itogon.
Environment Secretary Roy Cimatu also ordered the Mines and Geosciences Bureau (MGB) to review all applications for "Minahang Bayan" sites across the country to determine their safety against geological hazards.
'Minahang Bayan' to ensure miners' safety
Leones noted that people's small-scale mining areas would ensure the safety of miners, as well as environmental compliance.
"When we say 'Minahang Bayan', this will be the area that they can only operate and then it will be the provincial mining regulatory board consisting of our regional MGB, the regional director and the governor [that will regulate]," Leones said.
According to a 2018 report on the Benguet provincial government's website, mining is a major economic activity in the province that provides employment to around 30 percent of its people. Small-scale mining is also a major source of livelihood in seven of the province's 13 towns.
Itogon, the town where the landslide happened, has 53 small-scale mining associations and nine pending applications for "Minahang Bayan" sites.
Earlier this year, the government blasted five small-scale mining sites as part of a crackdown on illegal mining.
The Cordillera People's Alliance, which has been opposing large-scale and commercial mining in the highlands, said then that the move risked the livelihoods of more than 100,000 small-scale miners in the region.
It also said that the crackdown "increases the opportunities for big mining corporations to encroach on our ancestral domains, expand their destructive operations and monopolize the mining industry."
New policy on mining site rehabilitation
According to Leones, Cimatu also introduced a new policy on the rehabilitation period of mining sites.
"The DENR policy, under Secretary Cimatu, is that there should be progressive rehabilitation. This means they will not be allowed to expand their operation until they have not rehabilitated the distorted portion," Leones said.
The policy orders mining companies to simultaneously conduct rehabilitation while operating in mining sites.
As for the agency's short-term goals, the DENR is currently working with other government agencies, including the Department of Social Welfare and Development, Department of the Interior and Local Government and Department of Labor and Employment to assist the victims who have lost their livelihood. — Patricia Lourdes Viray
Related video: