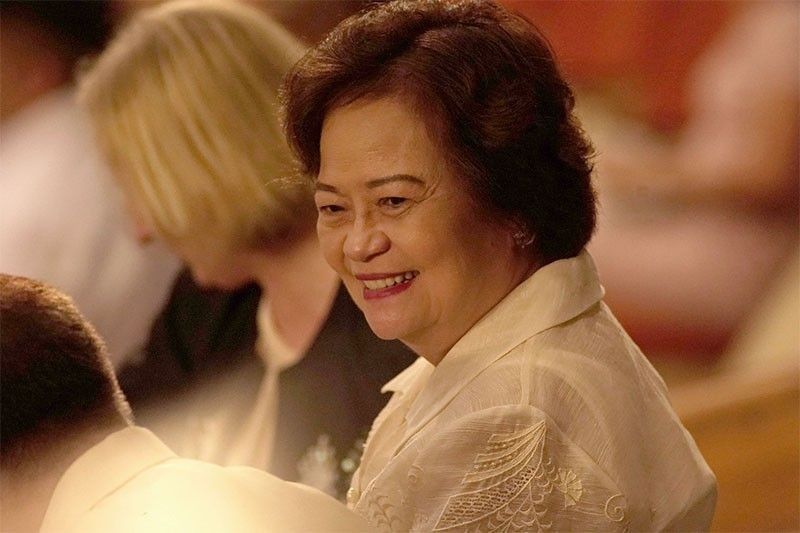 Associate Justice Teresita De Castro was in the news in recent months for trading barbs with ousted Chief Justice Maria Lourdes Sereno during the oral arguments over the quo warranto petition and even in public speeches.
Philstar.com/AJ Bolando
De Castro appointed CJ due to seniority, Palace stresses
(Philstar.com) - August 26, 2018 - 1:11pm
MANILA, Philippines— Teresita Leonardo-De Castro's appointment as chief justice of the Supreme Court is not a reward for helping oust Maria Lourdes Sereno, Malacañang said Sunday.
Presidential spokesperson Harry Roque said insinuating that De Castro's appointment was a reward for her testifying against Sereno at the House of Representatives or for voting in favor of a quo warranto petition questiong her tenure as chief justice is not helpful.
"PRRD (President Rodrigo Duterte) upheld judicial professionalism by appointing the most senior of aspirants," Roque said in a statement.
Presidential spokesman Harry Roque denies appointment of Chief Justice de Castro a reward: "Wala pong saysay yan. PRRD upheld judicial professionalism by appointing most senior of aspirants."| @alexisbromero

— Philstar.com (@PhilstarNews) August 26, 2018
Roque was reacting to Rep. Gary Alejano's (Magdalo party-list) claim that De Castro was only rewarded for "spearheading the ouster of predecessor Maria Lourdes Sereno."
Sereno was ousted in May after the Supreme Court decided in favor of a petition questioning the validity of her appointment as chief justice.
READ: SC votes to oust Sereno
De Castro retires in October
"Barely a month and three weeks [after], De Castro was appointed CJ of SC. She was rewarded by spearheading the ouster of Sereno," Alejano, a vocal critic of the Duterte administration and a potential candidate for the Senate, said in a social media post.
"She would retire in less than two months with a pabaon (parting gift) of a chief justice. This is a clear case of bayad-utang, walang delikadesa at garapalan sa gobyerno, (pay back, lack of decency, and shamelessness in government,) he added.
Another opposition lawmaker, Rep. Antonio Tino (ACT Teachers Party-list) also questioned Duterte's decision to appoint De Castro, who reaches retirement age in October.
"President Duterte's decision to appoint a nominee who is set to retire in two months suggests that he's motivated by short-term political interests rather than any intention to strengthen the credibility and independence of the Supreme Court," Tinio said.
Rep. Edcel Lagman (Albay) likewise said De Castro's appointment has something to do with the Sereno ouster.
Lagman slammed De Castro for "betraying the public" when she did not inhibit herself from the quo warranto petition against Sereno.
"De Castro should have seriously considered declining her nomination and refusing her impending appointment as chief justice of the Supreme Court considering the seriousness of the impeachment complaint against her for culpable violation of the Constitution and betrayal of public trust," Lagman said in a statement.
"With the very short period of her incumbency, it is humanly impossible for her to accomplish wonders or anything of substance in the Supreme Court," he said.
'De Castro appointment may benefit Marcoses'
Rep. Sarah Elago (Kabataan Party-list) also believed De Castro's appointment is intended for the benefit of the Duterte administration.
"For sure, De Castro's very short term will serve the interests of the Duterte regime, as well as its current powerful allies – Arroyo, who has just gone back to power as House Speaker, and [Bongbong] Marcos, who is desperate to expedite the recount for the vice presidential votes and has Duterte's support and trust," Elago said.
Machris Cabreros, president of opposition group and Liberal Party ally Akbayan, said that De Castro's appointment could also favor the Marcos family. He cited that De Castro previously voted in favor of the hero's burial for late Ferdinand Marcos Sr.
"Her next mission could be putting the Marcoses back in power by favoring Bongbong Marcos' sham electoral protest," Cabreros said.
'Appointment upholds tradition of seniority'
Rep. Rudy Fariñas (Ilocos Norte), former House majority leader, meanwhile sided with the Palace and praised the president for "upholding the tradition of senority in the Supreme Court."
According to Fariñas, De Castro "has a sterling record of service in the Judiciary" so he is saddened by those who opposed her appointment.
"It's sad that a few people are denigrating such hallowed tradition by ridiculing the short tenure of CJ De Castro. The JBC gave her and Justice Peralta a uninamous vote of 6 in endorsing them to the president," the solon said.
"I guess that if Justice Carpio did not decline his nomination, he would have been Chief Justice now. But he has until October 26, 2019 [in the Supreme Court]. When CJ De Castro retires on October 8, [2018,] the president might also carry on the tradition," he added.
On August 23, opposition lawmakers of the House of Representatives filed impeachment complaints against seven of justices, including De Castro.
RELATED: Impeachment raps filed vs 7 SC justices De Castro eyed as next CJ?
De Castro accepted her nomination to the high court's chief justice post last month. She has previously been reported for trading barbs with ousted Sereno during the oral arguments over the quo warranto petition and even in public speeches. —Rosette Adel