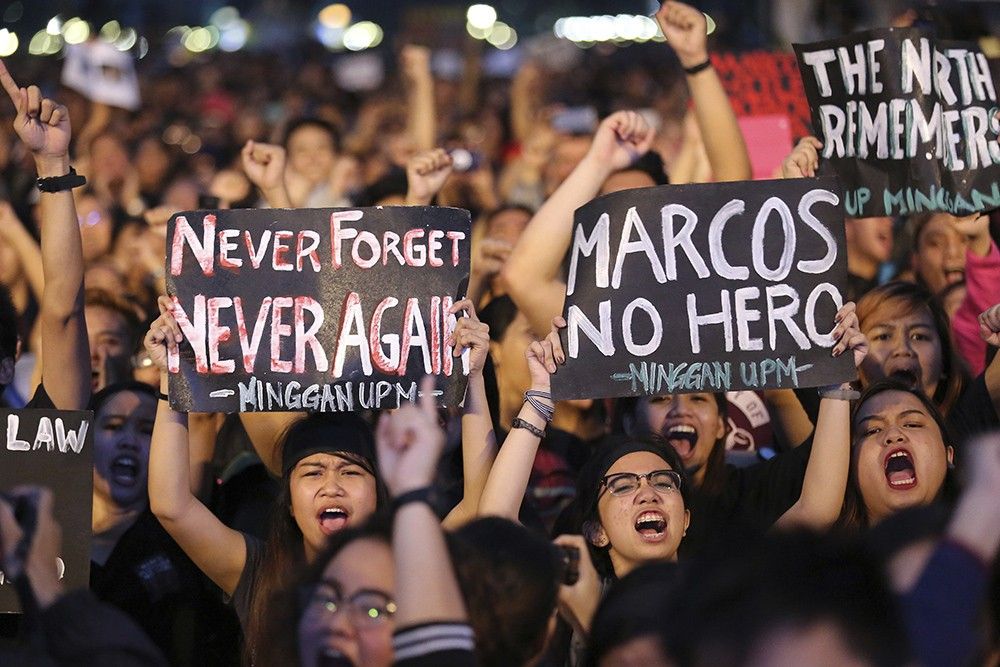 Students shout slogans during a rally at the Rizal Park, Friday, Nov. 25, 2016 in Manila, Philippines. Thousands of Filipinos, including more than a dozen nude students, protested Friday against the hasty burial of Philippine dictator Ferdinand Marcos in a heroes' cemetery, in a growing political storm that's lashing the president who allowed the entombment.
AP/Aaron Favila, file
Youth groups to Marcos: We haven't moved on
MANILA, Philippines (Updated 11:52 p.m.) — They may not have been alive during the Marcos dictatorship, but millennials still contend with the consequences of his authoritarian rule.
Youth groups stressed this point Wednesday in response to a statement by Ilocos Norte Gov. Imee Marcos, a prospective administration candidate for senator, that Filipinos who continue to criticize the Marcoses should move on.
"The millennials have moved on and, I think, people at my age should move on as well," the dictator's daughter was quoted as saying as the nation commemorated the 35th death anniversary of former Sen. Benigno "Ninoy" Aquino Jr., among her father's most vocal critics.
"The conflict between the Marcoses and Aquino happened a long time ago. We don't need to keep hating people for a very long time. It's not our way. We just need to go forward," Marcos said.
Marcos policies still in place
But youth groups Samahan ng Progresibong Kabataan (SPARK), Anakbayan and Akbayan Youth said policies put in place during the Marcos regime still remain.
"Every day, the Filipino masses suffer from labor export, contractualization, political killings and outright murder that ravaged the country under Marcos," Anakbayan spokesperson Vince Simon told Philstar.com in an online exchange.
"Foreign domination, the corruption, elite rule, landlessness, absence of basic industries, and the economic deprivation and their accumulated and enduring consequences during the Marcos dictatorship continue to afflict Filipinos today," he also said.
SPARK added that policies like the Education Act of 1982, which activist groups said have led to the commercialization of education, still affects Filipino youth.
"There is no moving on until justice has been served. There is also no moving on in that we will never forget the damage martial law has done," SPARK said.
Akbayan Youth chair JC Tejano said millennials have not moved on because they know about the wrongdoings of the Marcoses.
"Alam naming may dugo ang mga kamay mo, pati na ng kapatid mong si Bongbong. Alam naming tagapangulo ka ng Kabataang Barangay noong panahon ng martial law, at si Bongbong naman ay tagapangulo ng kurap na Philcomsat. Alam naming sangkot ka sa pagpatay kay Archimedes Trajano at nahatulan ka na sa korte dahil dito," Tejano said.
In 1977, the 21-year-old Trajano questioned why Imee was appointed Kabataang Barangay chair.
Days later, his bloodied body was found on the streets of Manila. According to witnesses, Trajano was forcibly taken by Marcos' guards from the university forum.
The Akbayan Youth chair vowed that they would thwart any attempt of the Marcoses to return to Malacañang.
'Best president ever'
Loyalists believe Marcos was the best president the Philippines ever had for allegedly building a slew of infrastructure still used today.
Records from the World Bank and the International Monetary Fund show that most of Marcos' infrastructure projects were funded by loans, which hiked the country's foreign deficit from $360 million when Marcos came into power in 1962 to around $28.3 billion when he stepped down in 1986.
According to expert estimates, it will take the country up to 2025 to fully pay the debt, almost 40 years after the EDSA People Power Revolution.
The two-decade rule of Marcos was also marred by killings, human rights abuses, disappearances and media repression, which the Marcos family has not acknowledged.
Amnesty International estimated that 70,000 people were imprisoned, 34,000 were tortured and 3,240 were killed during martial law.
Loyalists dispute the reports of abuse as propaganda but a government board has paid out reparations to victims of human rights violations under the Marcos administration.
The reparations were funded by money recovered from a Marcos account that a Swiss court transferred to the Philippine government. The Supreme Court has already ruled that the money was ill-gotten.
"Imee Marcos might fancy that her family commands the respect and adulation of those like us who have never seen the depravity and violence of martial law, but the Marcosian fancy of absolute control remains a dream of a detached life," Anakbayan's Simon said.
"She seems to have forgotten how the youth mobilized against the late dictator Ferdinand Marcos' burial at the Libingan ng mga Bayani and how different youth organizations are involved in making people remember atrocities that happened during martial rule and how it is still affecting our lives," SPARK also said.
READ: NewsLab's special reports on the myths that made Marcos
'Marcos-Duterte alliance'
The Marcoses' wish for Filipinos to "move on" is absurd, Simon said, when the family has aligned themselves with President Rodrigo Duterte and Speaker Gloria Macapagal-Arroyo—"perhaps the worst thieves and murderers in Filipino history."
"The criminality and despotism of the Marcoses can only be further exposed with such a political alliance," the Anakbayan spokesperson said.
SPARK, for its part, said Duterte's leadership is reminiscent of Marcos'.
"We now live in a time where there is blatant disregard of human rights that is directly enabled by the president, opposition are tagged as enemies of the state and we are incurring large amounts of foreign debt under the infamous 'Build, Build, Build' program," it said.
Various rights groups stressed that the Philippines under Duterte is in its worst human rights landscape since the dictatorship of Marcos as thousands—mostly urban poor dwellers—have been killed in the brutal campaign against illegal drugs in so short a period.
Duterte has been identified as friendly to the Marcoses.
Last week, Duterte said that should he step down from his post, the late strongman's only son, Ferdinand "Bongbong" Marcos Jr., would be one of his preferred successors instead of Vice President Leni Robredo.
Marcos is in the middle of an electoral protest against Robredo, whom he has accused of cheating in 2016.
Duterte also allowed the burial of dictator Ferdinand Marcos at the Libingan ng mga Bayani.
READ: Duterte's preferred successor: Someone like Bongbong, Chiz
'Apologize before we move on'
The College Editors Guild of the Philippines, meanwhile, said it would continuously remind Imee and her family of the many youth martyrs like Liliosa Hilao, Lorena Barros and Eman Lacaba who were killed for standing up against the dictatorship.
"The Guild will never move on from the then US-Marcos regime's attempt to stifle the militancy of the campus press and the Filipino youth by closing all student newspapers and banning CEGP for fearlessly exposing the ills of Philippine society," it said
Sen. Francis Pangilinan, Liberal Party president and a student leader during the Marcos years, said the Marcoses should express remorse for the abuses and atrocities committed to tens of thousands of Filipinos under martial law.
"The Marcos family should stop using this same unexplained wealth to lie and rewrite history. When these happen, then we can all talk about and consider moving on," Pangilinan said.
He added: "Apologize and express remorse first before we talk about moving on."
The family remains unapologetic.