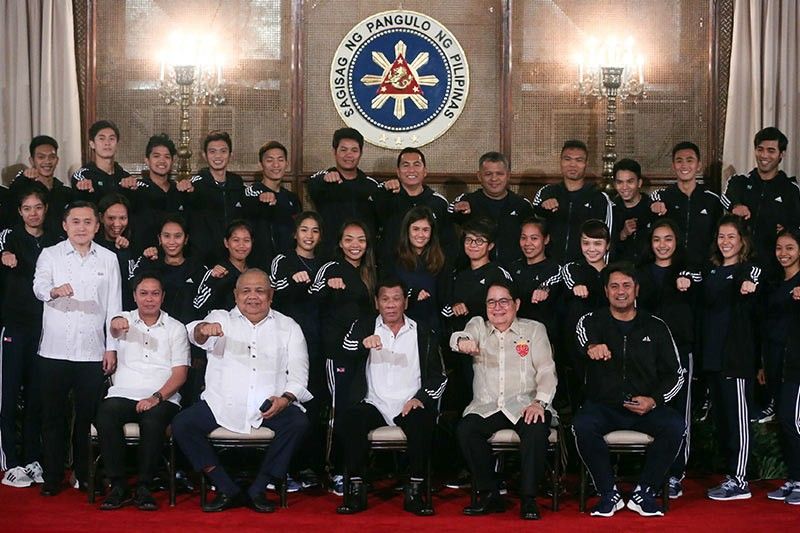 Ormoc City Mayor Richard Gomez, Philippine Chef de Mission to the 18th Asian Games, hands over the official tracksuit to President Rodrigo Duterte during the sendoff ceremony of delegates at the Malacañan Palace on Monday, Aug. 13, 2018. (L-R) with Philippine Sports Commission Charles Maxey, Executive Secretary Salvador Medialdea, and Philippine Olympic Committee President Victorico Ricky Vargas.
The STAR/KJ Rosales
Duterte wishes Asian Games delegates good luck
(Philstar.com) - August 13, 2018 - 7:42pm
MANILA, Philippines — President Rodrigo Duterte wished the Philippine delegates to the 18th Asian Games good luck and urged them to do their best while playing "fair and square."
Duterte said only a few Filipinos have been gifted with the ability and given the opportunity to be part of something big such as representing the country in an athletic competition.
"All you got here is proof of your commitment and dedication to your respective sports and the sacrifices you went through just to become part of this national team. Your presence here is a testament to the indomitable Filipino spirit," the president said during the send-off ceremony in honor of the Philippines' Asian Games contingent in Malacañan.
"As I send off these men and women into the Asian Games, remember that you do not only compete for yourselves, but also carry with you the pride of your families, your community and the entire Filipino nation. I join the Filipino people in wishing you all the best as you hold the values of integrity, resilience and also sportsmanship in your pursuit of the gold," he added.
Duterte said the Philippine Olympic Committee and its partners have done their part in ensuring the success of the Philippine contingent.
"All I ask from you is that you do your best and that you do it fair and square," he said.
"In return, trust that we in government will continue to support the development of our athletes and intensify our commitment towards sports excellence, global competitiveness and the greater glory of your country, the Philippines."
Dutetre reminded the athletes that every victory they bring back home is shared by the entire nation.
"We pray for your well being and hope for your successful trip and also a safe return to the country. I wish you the best luck at mabuhay ang atletang Pilipino," the president said.
A total of 272 Filipino athletes will be competing in 35 categories during this year's Asian Games in Indonesia. — Alexis Romero