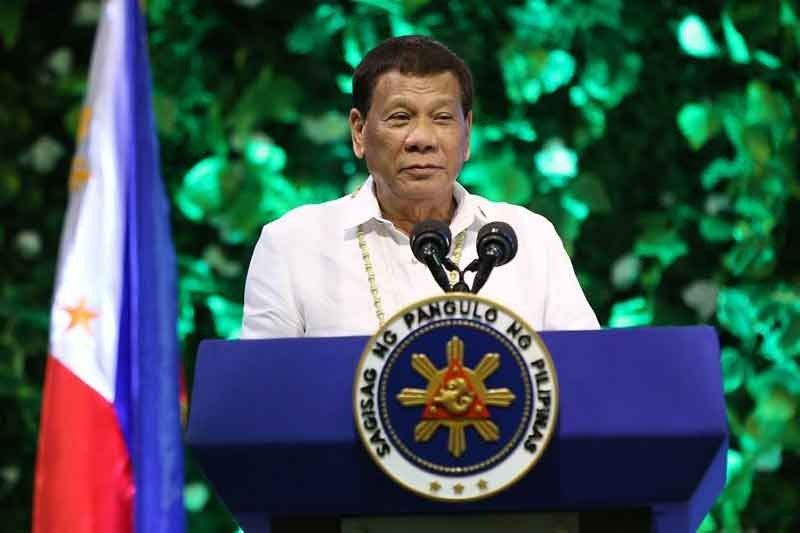 Duterte said nothing good would happen in the Philippines if he does not impose measures against scalawags in uniform.
Presidential Photo
Duterte to criminal cops: 'I'll neutralize or terminate you'
MANILA, Philippines — President Duterte has threatened to "terminate" policemen involved in illegal activities as he blamed human rights advocates for the criminals' alleged loss of fear of punishment imposed by the law.
Duterte said nothing good would happen in the Philippines if he does not impose measures against scalawags in uniform.
"I promised you that – including uniformed personnel – do not be involved in illegal drugs and murder-for-hire...ipa-project ko rin kayo (I will launch operations on you). You can be very sure there will be a project for you and really that is to neutralize or terminate you," the President said during the anniversary of the National Security Council and National Intelligence Coordinating Agency in Pasay City Tuesday night.
"If I don't do it, nothing good will happen to our nation at this time when we are all bombarded with drugs. Nobody seems to obey the law. You know why it's happening now? The fear of the sanction of the law is gone. Why? Because of human rights," he added.
Duterte said only a few buy-bust operations were conducted during previous administrations. He claimed the seriousness of the drug problem was only uncovered when he became president.
"I demanded that all records be opened to me, I saw on the television Filipinos queueing by the thousands everyday. All contaminated, all sickly, all rendered inutile because of drugs," he said.
Duterte claimed that the drug problem deteriorated because policemen were afraid of facing charges related to human rights violations. He said he provided legal protection to policemen and soldiers when he was mayor of Davao City.
"I said for as long as I'm mayor, you will not go to jail. Provided you do your duty in accordance with law," he said.
Duterte's war on illegal drugs has left more than 4,000 dead since it was launched two years ago.
Human rights advocates claimed the crackdown encourages extrajudicial killings and other abusive practices but officials deny this, insisting that law enforcers only use violence if their lives are in danger.
Philippine National Police (PNP) chief Director General Oscar Albayalde yesterday warned erring policemen to change their evil ways or face punishment similar to the government's "relentless and chilling" war on illegal drugs.
"Just as we are relentless and chilling in our war on drugs, we will also be relentless, resolute and chilling in our internal cleansing program," he said in a speech at the National Capital Region Police Office (NCRPO) in Taguig City.
Albayalde said they are monitoring around 1,000 police officers with alleged involvement in illegal activities.
On Tuesday, operatives from the PNP Counter-Intelligence Task Force (CITF) arrested three Valenzuela City police officers for extortion activities victimizing junk shop owners.
The suspects – Senior Police Officer 4 Serafin Adante, and Police Officers 1 Ryan Paul Antimaro and Rey Harvey Florano – were arrested along with a civilian accomplice in an entrapment operation in Barangay Ugong.
The same day, a policeman was killed and three lawmen were arrested in Taguig City for their alleged kidnapping operations.
Albayalde could not explain why there are still police scalawags despite the higher salaries and benefits they have been receiving from the Duterte administration.
President Duterte has doubled the salaries of PNP officers and personnel, which was among his promises during the campaign. However, several policemen have been arrested for illegal drugs, extortion, kidnapping and other crimes.
Albayalde could not hide his anger when he confronted at the NCRPO the three policemen from Taguig accused of kidnapping, as he berated them for besmirching the police organization because of their illegal activities.
Albayalde said their internal cleansing will not only be punitive but restorative where they will conduct seminars on values formation.
Motorcycle criminals
This developed as the PNP also launched a campaign against crimes committed by motorcycle riding suspects.
Albayalde led the ceremonial signing of pledge of commitment and tagging of Clean Rider stickers on motorcycles owned by legitimate riders belonging to various motorcycle organizations from Metro Manila that was held at the Quirino Grandstand in Rizal Park, Manila.
He said the Clean Rider stickers have a secured quick response code or Qr code to detect fake stickers.
Policemen verifying the records of a certain motorcycle could scan the Clean Rider stickers using their smart phones that are fitted with Qr code scanner applications.
"This campaign aims to muster greater citizen participation in crime prevention by way of eradicating the rampant crimes perpetrated by motorcycle-riding suspects. We are enthused with same passion at heart, and united in the spirit of volunteerism and civic engagement," Albayalde added.
There are some 4,133,305 registered motorcycles nationwide, with 823,462 registered motorcycles in Metro Manila, followed by Region 4A-Calabarzon with 497,290 and Region 7 Central Visayas with 436,255 motorcycles.
Albayalde noted that the Clean Rider campaign was launched to address crimes perpetrated by motorcycle riding suspects targeting high-profile victims such as priests and elected government officials that had challenged the PNP.
"This is also an opportune time to steer effectively the culture of well-disciplined and responsible marshals of the road, as we mainly underscore the massive move to eliminate crimes perpetrated by these motorcycle-riding suspects," Albayalde said.
The PNP Directorate for Operations said Clean Riders are qualified to be force multipliers of the city police offices/city police stations and municipal police stations who will help assist tourists and other riders.
Albayalde said Clean Riders are also entitled to assist the police in conducting motorcycle patrols in their respective areas of responsibility.
"I reiterate that the PNP alone cannot ensure sustained peace and order without the support of our community. Despite our success, we should do more to make sure that stable peace and order should be directly felt and experienced by all Filipinos," he said.
Meanwhile, the NCRPO claimed yesterday that crimes committed by motorcycle-riding criminals in Metro Manila decreased by more than 39 percent during the first half of the year.
Officials said the PNP recorded 355 crimes from January to July 2018, which is 39.11 percent lower compared to 583 incidents during the same period last year. – With Emmanuel Tupas, Cecille Suerte Felipe, Marc Jayson Cayabyab