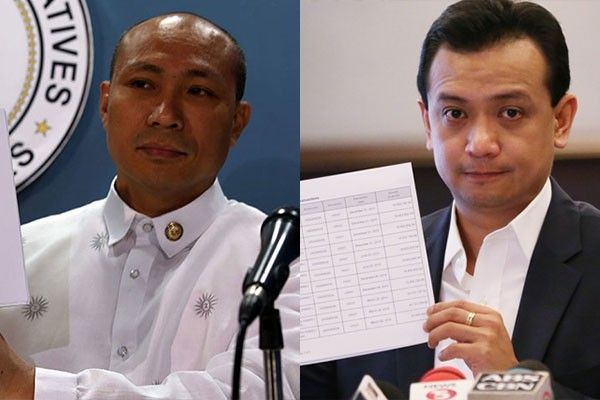 The Magdalo party-list, represented by Gary Alejano (left) in the House and Antonio Trillanes IV in the Senate (right), is celebrating its 15th anniversary just days after the woman it tried to topple, Gloria Macapagal-Arroyo, was elected speaker of the House.
File
Magdalo celebrates 15th anniversary, after Arroyo, which it tried to depose, was elected speaker
MANILA, Philippines — The party-list organization which was an offshoot of a group of junior military officers who tried to topple a Philippine president is celebrating its 15th anniversary with the leader it battled then back in power.
Both Sen. Antonio Trillanes IV and Rep. Gary Alejano praised the achievements of the Magdalo party-list in its 15 years of existence, as well as reiterated their group's opposition to many of the major policies of President Rodrigo Duterte.
However, 15 years since it tried to topple a government, the woman it tried to depose in 2003 through a military uprising is back in power after Gloria Macapagal-Arroyo was elected speaker on Monday.
Trillanes was a navy lieutenant senior grade when he led the group of 200 rogue military officers and men to occupy Glorietta complex and the Oakwood Hotel in Makati City in 2003.
Trillanes and Alejano said that their group stood up against corruption in the government and the military gripping the nation during Arroyo's time.
The senator also pledged that their group would continue fighting the problems that led them to rise against Arroyo and which supposedly resurfaced under Duterte.
"Fifteen years ago today, we stood up to oppose corruption that gripped our nation. Today, we honor the sacrifices each of us made for this country," Trillanes said.
The irony of Magdalo's 15 anniversary celebration and Arroyo's rise to power was not lost on Alejano, currently the group's representative in the House of Representatives.
"It seems to be an unfortunate coincidence that on the 15th year anniversary of Magdalo, Gloria Macapagal-Arroyo is back at the helm of power as Speaker of the House of Representatives," he said.
On July 27, 2003, around 200 rogue military officers, who were from the Philippine Military classes of 1995 to 2001 led by Trillanes, took over the Glorietta shopping center and demanded the resignation of then-President Arroyo.
From the shopping center, they immediately occupied the Oakwood Hotel, which the mutineers surrounded with bombs to defend their positions.
The Magdalo group cited the plot of Arroyo to declare martial law in August 2003 to extend her term and the sale by then-Defense Secretary Angelo Reyes and the military leadership of arms and ammunition to the Abu Sayyaf, the Moro Islamic Liberation Front and the New People's Army
The group also accused the government of orchestrating bombings in Davao City to serve as a basis for branding the MILF as a terrorist group and asking the US for anti-terror funds.
Their plot proved unsuccessful, and many of them were jailed under Arroyo's government.
Despite their failure to topple Arroyo, Alejano said that their "protest" in 2003 led to important reforms such as the increase in the pay of soldiers, efforts to get rid of corruption and military modernization.
Since it first joined politics in 2007, Magdalo, according to Alejano, had been consistent in its good performance in Congress.
Alejano said that the group also lent its support to measures such as the AFP Modernization law, Salary and Standardization law, increase in pay of soldiers, increase in veteran assistance and the creation of the Military Service Board.
Under Duterte, Magdalo has been consistent in its opposition to the president's major policy initiatives.
Trillanes said that the group was opposed to the plans to postpone elections next year and moves to amend the 1987 Constitution to pave the way for federalism.
"We cannot afford to believe that it is a cure-all solution to our country's problems just because Federalism is the advocacy of the President who cannot even keep his promise to resign if he could not stop drugs, crime, and corruption in 3-6 months, nor sign a bank secrecy waiver for the sake of transparency," the senator said.
Aside from this, the group is also against the government's war on drugs, its tax reform law and its nonconfrontational stance on the dispute in the South China Sea, Alejano said.
Alejano said that Magdalo was already planning to transform itself into a political party which would train young Filipinos to become leaders.
These achievements, however, would be celebrated in the shadows of Arroyo's election as speaker of the House.
On Monday, before millions of Filipinos glued to their television and political and diplomatic dignitaries, Arroyo won a high-stakes political brinkmanship against former Speaker Pantaleon Alvarez.
This marked a complete political rehabilitation for Arroyo, who just a few years ago was said to be seriously ill and was constantly wearing braces to support her neck.
Arroyo became president in 2001 after former President Joseph Estrada was toppled by a people power revolt.
In 2004, he won her own six-year term in elections marred by cheating and marked by her now-infamous "Hello, Garci" call to an elections commissioner at the height of the counting.
She was jailed under former President Benigno Aquino III on charges of graft and corruption.