Arroyo: 'House to work with Senate on charter change'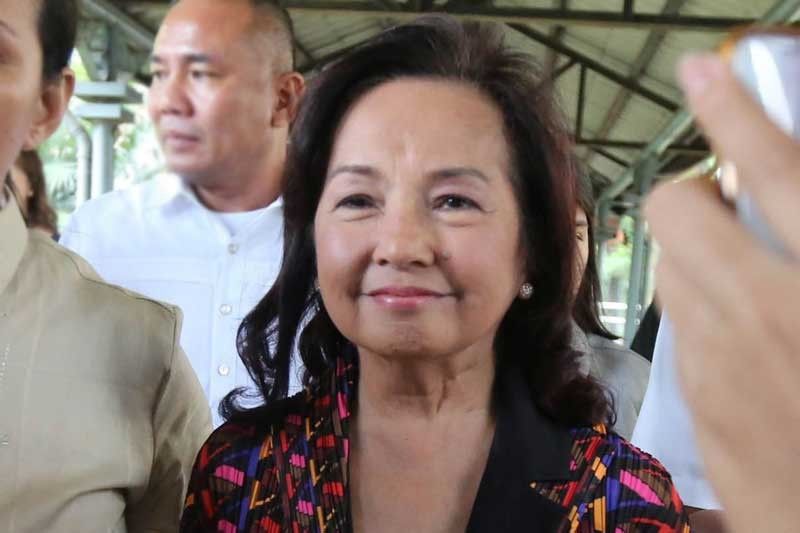 MANILA, Philippines — Unlike her predecessor who said the House of Representatives would push Charter change for federalism with or without the Senate, new Speaker Gloria Macapagal-Arroyo said yesterday congressmen would work with senators on Cha-cha.
"It is a priority, but as you know, the House has already passed a resolution on that. So the ball is now in the Senate's court. It requires the cooperation of both houses of Congress," she told reporters.
Arroyo was referring to a joint resolution the House had adopted, which proposes that congressmen and senators convene as a constituent assembly (con-ass) to work on Cha-cha.
It remains to be seen, however, if senators will take her commitment seriously as they have made it clear Cha-cha is not their priority.
"Let me say that perhaps the chances are very slim," Senate President Vicente Sotto III said when asked whether the Senate could come up with a Charter change bill this year.
But he stressed they are willing to work with Arroyo on passing reform measures even if some of them have misgivings about her election as Speaker.
The previous House leadership had asserted that congressmen could do it alone without the Senate's participation as long as they obtained the required three-fourths vote of all members of Congress to approve proposed constitutional amendments.
On the other hand, senators were insisting that Cha-cha could not be done without them. Thus, Arroyo's stand would be a welcome development for the Senate.
In his third State of the Nation Address on Monday, President Duterte again made a pitch for Cha-cha for federalism.
He had repeatedly said that federalism would result in the development of the regions and ease the control of "imperial Manila" over much of the country's resources.
Presidential spokesman Harry Roque said the Chief Executive wants Congress to finish writing a federal constitution in time for the May 2019 elections so that the plebiscite for the ratification by the people of the new charter could coincide with the balloting to save on cost.
That gives Congress only nine months between next month and April next year to complete its Cha-cha work, a time frame former speaker Pantaleon Alvarez and former majority leader Rodolfo Fariñas considered very tight.
This was the reason why Alvarez proposed that Congress scrap the combined congressional-local elections in May 2019. His proposal – had it been allowed – would have effectively extended the terms of office of House members, local officials and 12 senators.
Within its nine-month Cha-cha deadline, Congress will have to tackle the proposed 2019 national budget and other priority measures, and go on recess for All Saints' Day and All Souls' Day and Christmas, and the three-month election campaign starting in February.
Impossible without no-elections
In a text message to The STAR last Saturday, Fariñas said Cha-cha was impossible without Alvarez's no-elections in 2019 scenario.
He said lawmakers would not be able to finish Cha-cha with the distraction of the coming elections.
Those seeking reelection would file their certificates of candidacy (COCs) in October, "or barely three months from now," he said.
"Long before the filing of COCs, those interested to run in the 2019 elections have been moving around their constituencies. Upon the filing of COCs, I seriously doubt if we will be able to maintain our perfect daily quorums. I might be the only one at the session by then, as I will not be running for any public office anymore," he added.
Fariñas pointed out that Duterte's consultative committee (Concom) on Charter change took five months to come up with a draft federal constitution.
"It had only 25 members and only needed a majority (51 percent) or 13 of its members to approve its report," he said.
Hearings on various Cha-cha bills at the Senate, meanwhile, will continue but will not be rushed, senators said.
Sotto also stressed they will block any attempt to railroad Charter change and scrap the May 2019 elections.
He said senators agreed during a closed-door caucus on Tuesday that they will carefully examine all Cha-cha measures and not let themselves succumb to outside pressures.
Sotto revealed that when each senator was asked to submit three bills he or she wanted prioritized, none of them mentioned Charter change.
He welcomed Arroyo's reported statement rejecting "no-el" in 2019.
"That's good if that's the case because the entire Senate is not going to support a 'no-el' scenario, no matter who the Speaker is," Sotto said. – With Jess Diaz