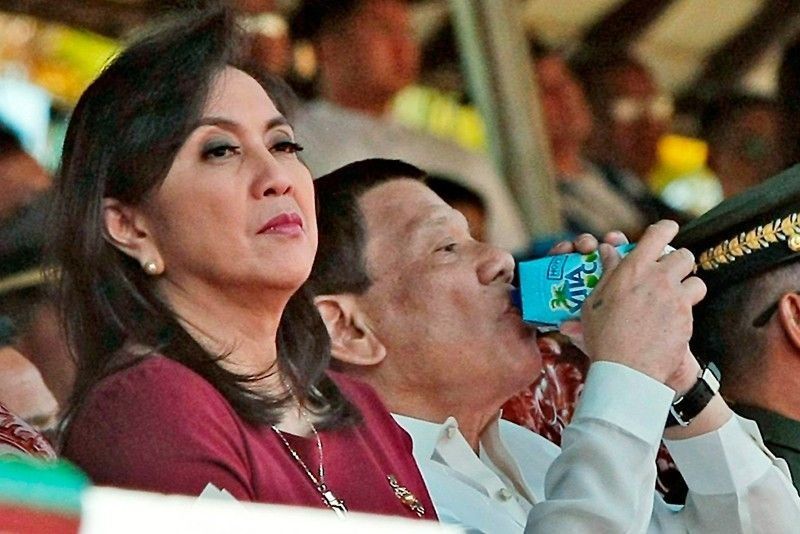 Vice President Leni Robredo sits beside President Rodrigo Duterte during the commencement exercises of the Philippine Military Academy's Alab Tala Class of 2018 in Baguio City.
The STAR/Andy Zapata Jr., File
Robredo ready for Duterte insults at SONA
MANILA, Philippines — Vice President Leni Robredo said that she would still attend President Rodrigo Duterte's State of the Nation Address on Monday despite advice not to for fear that the chief executive would "insult" her during the occasion.
Robredo said that it was her obligation as the country's second highest official to attend the annual address even at risk of being openly lambasted by the president.
"Yes, I will attend even if some would like me not to. Some fear that I might get insulted, humiliated," the vice president said in an interview with reporters in Naga City on Friday.
The vice president said that she was used to being insulted and stressed that it would not lessen her worth as a person.
"If I would be insulted, I think it's not my fault, right? A lot would be said about the person who insulted, but for me I am ready to face whatever," Robredo stressed.
Duterte and Robredo belong to opposing political factions in the Philippines due to a feature of the current 1987 Constitution which allows the president and the vice president to come from different parties.
The relations between the two leaders have deteriorated in recent days following Robredo's announcement that she was already ready to lead the policial opposition.
Duterte, meanwhile, slammed Robredo and said that she was "incompetent" to lead the nation.
In a rare counterpunch, the vice president told the president to focus on the economy, which he described to be in "doldrums," instead of insulting her and God.
Robredo said that she would be interested to listen to the president's plan to combat inflation and ease the economic burden of poor Filipinos.
She added that although she supported the government's crackdown on illegal drugs, it need not be bloody and violent.
The vice president also stressed that whatever anti-drugs campaign plan the government had should be based on data and the reality on the ground to avoid raising false hopes among the people.
Duterte famously vowed to step down in three to six months if he failed to eradicate corruption and illegal drugs in the country.
Several months into his presidency, Duterte admitted that doing so would be impossible even during the whole length of his presidency. He also did not step down.