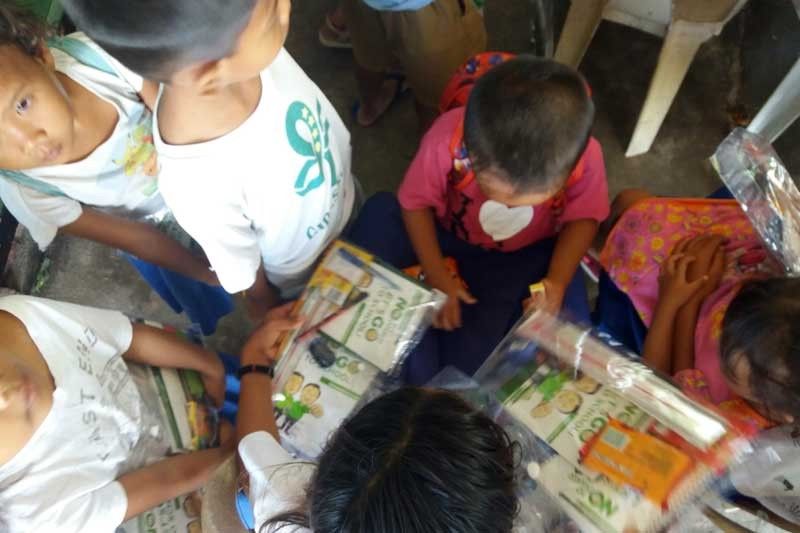 Students in Zamboanga City receive school supplies from the offi ce of Special Assistant to the President Christopher 'Bong' Go yesterday.
Roel Pareño
Bong Go helping, not campaigning
DAVAO CITY, Philippines — Special Assistant to the President Christopher "Bong" Go clarified that his going around the country and extending help to those in need is not a form of campaigning for his supposed Senate bid in the midterm elections next year.
"My job is to help and I will do it anywhere I would go," he said.
Go has lately represented President Duterte in certain events, especially in extending assistance to victims of flood or fire and other disasters in various parts of the country.
He stressed that with his job now as special assistant to the President, he could really extend help to a lot of people.
Go insisted that he is not running for any political office.
"Ayaw ko po talagang tumakbo (I really don't want to run). As of now, malayo talaga yan sa isipan ko (that's far from my mind)," Go said of reports that he is seeking a Senate seat next year.
Go said people should not consider him a candidate for the midterm polls next year.
"Besides, I have not authorized anyone to solicit for me. I am not a candidate. Why would I look for election funds?" he emphasized.
Go said there have lately been so many citizen's movements egging him to run for the Senate but that he has not authorized anyone to solicit funds.
Sen. Grace Poe has been leading the pre-election surveys on possible candidates for senator in the 2019 midterm elections but she is still uncertain about her plans after her term ends next year.
Poe said that she would have to consult her husband Neil Llamanzares about a possible return to the Senate next year, taking into consideration what she has already done and what she experienced during her bid for the presidency in 2016.
"It's a personal reason for me, I have to talk to my husband about this," Poe said in a television interview yesterday.
Poe said that her husband has some reservations about her running for public office again because "I think he's traumatized by what happened during the last elections."
During the campaign of 2016, Poe and her husband were both subjected to criticisms and questions about their citizenship, owing to the fact that they both resided in the United States.
Both of them were covered by the Dual Citizenship Law, but decided to renounce their US citizenship.
Poe went through the process before she first ran for the Senate in 2013 while her husband renounced his citizenship during the campaign period.
She said her husband was telling her about how she has gotten her pet bills passed into law, such as the institutionalization of the school-feeding program that would benefit children all over the country.
In a survey on possible senatorial candidates for the 2019 elections conducted by the Social Weather Stations, Poe led the list, getting 67.4 percent of the votes of respondents.
Taguig City Rep. Pia Cayetano came in second with 55.7 percent of the votes. – With Marvin Sy