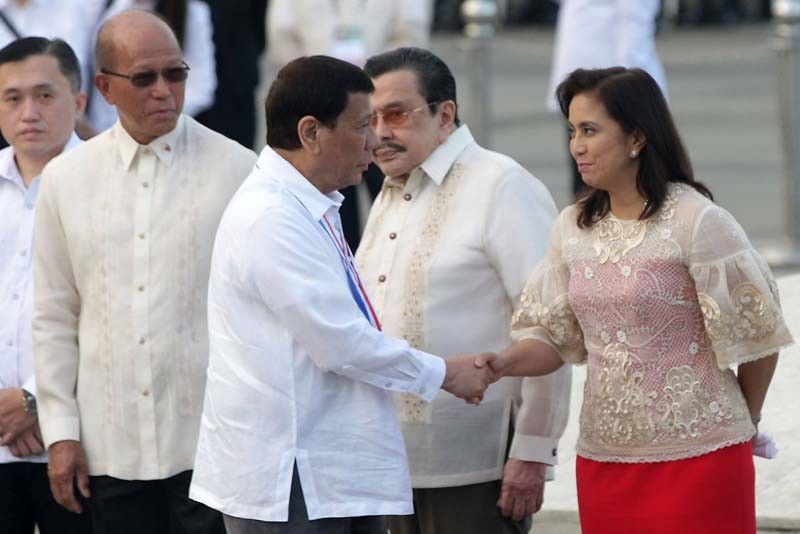 President Rodrigo Duterte and Vice President Leni Robredo lead the flag ceremony and the ceremonial wreath laying in observance of the 121st martyrdom of national hero Jose Rizal at the Luneta Park in Manila.
The STAR/Miguel de Guzman
Palace asks public to respect Duterte's 'incompetent' remark vs Robredo
(philstar.com) - July 11, 2018 - 6:00pm
MANILA, Philippines — Malacañang on Wednesday urged the public to respect President Rodrigo Duterte's view that Vice President Leni Robredo is incapable of running the country, saying he was speaking as an official with decades-long experience in government.
Presidential spokesperson Harry Roque said Duterte has his standards in assessing the qualities in assessing the competence of a leader.
"With regard to the assessment of the president that the VP (vice president) is incompetent, you cannot deprive him of that because he has been serving in the government for almost 30 years," Roque told state-run radio station Radyo Pilipinas.
"Perhaps he (Duterte) has developed standards and he has guidelines on determining who is competent and who is not. He was just expressing his insights. Let us just respect that because it is an observation of someone who has been serving in the government for a long time," he added.
On Tuesday, Duterte said he was willing to shorten his term to give way to a new constitution but stressed that Robredo should not succeed him because of her "incompetence." He said Robredo, who has expressed willingness to lead the political opposition, was not ready to govern the country. Instead of allowing Robredo to become president, Duterte is pushing for the election of a new leader that would oversee the transition towards a federal government.
Robredo's legal adviser Barry Guiterrez lashed back at Duterte by citing the higher prices of goods, the government's plan to borrow P1.19 trillion, the traffic problem, the president's alleged refusal to assert the Philippines' rights in the West Philippine (South China) Sea and the spate of killings in the country.
Robredo, the highest elected member of the once dominant Liberal Party, used to be the chair of the Housing and Urban Development Coordinating Council but she resigned in December 2016 after Duterte barred her from joining Cabinet meetings.
The president said Robredo was prohibited from attending Cabinet meetings because she joined mass demonstrations calling for his ouster. Robredo has denied joining such rallies.
Palace to Robredo: Good luck
Malacañang also wished Robredo luck on her possible stint as leader of the opposition coalition.
"We have said that the opposition is important in a democracy. But good luck, we hope that the role of Lebi Robredo is clear this time," Roque told radio station dzXL.
Roque claimed that Robredo recently tried to rejoin the Cabinet but did not elaborate.
"Now, at least she has decided that she now belongs to the opposition and she is no longer hoping to rejoin the Cabinet of the president," he said.
Last March, Robredo said he was "very much willing" to work with Duterte as long as she would be allowed to express her opinions about matters that she and the president do not agree on.
Malacañang, however, had said there are no offers for the vice president to rejoin the administration. — Alexis Romero with a report from Job Manahan