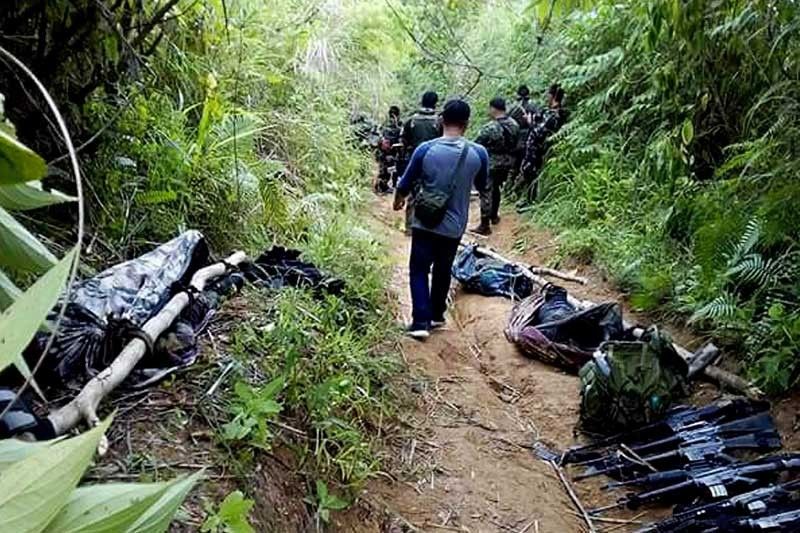 Photo provided by the PNP shows colleagues preparing to transport the bodies of Police Officers 1 Wyndell Noromor, Edwin Ebrado, Phil Rey Mendigo, Julius Suarez, Rowell Reyes and Julie Escato following a reported misencounter with soldiers from the Army's 87th Infantry Battalion in a village in Sta. Rita, Samar yesterday.
Palace: Despite Duterte taking blame, probe into Samar 'misencounter' still on
(Philstar.com) - July 1, 2018 - 4:15pm
MANILA, Philippines — President Rodrigo Duterte wanted to end the finger-pointing over the 'misencounter' in Samar so he took full responsibility for the incident, Malacañang said Sunday.
Last Monday, six policemen died and nine others were hurt after they were fired upon by Army troops in Villarreal, Samar. The soldiers, who are members of the Army's 87th Infantry Battalion, were sent to the area to respond to the reported presence of communist rebels.
Officials are probing whether the encounter between the soldiers and policemen was caused by lack of coordination. While authorities are still investigating the incident, Duterte took the blame for it, saying the "ultimate" fault is on him as the commander-in-chief of the armed forces.
READ: AFP vows transparency in probe into Samar 'misencounter'
Asked to explain Duterte's statement, presidential spokesman Harry Roque said the president wanted "to end the blame game."
"(It was) spoken like a true leader, the buck stops with him," Roque said in a text message.
Roque said the Armed Forces of the Philippines and the Philippine National Police would coordinate closely with one another to prevent similar clahses.
"It's an unfortunate incident which should not happen again. Closer coordination can be expected between the AFP and the PNP in future ground combat operations," the presidential spokesman said.
Duterte has urged the security forces to "forget" about the incident because the attack was not intentional. But he ordered them to continue the investigation to determine what lapses were committed during the operation.
The military has relieved Lt. Col. Arnel Floresca as commanding officer of the 87th Infantry Battalion to allow an impartial probe into the incident. — Alexis Romero