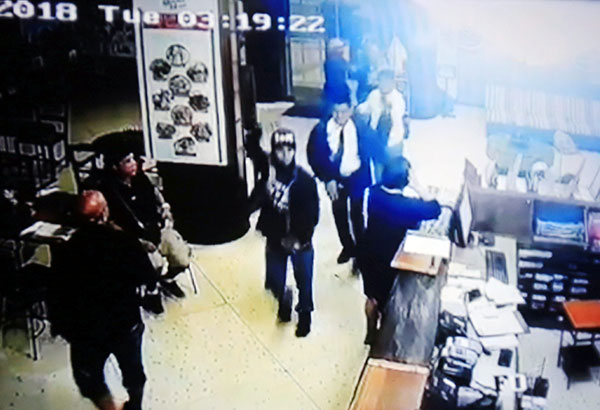 Two of four armed men are seen in an image taken from security footage of robbery in a Pasay hotel in early 2018.
Edd Gumban
Duterte: SWS survey shows Philippines 'crime-ridden'
MANILA, Philippines — President Rodrigo Duterte lamented Tuesday the results of a recent survey that 1.5 million families were victims of common crimes, saying that these showed that he was useless.
The president's reaction to the First Quarter 2018 Social Weather Survey of polling firm Social Weather Stations was in contrast to the gloating statement his spokesperson released after the results were publicized.
Duterte used the result of the poll showing that around 1.5 million families were victimized by common crimes to demonstrate his point that the Philippines is "crime-ridden."
"If this is the case, I'm useless. I'll ask you to join me. Let's just resign," said Duterte, who was before newly-elected village officials in Zamboanga Del Sur.
Duterte said, "There seems to be a semblance of a republic and a nation, but inside it's topsy-turvy."
Last week, Social Weather Stations said that 6.6 percent of families reported being victimized by common crimes such as pickpocketing or robbery, break-ins, carnapping and physical violence.
The president however did not mention that this figure was lower than the 7.6 percent tallied in December 2017 but 0.5 percent higher than the annual average last year.
The same survey also found that the presence of individuals addicted to drugs had risen in Metro Manila and Mindanao, Duterte's political bailiwick, and had fallen in Balance Luzon and the Visayas, the region he regularly denounced as the hotbed of the narcotics problem in the country.
Palace lauds survey results
Duterte's negative reaction contrasted with that of his spokesman, Harry Roque, who lauded the survey findings.
"Such public sentiment is certainly a big boost to the morale of our law enforcement agencies as we vow to continue to ensure the safety of all Filipinos," Roque said in a statement on the poll results.
He also claimed that "significant strides" had been recorded in the campaign against illegal drugs and crimes after fewer families were recorded being victimized by common crimes.
During the same speech, the president slammed some local government officials for their "nonchalant" attitude toward crime and criminality in their jurisdictions.
He urged for an audit of areas with high incidence of crime and illegal drugs and said that he could not solve these crimes alone.
Duterte won the presidency in 2016 largely on the back of a strong anti-crime and anti-drugs platform.
He famously vowed to resign should he fail to deliver on his promise to rid the Philippines of illegal drugs in three to six months only to later admit that he underestimated the problem.