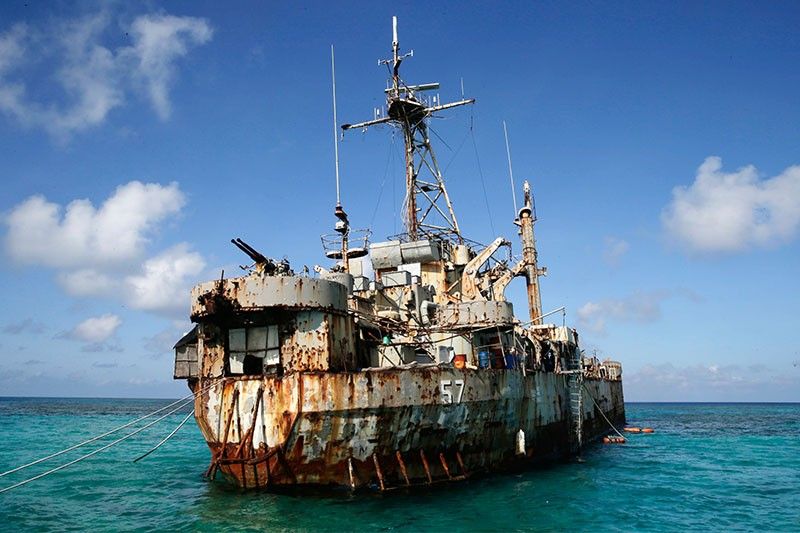 In this March 30, 2014, file photo, the dilapidated Philippine Navy ship LT 57 Sierra Madre is in the shallow waters of Second Thomas Shoal in the South China Sea. Officials say the Philippine government has quietly protested after Chinese ships deployed a helicopter that flew close to a Philippine navy boat carrying supplies to Filipino marines at a disputed shoal this month.
AP/Bullit Marquez, File
Duterte clueless on Chinese harassment of Filipino troops on Ayungin Shoal
MANILA, Philippines — The Philippines quietly filed a protest against China's harassment of Filipino troops conducting resupply missions to Ayungin Shoal but the country's chief diplomat appears to be unaware of the incident.
When asked if he got mad that the Chinese harassed Filipino soldiers, President Rodrigo Duterte said he did not know about the incident as he was busy talking to Korean officials.
"What kind of harassment in the first place before—before I commit myself to answer the question, what kind of harassment was this?" Duterte told reporters upon arriving from South Korea Tuesday night.
Duterte added that it was the first time that he heard about the harassment of Filipino troops on Ayungin Shoal in the West Philippine Sea.
"It would be dangerous for me to answer questions without really having the slightest idea of what it is all about," Duterte said.
In a Congressional hearing last week, Magdalo Partylist Rep. Gary Alejano revealed that on May 11, China's navy and coast guard challenged the Philippine Navy's LS507 supplying troops stationed on BRP Sierra Madre.
A chopper of the Chinese Navy reportedly hovered "dangerously close" when the Philippine Navy launched a rubber boat.
"The [People's Liberation Army Navy] was so close that sea water splash entered the rubber boat," Alejano said.
The navy personnel aboard the rubber boart were unharmed and proceeded to deliver supplies to marines on BRP Sierra Madre, the Philippine navy ship stationed at Ayungin Shoal.
The lawmaker added that his sources at the Department of Foreign Affairs had lodged a complaint over the incident just last month.
Foreign Affairs Secretary Alan Peter Cayetano earlier said that Beijing was not supposed to harass Filipino soldiers resupplying Manila-controlled features in the West Philippine Sea, including Ayungin Shoal.
This was among the "red lines" that the Philippines discussed with China over the maritime dispute in the South China Sea.
Presidential spokesperson Harry Roque said the Philippines has taken "diplomatic actions" in response to Beijing's expanding militarization in the South China Sea, where China has deployed anti-cruise ship missiles, surface-to-air missile systems, electronic jamming equipment and landed a nuclear-capable bomber on Woody Islands.
"The current administration has acted on incidents which occurred in the disputed areas over the West Philippine Sea by taking diplomatic actions with China. Indeed, we will resort to all diplomatic initiatives when warranted but without fanfare," Roque said.
Foreign Affairs Undersecretary Ernesto Abella said the country has engaged in 85 diplomatic actions since Duterte assumed office in June 2016.
"We asserted our rights numerous times in bilateral consultations, in face-to-face meetings and in written documents," Abella said in a statement released Monday.
Abella, however, did not specify whether these diplomatic actions refer to the West Philippine Sea and if these were the same to the 50 to 100 diplomatic protests that Cayetano claimed the Philippines had filed against China.