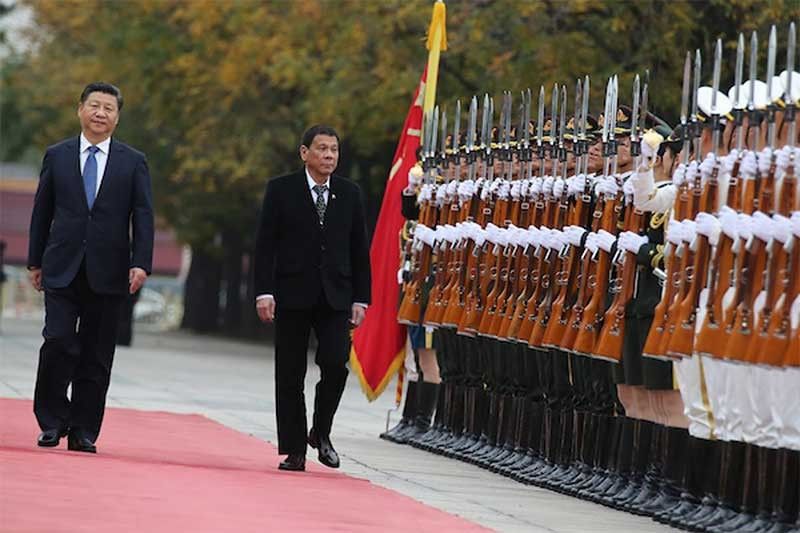 Rep. Gary Alejano (Magdalo) said on Wednesday that Filipino soldiers on a resupply mission on Ayungin Shoal were harassed by China's navy and coast guard, despite President Duterte's efforts to forge closer ties with Beijing.
File
China's navy, coast guard 'harassed' Filipino troops on resupply mission on Ayungin — Alejano
MANILA, Philippines — An opposition lawmaker critical of President Rodrigo Duterte's foreign policy on China and the dispute in the South China Sea said Wednesday that Filipino troops conducting resupply missions to personnel stationed on Ayungin Shoal were harassed by the Chinese navy.
Tensions in the hotly-disputed waters rose in the past weeks after China's military landed a bomber capable of carrying nuclear-tipped missiles on one of its features in the South China Sea, effectively putting the whole Southeast Asia within Beijing's reach.

It was also revealed that China installed missile systems on its other features, and these could potentially strike some parts of Palawan, a tourist island province west of Manila.

"I have this information just this May 11 weren't our troops harassed in Ayungin Shoal? They're supplying our troops there. They were harassed not only by the coast guard but by the PLA navy," Rep. Gary Alejano (Magdalo) said during a House panel hearing on the situation in the South China Sea.

According to Alejano, his sources at the DFA said that the military had lodged a complaint about an incident in which the LS507 of the Philippine navy was challenged by both China's navy and coast guard.

He said that when the Philippine Navy launched a rubber boat to a chopper of China's navy, it hovered from a close and dangerous distance.

"The PLAN (China's navy) was so close that sea water splash entered the rubber boad," he said.
Alejano, a former Marine officer, also questioned national security and foreign officials about the country's ability to impose the red lines Foreign Affairs Secretary Alan Cayetano drew about the dispute.

When asked if this harassment of troops fell under one of his red lines, Cayetano said, "The problem with our critics is they think if the Chinese look at you it's already harassment. Every single thing where there's disagreement you know harassment can simply be looking at you in a negative manner to the physical harassment."

The Philippines' top diplomat also stressed that the military and the Defense department were doing something and were looking for solutions to the problem.

Cayetano said that since the May 11 harassment, there had been no reports about other incidents between the Philippine military and the Chinese navy.

The Philippines maintains a small military presence on BRP Sierra Madre which was deliberately ran aground on Ayungin Shoal.

The military regularly conducts resupply missions for these troops but in recent years has faced aggressive harassment actions from an increasingly assertive Chinese navy.

Cayetano said that building on Scarborough Shoal and attempting to remove BRP Sierra Madre were red lines for Manila as well as harassment of troops on resupply or repair missions in the West Philippine Sea.

Manila would also not accept any unilateral extraction of natural resources in the waters, Cayetano said.

The Philippine foreign secretary said that Duterte was willing to go to war if natural resources in the West Philippine Sea were taken, but it's not clear if this was a sign that the chief executive was willing to take a stronger stance on the dispute.

Alejano said that the Chinese forces were on China coast guard ship with bow number 3368 and navy ship with bow number 549.

"Before, it was only CCG that was challenging and harassing our troops. Now, the CCG was already accompanied by the PLAN. This is a clear threat to our security forces by no less than the Chinese Coast Guard and Navy which obviously requires condemnation from our end," he said.