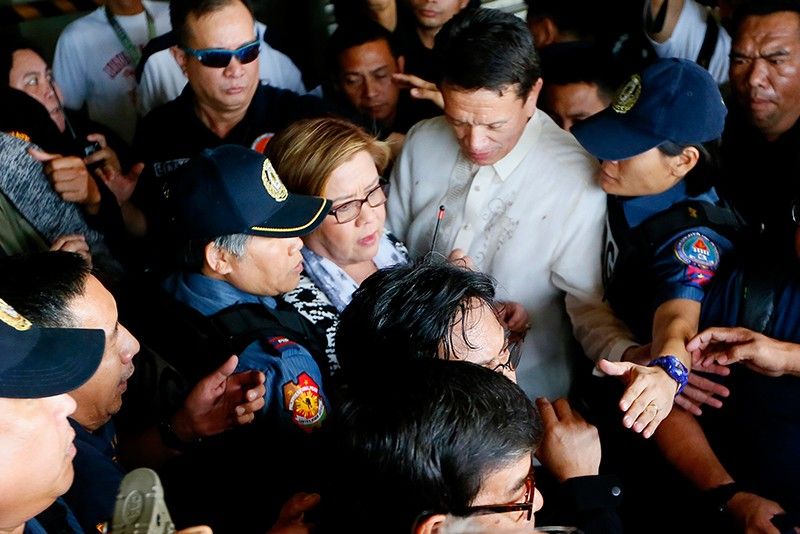 Her motion reads in part: "A family member's graduation is regarded as a milestone event in every Filipino family. To be personally present in such a special occasion is more than a compelling duty on the part of the accused De Lima as a mother."
AP/Bullit Marquez, file
Court denies De Lima plea to attend son's graduation
MANILA, Philippines — A Muntinlupa court on Monday junked detained Sen. Leila De Lima's appeal to be allowed to attend her son's graduation.
In a three-page order, Muntinlupa Regional Trial Court Branch 205 Presiding Judge Amelia Fabros-Corpuz junked De Lima's Very Urgent Motion for Furlough.
The senator had asked the court to be allowed to attend the graduation rites of her youngest son, Vincent Joshua De Lima Bohol, at San Beda College Alabang, on June 3.
Her motion reads in part: "A family member's graduation is regarded as a milestone event in every Filipino family. To be personally present in such a special occasion is more than a compelling duty on the part of the accused De Lima as a mother."
The prosecution opposed De Lima's motion, saying that her presence at the occasion is not indispensable and that her presence as a public figure will "disrupt" the "solemnity of the occasion."
Prosecutors also argued that her risk of flight is very high. The panel also said that allowing De Lima to attend occasions such as graduation rites would give her the "liberties of a free man with all privileges to her position"
Fabros-Corpuz said that the court found the arguments of the prosecution persuasive.
The court stressed: "Being charged with a crime punishable by life imprisonment, and non-bailable...accused De Lima cannot be given different treatment as that of other prisoners whose liberty is curtailed, pending the final resolution of their criminal cases."
The judge also echoed the prosecution's argument that De Lima's presence will disrupt the commencement exercise for her son and the attendees.
In her appeal filed before the court, De Lima cited the case of former Sen. Jinggoy Estrada, then detained at the Camp Crame, who was allowed to attend the high school graduation of his son Emilio Estrada. Estrada was facing a string of plunder and graft cases at the Sandiganbayan.
The court also noted that with the advent of technology, relatives can just record her son's graduation. She can also celebrate the occasion in Camp Crame during visiting hours "without endangering themselves or other people during the conduct of the same."
De Lima is accused of having a hand in the illegal drug trade inside the New Bilibid Prison during her stint as the justice secretary.
She has been detained inside the police headquarters since February 2017. She has yet to be arraigned in the charges.
President Rodrigo Duterte, whom De Lima accused as the one behind her political and legal travails, recently attended the graduation his granddaughter Isabelle Duterte from San Beda-Alabang Senior High School.