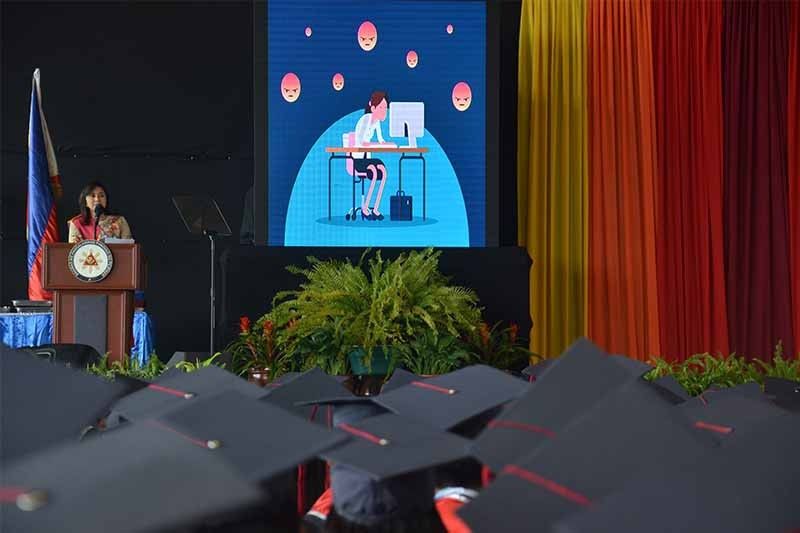 Vice President Leni Robredo addresses Senior High School graduates and Junior High School completers at the Lyceum of the Philippines University-Laguna in Calamba during their commencement exercises on Wednesday, May 16, 2018. In her speech, Robredo called on the students to use their talents, education, and idealism to make the country a better place for the less fortunate and underprivileged youth.
Office of the Vice President
Tale of two graduations: Leni US-bound for daughter's ceremony; De Lima seeks court OK
MANILA, Philippines — They are two of the highest women public officials in the Philippines. They are also both mothers proud of their children's scholastic achievements.
However, the paths of Vice President Leni Robredo and Sen. Leila De Lima, both members of the decimated Liberal Party, diverge in their bids to attend their children's graduation ceremonies.
Robredo is leaving for the United States on Thursday to attend the graduation of her eldest daughter Aika Robredo at Harvard University, according to an advisory from her office.
The vice president is set to return to Manila on May 26.
The younger Robredo, 30, was accepted into Harvard's John F. Kennedy School of Government for the Mid-Career Master's in Public Administration program.
Robredo attended Harvard University as an Edward S. Mason fellow, the same scholarship that allowed her father, the late Jesse Robredo, to attend the American university.
Meanwhile, the vice president's colleague at the Liberal Party, De Lima, is still seeking court approval for her to attend her son's graduation from law school.
The senator has filed an urgent motion before Muntinlupa City Regional Trial Court Branches 205 and 206, which handle her drug-related cases, to grant her furlough to attend the graduation rites of her youngest son Vincent Joshua De Lima Bohol on June 3.
De Lima also requested the courts to give her an additional two hours after the ceremony for some personal time with her son and family.
"[The] Accused begs leave that she be allowed to share this joyous moment with her son and family, and to be there to continue to affirm her support as her son is set to take the bar exams on November 2018 to fulfill his childhood dream of becoming a lawyer, taking inspiration from his parents," De Lima said in her motion.
Bohol is set to graduate with a bachelor's degree in law from San Beda College-Alabang during its 8th commencement exercises on from 2 p.m. to 7 p.m. on June 3.
In justifying her request, De Lima cited the case of former Sen. Jinggoy Estrada, who was then detained at Camp Crame's custodial center and was given leave to attend the high school graduation of his son Julio Emilio Estrada.
De Lima underscored that she is not a flight risk and has no intention of fleeling, noting that she has been respectful of the legal process.
"A family member's graduation is regarded as a milestone event in every Filipino family. To be personally present in such a special occasion is more than a compelling duty on the part of the accused De Lima as a mother," she said.
De Lima is detained at Camp Crame on accusations that she abetted the trade of illegal drugs at the National Bilibid Prison during her time as justice secretary of the previous Aquino administration. She has yet to be arraigned on the charges.
President Rodrigo Duterte, whom De Lima accused as the one behind her political and legal travails, recently attended the graduation his granddaughter Isabelle Duterte from San Beda-Alabang Senior High School