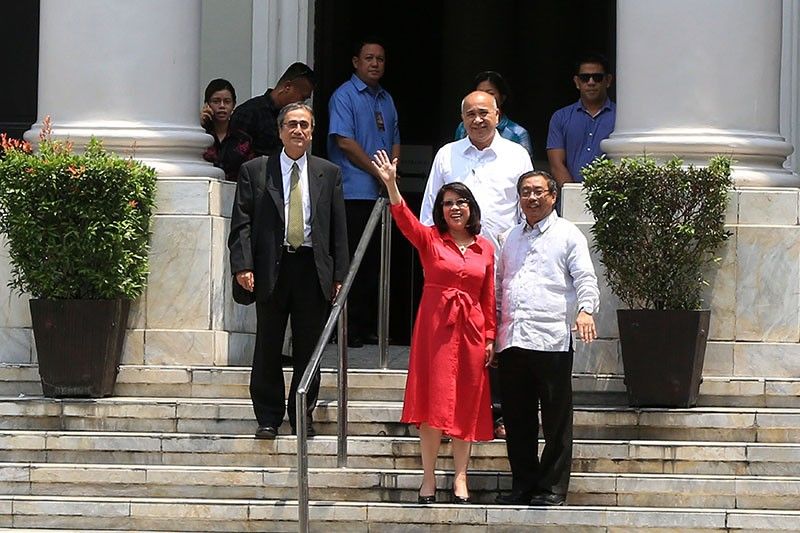 In this May 9, 2018 photo, Supreme Court Chief Justice Maria Lourdes Sereno emerges along with her counsels from Supreme Court building and waves to her supporters as she finishes her leave and resumes work as chief magistrate.
Edd Gumban
Law deans, professors join call for quo warranto dismissal
MANILA, Philippines — Members of the law academe stressed that only an impeachment can remove Chief Justice Maria Lourdes Sereno a day before the Supreme Court will reportedly rule on the quo warranto petition against her.
"We have been taught in the College of Law that the Constitution provides only one means to remove a sitting Chief Justice. That is by impeachment by the House of Representatives and conviction after trial in the Senate. Any other means would be unconstitutional," a manifesto published in a newspaper on Thursday read.
Retired Court of Appeals Justice Hector Hofilena and former Solicitor General Florin Hilbay led deans and faculty of law schools and practicing lawyers in signing the manifesto.
The group of lawyers warned that if the SC will allow the removal of an impeachable officer through a quo warranto petition, it "will expose those involved to the same vicious cycle of extrajudicial removal process which will subvert the constitutional check and balance and endanger judicial independence."
Echoing Sereno, the lawyers' group said that the high tribunal should allow the impeachment process to run its course "as the Constitution dictates."
Solicitor General Jose Calida sought the removal of Sereno as chief justice in a petition that challenges the legality of Sereno's hold over the position. He argued that while his petition has the same prayer, or intended result, as an impeachment complaint already lodged at the House of Representativesm his quo warranto plea runs on a "different ground."
But the group of lawyers said: "Let the trial in the Senate sitting as an impeachment court begin. Allow the Chief Justice to defend herself in the impeachment trial."
The Integrated Bar of the Philippines, a 40,000-strong group of lawyers, also filed a petition for intervention with a prayer of dismissal against Calida's petition. The IBP said that the quo warranto petition is "fatally flawed."
Calida's ouster plea, the IBP said, "while evoking a seemingly novel approach, in truth applies a disingenuous reading that can only be deemed legitimate if the text of the Constitution is to be deliberately twisted. This is a dangerous precedent."
The embattled chief justice resumed her work at the SC on Wednesday morning, two months she opted to take an "indefinite leave" to focus on her looming impeachment trial at the Senate.
Sereno will preside the special en banc session on Friday, where the ouster petition against her will reportedly be tackled.
Should Calida's quo warranto plea be discussed, Sereno will inhibit from the discussion, her spokesperson said.
READ: How the quo warranto petition vs Sereno could affect the judiciary