BMP calls on unions to reject compromise on contractualization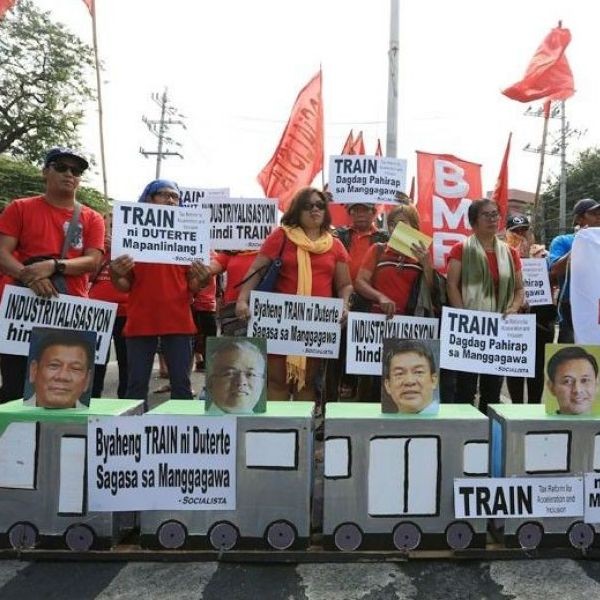 MANILA, Philippines — Labor unions should reject a coming "compromise" on labor contractualization that will sell workers out, Bukluran ng Manggagawang Pilipino stressed Sunday.
"Endo" or "end of contract" originally referred to hiring workers for contracts too short for them to qualify for benefits required under the law. Its use has since been expanded to labor contractualization in general.
BMP, in a statement, said President Rodrigo Duterte's call for a "win-win" compromise on the issue, "is even more insulting to workers, whose votes propelled him to the presidency during the 2016 elections, because he has continuously sworn to stop contractualization as part of his electoral agenda."
"I don't think that I can really give them all because we cannot force the capitalists...if they have no money or they do not want (the employee) because he is lazy. Don't make it hard for them to run the business the way they like it because that's their money. So something of a compromise must be...acceptable to everybody," he said.
But BMP said the president's argument shows "convoluted logic," since "'management prerogative' and 'property rights' are not absolute. They should give way to the primacy of labor and our right to live decently."
The Palace has defended the call for a compromise, saying Duterte has not turned his back on his campaign promise. "He has asked for more time to study the matter and that's what he's doing now," presidential spokesperson Harry Roque said in late February.
BMP is concerned that an executive order on contractualization will be similar to an existing Labor department order that contractual workers are considered employees of contractors, manpower agencies and laboor cooperatives and "exempts principal employers from their obligation to regularize workers who perform 'usually necessary or desirable' work to the normal operations of their business, as stated in Article 280 of the Labor Code."
Department of Labor and Employment Order 174 lists "repeated hiring by the contractor/subcontractor of employees under an employment contract of short duration" as a prohibited practice.
No details of the planned compromise have been released yet.
"The BMP calls on organized labor – especially the trade union movement – to reject the compromise offer of Duterte and struggle for an Executive Order to prohibit contractualization," it said.