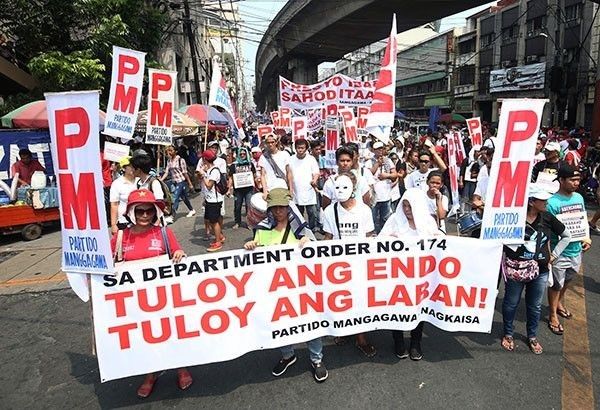 Ending labor contractualization was a campaign promise of President Rodrigo Duterte. Miguel De Guzman/File
Palace: Ban on contractual labor 'really more for Congress to do'
MANILA, Philippines — President Rodrigo Duterte cannot order a total ban on labor contractualization because only a new law can prohibit the practice, Malacañang said Monday.
Senior Deputy Executive Secretary Menardo Guevarra admitted that some of the workers' demands could not be granted through an executive order, which he said can only supplement laws.
"That draft EO has been under study in our office for quite some time. The main problem there is some of the things they want to happen are things that the executive department is not empowered to do. A legislative action is really needed. The Labor Code has provisions against contractualization but allowing for some, in some areas," Guevarra said in a press briefing.
"If you want something like a total ban on contractualization, you need a law to repeal or amend that particular provision of the Labor Code. An executive order is meant only to supplementor to give the implementing details of what the law provides. But it cannot add or subtract or substantially alter what the law provides. That's really more for Congress to do," he added.
The banning of illegal contractualization or end of contract (endo) schemes is one of Duterte's campaign promises.
Last year, the Labor department issued an order imposing a ban on labor-only contracting, strictly regulating lawful contractual arrangements, and including workers in inspecting compliance with labor standards and laws.
Other practices that were prohibited include:
the farming of work through "cabo" or persons that, under the guise of a labor organization, cooperative or any entity, supplies workers to an employer
contracting out of job or work through an in-house agency
contracting out of job or work through an in-house cooperative which merely supplies workers to the principal
contracting out of a job or work by reason of a strike or lockout
and contracting out of a job or work being performed by union members
The order also prohibited contractors and subcontractors from requiring their employees to perform functions that are currently being performed by the regular employees of the principal.
Guevarra said a total ban on contractualization of workers would be implemented if the exemptions in the Labor Code are revoked.
"But for now, what the executive department is doing, is really to make compliance with the existing regulations very strict," the Palace official said.
"Well, of course, the total ban itself is something that we cannot do by EO."
Slim chance for 'Endo' EO
Asked about the chances of the EO on endo being released, Guevarra said: "There's a slim chance, but not really on the substantive side of it. Perhaps it would really be more on strictly enforcing the existing provisions of the law because an executive order cannot alter what the law provides."
"If there are more safeguards that need to be put in place, the EO will do that," he added.
Guevarra admitted that the EO on endo would not be that different from the order issued by the Labor department. While a total ban is not possible through an EO, the executive branch can endorse a proposal to Congress, he added.
"We are still trying to do our best to come up with an executive order that can be acceptable to the labor sector. That's our priority. If the labor sector remains unhappy with the best EO that we can come up with, then, that's the time that we'll probably do our consultations with Congress," Guevarra said.
Duterte seeks compromise
Last February, Duterte said he was eyeing a compromise on labor contractualization, admitting that he could not force businesses to provide all benefits to workers.
Labor federation Bukluran ng Manggagawang Pilipino in March called on workers' unions to reject the supposed "win-win" compromise, saying it would sell workers out.
BMP said Duterte's call for compromise "
is even more insulting to workers
, whose votes propelled him to the presidency during the 2016 elections, because he has continuously sworn to stop contractualization as part of his electoral agenda."