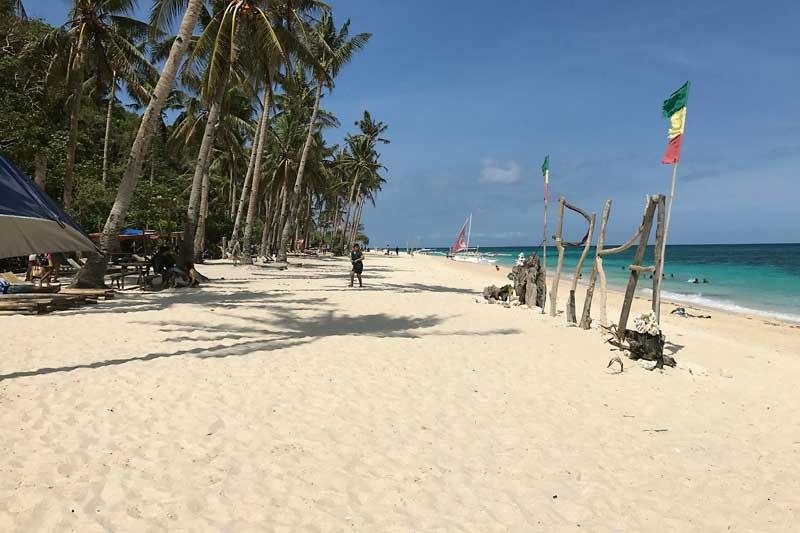 Tourists soak up the sun on Puka Beach in the northern part of Boracay yesterday. This stretch, devoid of any permanent structures, is considered by many as a swimmers' paradise.
Jennifer Rendon
Government agencies hold Boracay shutdown walkthrough
ILOILO City, Philippines — Three days before Boracay Island is closed to visitors for up to six months, police and other government officials conducted a final check yesterday to ensure that all the systems and protocols will run smoothly.
The Western Visayas police office and the Metro Boracay police task force demonstrated how residents, workers and other personnel would enter and exit the world-famous island starting Thursday.
Cagban port, which faces Caticlan in mainland Panay, will be the sole access to and from the island and would be open only from 6 a.m. to 10 p.m. daily.
All the 15 other access points – Cargo Port, West Cove, New Coast Cove, Puka Beach and Bil-at Beach; sitios Caliruhan, Ilig-iligan, Malabunot, Diniwid, Tabisaan, Sugod, Tulubhan and Bulabog; the mangrove area and beach front – will be closed.
Several government agencies also set up help desks at Caticlan port to address concerns of residents and workers.
Chief Supt. Cesar Hawthorne Binag, Western Visayas police chief, said "everything is all set" after seeing the deployment of policemen at all control points, including Station 1, the only designated swimming area for locals.
On Thursday, police and other government agencies would implement the "one entry, one exit" and the "no ID, no entry" policies to ensure a peaceful, orderly and fast rehabilitation and delivery of social services in the island.
At least 630 policemen were deployed to ensure security, with another 158 ready to augment if needed. Binag assured the public that they are only a symbol of safety.
"In the end, I believed that we all want what's best for Boracay. So, we ask for cooperation and enjoin the public to support authorities on the implementation of a smooth, orderly and peaceful closure to rehabilitate Boracay Island," Binag said.
But should there be some protests or demonstrations, Police Director General Oscar Albayalde ordered his men to exercise maximum tolerance in dealing with them.
He also warned them against abusing the hotels and resorts while the island remains closed, adding that the assigned policemen have their own billeting areas.
Niven Maquirang, Caticlan jetty port administrator, said residents are given "until 10 p.m. to enter the island because some of them come all the way from Kalibo town."
Should they fail to make it, they would be made to wait for the next day before they are allowed access, he added.
Workers and cargoes will be allowed only from 6 a.m. to 6 p.m. although Maquirang clarified that cargoes will only be loaded at the Sambiray port in Malay and unloaded at Manoc-Manoc.
Science Secretary Fortunato dela Peña said the proclamation that President Duterte would issue to close Boracay is backed by scientific data.
"I have seen a draft of the proclamation and I was quite impressed at how they cited scientific data in the 'whereases,'" he told scientists and academicians of the National Academy of Science and Technology (NAST) during the awarding ceremonies of the Environmental Science Awards 2018 at Hotel Jen Manila yesterday.
"Whether it was on the quality of water or the erosion on the shoreline, the different factors were cited. The state or condition of the coral reef in the area, these were all cited with a quantitative description of the areas. To me that was important because we can see how scientific data helps in decision making," Dela Peña added.
Financial assistance
The Department of Social Welfare and Development (DSWD) will provide transportation assistance of up to P5,000 for migrant workers who have to leave Boracay while the island is closed.
At least 300 employees have been interviewed and assessed by the agency, although data showed there are more than 30,000 workers in the island's various resorts and hotels.
Rebecca Palma-Geamala, DSWD regional director for Western Visayas, said at least P1 million has been earmarked as standby fund while another P5 million is being processed for releasing.
As of yesterday, only a few residents and workers asked for DSWD's help as they were still busy servicing tourists, said DSWD Boracay Operations Center head Joey Urquiola.
"We have deployed Crisis Intervention Unit (CIU) teams as well as a separate team to document the status of affected workers and residents, and we saw that people are very busy trying to earn as much as they can before the 26th and they lose their means of livelihood," Urquiola added.
He pointed out that his office reached out to workers from the informal sector – handicraft vendors, food sellers, operators of small water-sport activity outfits, public transport drivers and operators – to explain to them the forms of assistance that can be given.
"But they said they will use the remaining days to work so they can earn more money that they can use after the island closes," he said.
Urquiola added that the DSWD has coordinated with the Nirvana, Savoy, Lake Town, Villa de Oro, Boracay Holiday and Shangri-La hotels to assist workers. It will also assist the rest of the hotels, resorts and other tourism-related establishments.
DSWD officer-in-charge Emmanuel Leyco said his agency wants to "help as many affected residents as possible because we understand the highly difficult circumstances that they and their families are facing."
"They are losing their means of livelihood and they need all the help that they can get. The DSWD, (like) other government agencies, will do what it can to assist the residents adjust to the situation. We know that we will not be able to provide for all their needs during this period of emergency, but we will see what can be done to help them," Leyco added.
Various tourism stakeholder groups are also banding together to prevent the Boracay closure from being imposed on other tourist destinations in the country, including Bohol, Puerto Galera and Palawan.
"We want the government, in the future, to first consult with all stakeholders and incorporate our ideas before executing any actions that will affect tourism destinations and the industry itself on multiple levels. The government should understand that we are the ones on the ground and that we have a clear understanding on how the industry works," said Marlene Dado Jante, president of the Philippine Travel Agencies Association (PTAA).
Tourism Congress of the Philippines (TCP) president Jojo Clemente said the government is also scrutinizing other tourist destinations in the country and that these are also at risk of closure.
Both Clemente and Jante said the tourism-related groups could have prepared better had the government provided them with enough time to rearrange things.
"They held on to the date of closure for so long. We were never really able to adjust as much as we could," Clemente earlier said.
One Boracay – a group composed of the TCP, PTAA and the Hotel Sales and Marketing Association – said it does not want a repeat of the current high state of confusion due to the haste with which the government wants to implement the closure of the island.
It is offering displaced workers 4,000 jobs in Metro Manila, Bohol and Palawan. It is also asking its members to open at least two temporary jobs for others who will become unemployed.
"We want those workers to remain gainfully employed and capable of providing for their families until Boracay reopens," Jante said.
Tourism stakeholders estimated the economic losses due to the closure at P56 billion and the displacement of 36,000 workers.
Trade Secretary Ramon Lopez said he would seek P300 million for interventions and support for businesses and entrepreneurs while Boracay remains closed.
This may translate to marketing booths for Boracay-related souvenir products in Metro Manila, other major cities and malls.
Lopez said at least 430 entrepreneurs in the gifts and souvenirs sector will be affected by the closure. – With Cecille Suerte Felipe, Rainier Allan Ronda, Catherine Talavera, Richmond Mercurio, Paolo Romero
Related video: