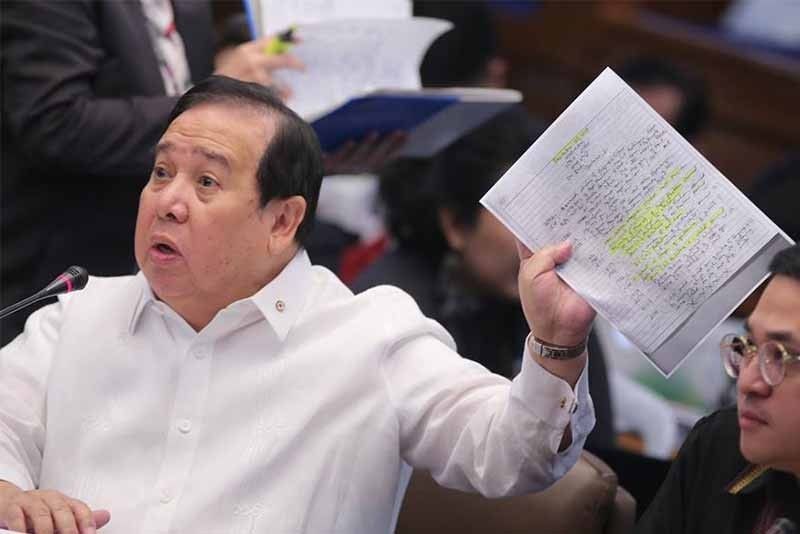 Sen. Leila De Lima said that the Senate Blue Ribbon panel report accusing former President Benigno Aquino III of liability in the anti-dengue vaccine mess was Sen. Richard Gordon's 'diatribe' against the former leader.
Senate PRIB/Joseph Vida
De Lima: Gordon's draft Dengvaxia report a 'personal diatribe' vs Aquino
MANILA, Philippines — The draft report of the Senate Blue Ribbon Committee prepared by Sen. Richard Gordon damning former President Benigno Aquino III for his role in the controversial anti-dengue vaccination program is nothing more than a "personal diatribe", Sen. Leila De Lima said on Monday.
In a scathing statement, De Lima said that she would not be surprised if only a few senators sign the report, which she described as Senate Blue Ribbon Committee chairman Gordon's "personal political manifesto" meant to demonize the former president.
"The Gordon Dengvaxia Report is not a legislative investigation report. It is Gordon's personal political manifesto demonizing former President Benigno Aquino III and his administration," she said in her latest handwritten note from detention in Camp Crame, where she is incarcerated for drug-related charges she claimed are trumped up and for which she has yet to be arraigned.
"The Blue Ribbon Committee Dengvaxia Report is Gordon's personal diatribe against former President Aquino. Nothing more, nothing less," De Lima added.
Gordon's report said that Aquino and some of his Cabinet officials are liable for the Dengvaxia controversy for putting the lives of thousands of children in danger by inoculating them with a vaccine that turned out to be unsafe.
Gordon accused Aquino and his Health secretary, Janette Garin, of conspiring to facilitate the procurement of the anti-vaccine shots during an election year.
Aquino, who is not a doctor, appeared before the Gordon-led committee in December 2017 to say that the decision on Dengvaxia had been done in good faith.
He said then that it was "our understanding that the local and international processes of Dengvaxia had been completed."
Aside from Aquino and Garin, also found liable for violations of the Anti-Graft and Corrupt Practices Act in the draft Gordon report are former Budget Secretary Florencio Abad and Philippine Children's Medical Center executive director Julius Lecciones.
Although he admitted that he had no proof, Gordon said that he suspects that some of the parties involved may have profited from the transaction.
Gordon said that unsigned report was based on the evidence gathered during the hearings on the Dengvaxia controversy, which exploded last year after its French manufacturer, Sanofi Pasteur, warned that the vaccine may lead to severe cases of dengue for those who had not yet contracted the disease.
Some senators meanwhile have expressed apprehension over the report and Aquino's liability in the program which provided anti-dengue shots to more than 800,000 school children.
De Lima said that the whole report was meant to incriminate Aquino without regard to the testimonies and evidence presented by the former president and his officials.
"It is as if PNoy and his officials were never there at the Blue Ribbon Committee hearings," she said.
She also slammed the report as a "farce" and a "political witch-hunt" which was in "perfect harmony" with the "hysterics" of Public Attorney's Office chief Persida Acosta, who had led one of the probes into the supposed deaths arising from the dengue vaccine.
Acosta has hit back at criticism of her methods of probing into the Dengvaxia mess as well as questions on her qualifications to make conclusions on the case.
She has also denied that her office is spreading panic about the vaccination program.
"Drama? This is not drama, my God! People are crying in front of the dead children.This is not a drama! Who made the drama? Sanofi, Dr. [Janette] Garin. You knew there was an adverse reaction and you went into mass vaccination?" she said in February.