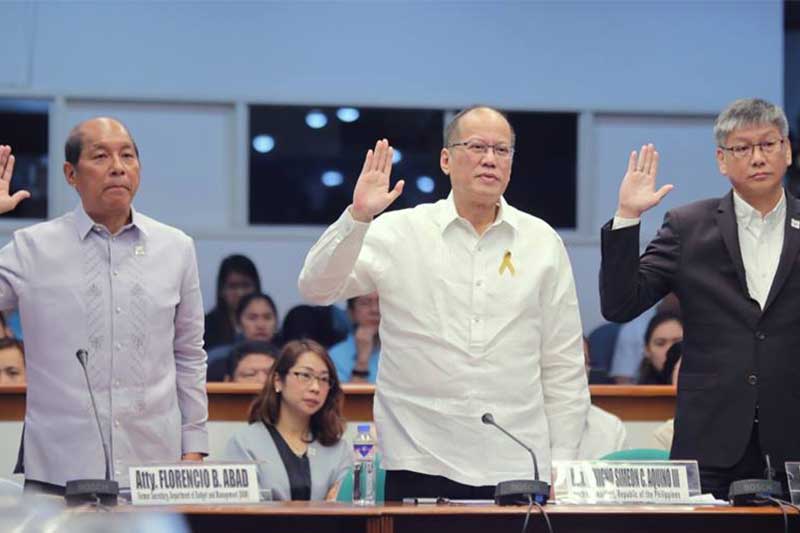 Former President Noynoy Aquino, together with former Executive Secretary Paquito Ochoa and former Budget Secretary Butch Abad took their oath during the hearing on the alleged P3.5 Billion worth of questionable dengue vaccines that had been administered by the DOH to 280,000 students without passing through WHO prequalification requirements. Senate PRIB/Joseph Vidal
Aquino: No one objected to use Dengvaxia
MANILA, Philippines — No one came forward to express their objection against dengue vaccine Dengvaxia when the previous administration decided to roll out its national immunization program, former President Benigno Aquino III said Thursday.
Facing the Senate Blue Ribbon and Health committees, Aquino defended his administration's controversial dengue vaccination program, which was launched in April 2016.
"Before the government decided on Dengvaxia, while deciding, and even after deciding, no one came to me with objection to the vaccine," Aquino told the Senate panel.
It came to his understanding that the efficacy and safety of the vaccine had been cleared by the US Food and Drug Administration, he added.
The former president also stressed that Mexico and Brazil had approved the vaccine before the Philippines.
In his opening speech, Aquino admitted that he had met with executives of pharmaceutical giant Sanofi Pasteur at the sidelines of the climate change conference in Paris in December 2015.
"We were told that Sanofi was ready for the vaccine," Aquino said.
Aquino said that such type of medicine takes years to develop to ensure its efficacy and safety as it undergoes five steps under the US FDA.
"It is our understanding that the local and international processes of Dengvaxia had been completed," the former president said.
The Department of Health launched the vaccine program in Metro Manila, Central Luzon and the CALABARZON region as these are the top three regions affected by dengue based on 2015 data, according to Aquino.
Former president Benigno Aquino III's opening statement at the joint blue ribbon and health senate committee hearing today, Dec. 14, 2017 pic.twitter.com/7f9UlcLYp8

— Abi Valte (@Abi_Valte) December 14, 2017
Defending his administration's vaccine program, Aquino stressed that it was the government's obligation to ensure the safety of its citizens.
"Those who have less in life should have more in law," Aquino said, quoting former President Ramon Magsaysay.
"I did not think of denying vaccine protection to those who most need it," he said.
Earlier this month, the DOH suspended its dengue vaccination program following an analysis from Sanofi Pasteur that Dengaxia poses risk to people without prior infection.
The Senate joint inquiry is looking into the possible irregularities in the implementation of the Aquino administration's P3.5-billion dengue vaccination program.
In 2015, Aquino ordered the realignment of the vaccination fund from the budget to purchase three million doses of Dengvaxia from Sanofi Pasteur.