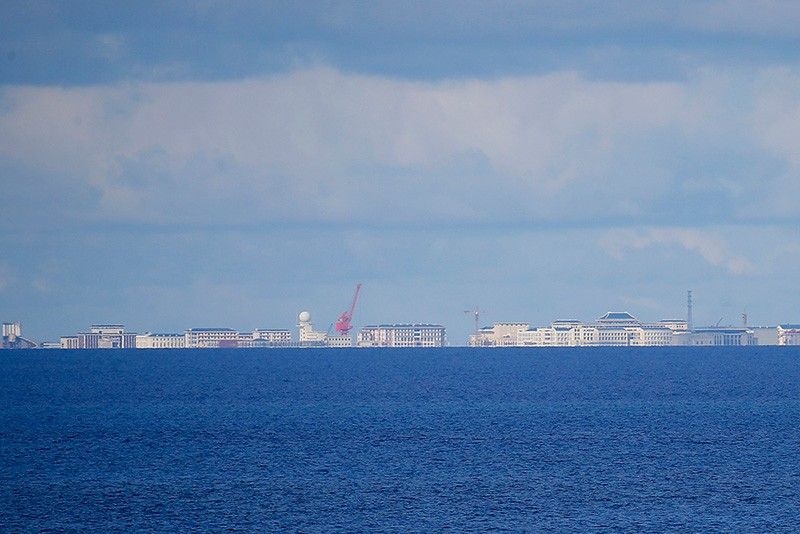 China's construction activities on Subi Reef is seen from Philippine-controled Pagasa Island in the South China Sea off Palawan province on April 21, 2017. AP, file
China built 7 military outposts in South China Sea, says US admiral
MANILA, Philippines — Beijing continues to install military facilities and capabilities on seven outposts in the Spratly Islands despite insisting China does not intend to militarize the region, the commander of the US Pacific Command warned.
Admiral Harry Harris Jr. said that only short-range defensive systems are deployed in China's artificial islands in the South China Sea but their massive infrastructure can support advance military capabilities that can deploy to the bases on short notice.
"The US should assume Beijing plans to use these facilities for their clearly intended purposes at some point in the future," Harris told the US House Armed Services Committee.
At the moment, there are no military aircraft, air defense missile launchers or anti-ship missile systems deployed to China's outposts in the Spratly Islands, which are also being contested by Taiwan, Vietnam, Brunei, Malaysia and the Philippines.
Harris noted that the Chinese have built runways, fighter aircraft hangars and protected air defense launcher sheds in its three largest outposts in the Spratly Islands — Fiery Cross Reef, Mischief Reef and Subi Reef.
China's "Big Three" islands also have protected anti-ship missile launcher sheds, water and fuel storage tanks farms, ammunition storage facilities, barracks, communications systems, deep water pier facilities and military radars.
"These bases appear to be forward military outposts, built for the military, garrisoned by military forces, and designed to project Chinese military power and capability across the breadth of China's disputed South China Sea claims," Harris said.
Harris said that China's rhetoric of deploying military capabilities in response to increased US presence, through freedom of navigation operations, was "disingenuous."
The Pacific Fleet commander stressed that the US Navy had been navigating and operating in the South China Sea for decades while China only began island reclamation earlier this decade.
'China overstating authority in SEA'
Citing China's robust presence in the region, Harris accused China of overstating its authority in the region.
"China routinely challenges the presence of non-Chinese forces, including other claimant nations and especially the U.S., often overstating its authority and insisting foreign forces either stay away or obtain Chinese permission to operate," he said.
Harris pointed out that the US had been conducting freedom of navigation operations since 1979 to "maintain open seas and skies, which underpins economic prosperity for the US and all countries."
"This program consists of diplomatic communications and operational assertions, which are not provocative and are not a threat to any country," Harris said.
The US admiral also noted that China is yet to abide by the ruling of a United Nations-backed tribunal, which invalidated their nine-dash line claim over the South China Sea.
"The Philippines, preoccupied with the counter-terrorism fight on Mindanao and desirous of stable relations with China, has not pressed the issue since China is 'allowing' Filipino fishermen some access to Scarborough," Harris said.
Meanwhile, Philippines' top diplomat considers the access of Filipino fishermen in disputed as a positive development in the South China Sea.
"Let me note that our fishermen are back exercising their livelihood in Scarborough Shoal, and overall, the situation in the greater South China Sea has become more stable than in past years," DFA Secretary Alan Peter Cayetano said.
The Philippines and China recently concluded the second meeting of the bilateral consultation mechanism on the South China Sea, which focused on cooperation and collaboration.
Beijing's militarization of the South China Sea did not come up in the meeting, based on the statements released by the Department of Foreign Affairs.
Related video: