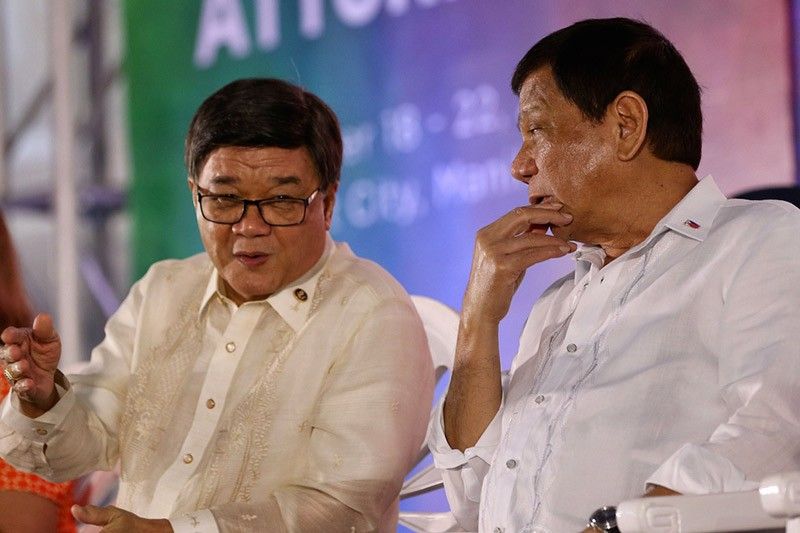 In the communication he filed April 2017, lawyer Jude Sabio said 11 other government officials including former Justice Secretary Vitaliano Aguirre II should be held liable along with President Rodrigo Duterte for alleged crimes against humanity.
Richard Madelo/Presidential Photo
Aguirre's resignation won't free him from ICC's radar
MANILA, Philippines (Originally published on April 6, 2018) — The resignation of Vitaliano Aguirre II as the secretary of the Department of Justice does not mean that he would be spared from the potential prosecution before the International Criminal Court.
In February, the Hague-based court launched a preliminary examination into allegations of crimes against humanity committed by President Rodrigo Duterte in his ferocious war on drugs.
In the communication he filed April 2017, lawyer Jude Sabio said 11 other government officials such as Aguirre, Philippine National Police chief Ronald dela Rosa and Solicitor General Jose Calida should be held liable along with Duterte.
On Thursday, the chief executive accepted the resignation of Aguirre, who drew flak for his handling of controversial cases.
READ: Duterte accepts Aguirre resignation
But the decision of Aguirre to step down from the post that he held for nearly two years does not free him from the ICC's radar for possible crimes against humanity.
According to the ICC, any individual who is alleged to have committed crimes within the jurisdiction of the ICC may be brought before the Hague-based criminal court.
"In fact, the Office of the Prosecutor's prosecutorial policy is to focus on those who, having regard to the evidence gathered, bear the greatest responsibility for the crimes and does not take into account any official position that may be held by the alleged perpetrators," it said.
International law holds an individual criminally responsible if they plan, instigate, order, commit or otherwise aid and abet a criminal offense.
In October 2016, ICC prosecutor Fatou Bensouda said that "any person in the Philippines who incites or engages in acts of mass violence including by ordering, requesting, encouraging or contributing, in any other manner, to the commission of crimes within the jurisdiction of the ICC is potentially liable to prosecution before the Court."
In February, an unfazed Aguirre said that the accusations against them "will not fly."
Aguirre's inclusion
The classmate and law fraternity brother of Duterte once said that his inclusion in the communication is both amusing and baseless.
"The camp of [Edgar] Matobato and Sabio apparently threw a net in the sea with this case and want to see how many fish they can catch before the ICC. Sorry to disappoint them this early, they will catch none," Aguirre said.
Responding to the Amnesty International report that drug-related killings could constitute crimes against humanity, Aguirre said that criminals, drug lords, drug pushers "are not humanity."
"How can that be when your war is only against drug lords, drug addicts, drug pushers? You consider them humanity? No. I believe not," he said February last year.
Aguirre's statement runs in contrast to the Universal Declaration of Human Rights, in which the Philippines is a signatory and which holds that "all human beings are born free and equal in dignity and rights."
It also contradicts the 1987 Constitution that he swore to uphold and that declares that the state "values the dignity of every human person and guarantees full respect for human rights."
He categorically denied saying that drug lords are not humans, claiming that he was "deliberately misquoted."
READ: Duterte officials hold drug suspects, criminals not human
His office also has been repeatedly accused of turning a blind to extrajudicial killings.
Last July, his predecessor Sen. Leila de Lima filed a complaint him for allegedly instructing his prosecutors not to file drug war-related EJK cases against police officers. Aguirre denied his rival's claims.