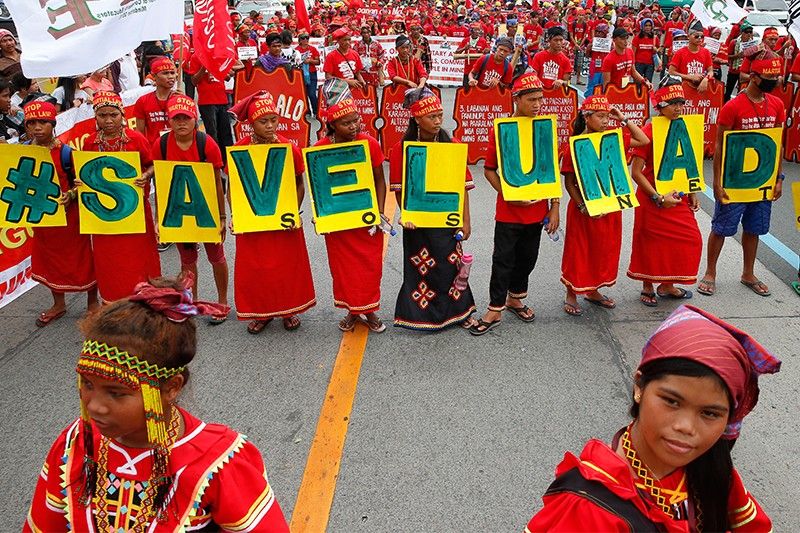 "I will help you survive, but you have to start now," the President said. "I will give you financial assistance to cultivate your lands. If you are not in good terms with each other, just go here and I'll be the one to mediate. If you have more relatives, then that's okay." Philstar.com/File Photo
Duterte warns lumads vs joining New People's Army
MANILA, Philippines — President Duterte has vowed to provide livelihood to lumads or members of indigenous groups as he warned them against joining the communist rebellion.
Speaking during a gathering of lumads in Davao City last Friday, Duterte vowed to provide tractors and seedlings to indigenous groups so they can cultivate their lands. He said each tribe would receive five tractors as well as financial assistance and seedlings.
"I will help you survive, but you have to start now," the President said. "I will give you financial assistance to cultivate your lands. If you are not in good terms with each other, just go here and I'll be the one to mediate. If you have more relatives, then that's okay."
Last month, the President said the government would release P100 million to tribal communities in Mindanao to spur development in the countryside.
Military officials have said the rebels are exploiting the lack of development in lumad areas to recruit new members.
In the same event, Duterte urged lumads to stop supporting the New People's Army (NPA), the armed wing of the communist movement. The President said those who joined the armed struggle had abandoned their families.
"What's worse is that you join the NPA and die for it. You will lose yourself to nothing," the Presiden said.
He also took a jab at Communist Party of the Philippines founding chairman Jose Maria Sison, whom he described as "the most cowardly of all cowards."
"You follow Sison whom you've treated as your God. Sison is the most cowardly of all cowards. He was my idol when I was still a student. But now, whenever I talk to him, he tells me that he wants to join the government. We are like a politburo if that's the case. A committee. They like that," Duterte said.
Sison is a former professor of Duterte at the Lyceum University, where he completed his political science degree.
"They want a committee then they're on the other side while I'm on the government side. Our Constitution is the basis of sovereignty and the government. It can only be given to the person that was chosen by the people," he added.
Duterte scrapped the peace talks with the communists, saying they are pushing for a coalition government, a setup that he said is not allowed under the Constitution.