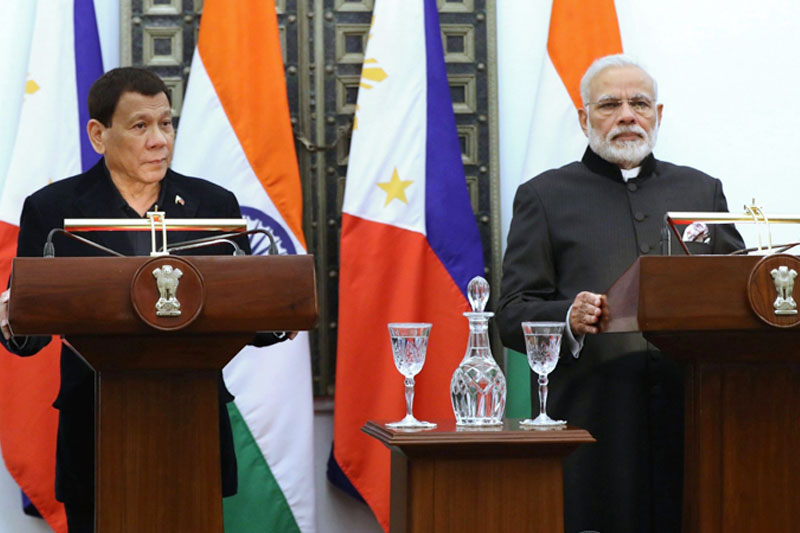 Presidential spokesman Harry Roque said Indian companies have been meeting with officials of the Department of Trade and Industry (DTI) on the sidelines of the Association of Southeast Asian Nations (ASEAN) – India Commemorative Summit to discuss their investment plans. Presidential Photo
Philippines secures $1.25-B investments from India
NEW DELHI – The Philippines has drawn at least $1.25 billion worth of investment pledges from Indian firms that are expected to create 10,000 jobs.
Presidential spokesman Harry Roque said Indian companies have been meeting with officials of the Department of Trade and Industry (DTI) on the sidelines of the Association of Southeast Asian Nations (ASEAN) – India Commemorative Summit to discuss their investment plans.
President Duterte is here to attend the summit, which highlighted the need to further increase the engagement between India and the regional bloc.
"The truth of the matter is even before the start of the ASEAN – India (summit), DTI has already facilitated billions in new investments in the Philippines and they are expected to generate thousands of jobs," Roque said yesterday in a press briefing.
The amount does not include pledges of companies that have yet to provide estimates of their investments.
"Definitely, it will be higher than $1.25 billion," Trade Secretary Ramon Lopez remarked.
The bulk or $1 billion of the investment pledges came from Adani Green Energy Ltd., which is planning to expand operations in the Philippines.
"We met Adani Green Energy. Their plan is to expand operation to the Philippines in particular focusing on the renewable energy, building solar panels. They are the biggest in India… So they are now looking for sites for the solar and the wind-based power generation," Lopez said.
There were also investment pledges from companies involved in information technology, business processing management, software development, tourism and wellness and pharmaceuticals.
The trade department has received seven letters of intent from investors, including Adani.
Other companies that expressed interest to invest in the Philippines were Interglobe Air Transport, Interglobe Technologies, KG Information Systems Private Ltd., Business Process Association of the Philippines, The Farm at San Benito (Narra Wellness Resorts Inc.), which is eyeing to expand in Palawan and Davao and Hinduja Global Solutions, which is planning to hire 2,000 additional workers.
The Philippines' Board of Investments signed an agreement with Invest India to encourage direct investments in the two countries.
Two memoranda of agreement were signed during Duterte's visit here.
Meanwhile, the National Association of Software and Services Companies of India and the IT & Business Processing Association of the Philippines, inked a deal seeking to promote the development and growth of the information technology industry.
Invest in Phl
President Duterte also called for stronger cooperation with India in terms of cheap medicines during his bilateral meeting with Indian Prime Minister Narendra Modi last Wednesday.
Trade Secretary Lopez said a stronger cooperation with Indian pharmaceutical firms would ensure the availability of affordable medicines in the Philippines.
"It's highlighted that the medicines coming from India are not only affordable but also with high efficacy, very effective. They, in fact, are biggest exporters of medicines to the US and the EU (European Union)," Lopez said.
Lopez also invited Indian pharmaceutical firms to start manufacturing in the Philippines.
"They can make the Philippines as their toll manufacturing hub for medicines that they will supply to the Philippines or making it as a manufacturing hub to export also to their other export markets," Lopez said.
"We would like to encourage more sourcing of cheaper medicine or what we say affordable medicines from more sources here in India. But at the same time, (we are) encouraging them now to look into manufacturing so that we don't just rely on importation."
Lopez said many Indian companies have the technology to provide affordable health care and wellness to Filipinos.