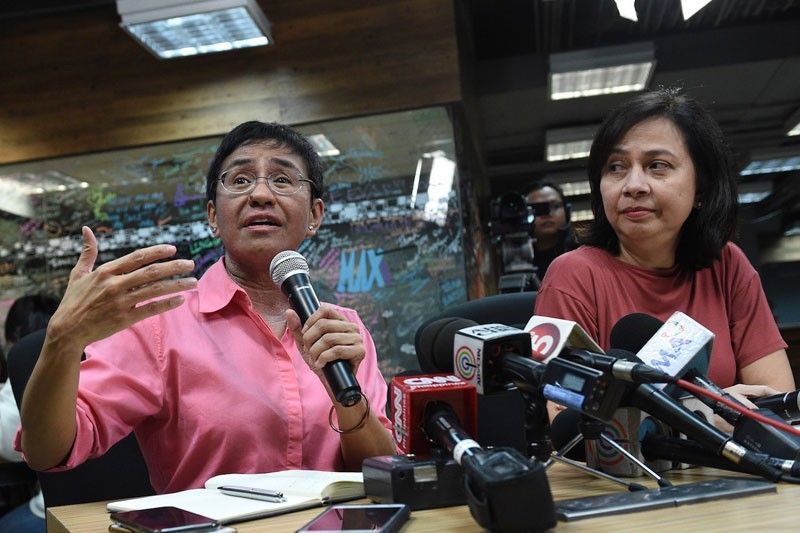 Rappler chief Maria Ressa and a former investigative reporteer were summoned by the National Bureau of Investigation over a complaint by a businessman for alleged violations of the country's Cybercrime Law. AFP/File
NBI summons Rappler for an investigative report published in 2012
MANILA, Philippines — The National Bureau of Investigation has issued a subpoena to Rappler CEO Maria Ressa and a former reporter over a supposed violation of the country's Cybercrime Law.
Ordered to appear at the Office of the Cybercrime Division of the NBI on Jan. 22 were Ressa, Reynaldo Santos Jr., a former Rappler reporter, and Benjamin Bitanga, an incorporator of a shareholder of the online news organization.
The three subpoenas, signed by NBI Director Dante Gierran on Jan. 10, 2018, stemmed from a complaint filed by Wilfredo Keng for alleged violation of Republic Act 10175 or the Cybercrime Law.
READ: Rights groups on Rappler closure: Don't shoot the messenger
Santos, who was then part of Rappler's investigative arm, reported in 2012 that Keng lent his sport utility vehicles to the then Chief Justice Renato Corona who was facing an impeachment case in the Senate.
Rappler reported that Corona used two SUVs of Keng in different occasions in 2011 as well as the height of his Senate impeachment trial.
The report said that it got hold of an intelligence document showing that Keng was under surveillance by the National Security Council for supposed involvement in illicit activities such as human trafficking and smuggling. It also alleged that the businessman had contacts in Congress and the American embassy.
READ: Senators: Rappler shutdown 'straight from Marcos' playbook'
The NBI summons were the latest in Rappler's woes this week.
On Monday, the Securities and Exchange Commission cancelled its corporate registration following its supposed violations of the country's prohibition against foreign ownership of local media. Rappler has denied this and vowed to fight the ruling all the way to the Supreme Court.
President Rodrigo defended the decision and said that the issue was not about press freedom although he washed his hands of any hand in the ruling.
He also accused the news website of peddling so-called fake news, a charge Rappler denied, insisting that Duterte need not look far to know the source of spurious information.