Alvarez: No election in 2019 possible but not Duterte term extension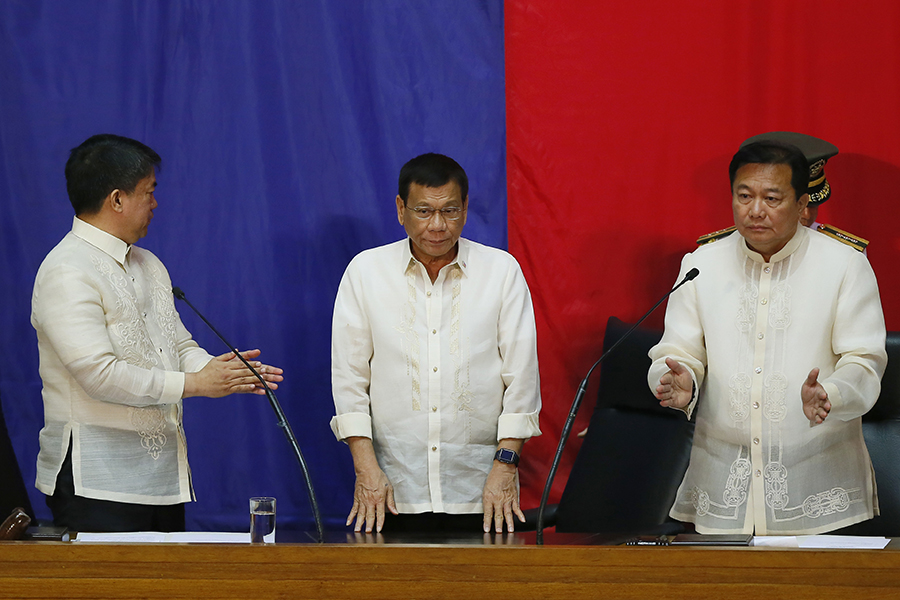 MANILA, Philippines — Speaker Pantaleon Alvarez on Thursday reiterated that it is possible that midterm elections in 2019 would be canceled should the country shift to a federal form of government as he dialled back on suggestions that President Rodrigo Duterte's term might be extended beyond 2022.
The speaker, who is leading the charge for the country to adopt a federal form of government at the House, said that once the shift happened a transitory period would be necessary to prepare for an election under the new system.
"What I'm talking about is the scenario. Let us not beat around the bush. There is really a possibility that there will be no elections because we are preparing for a transition government," the speaker said in a radio interview.
READ: Federalism: What Filipinos need to know
He said that congressmen and local government officials could have elections next year but their terms might not go beyond 2022 if elections for the new Constitution would be called.
"Congressmen and LGUs have only three years. As far as we are concerned, congressmen and LGUs could hold elections in 2019. However, elections for senators need not be held because once elected their terms will last for six years," he said.
He added that elections for all the positions in the new government could be held in 2022.
READ: Duterte: Filipinos not yet ready for federalism
Sen. Bam Aquino, however, opposed the proposal, stressing that allowing people to select the leaders was essential to democracy.
Aquino, who belongs to the minority caucus in the Senate, said that the 2019 elections would serve as an "auditing" of the first three years of the Duterte administration and other government officials, especially if they were able to fulfil their campaign promises.
"Voting is part of democracy. It is important that people are given a chance to vote for the leaders they want," he said in Filipino in a television interview.
"We go through this process because we are a democracy. It is important that the Filipino people have an opportunity to voice what they want," he added.
Aquino said that any attempt to elongate the terms of officials would be "self-serving" especially for those whose terms would lapse in 2019.
Alvarez, however, doused speculations that moves to change the Constitution were meant to prolong Duterte's stay in power.
He said the president had already indicated that he would resign in or before 2022 if this was needed for the proposed shift to a federal form of government.
Harry Roque, spokesperson for the president's office, said Duterte in fact was already wishing that it was already 2022.
In November, Duterte had stated that he would be willing to resign if a Constitution that was suited to the way of life of Filipinos would be crafted.
Talks on a possible extension of Duterte's term flared on Wednesday after Senate President Aquilino Pimentel III said that the chief executive's term could be lengthened if needed.
However, in a separate statement to Philstar.com, he clarified that there was no need for such extension as there was enough time in Duterte's term to use as a transition period.