Duterte: Filipinos not yet ready for federalism
December 13, 2017 | 3:30am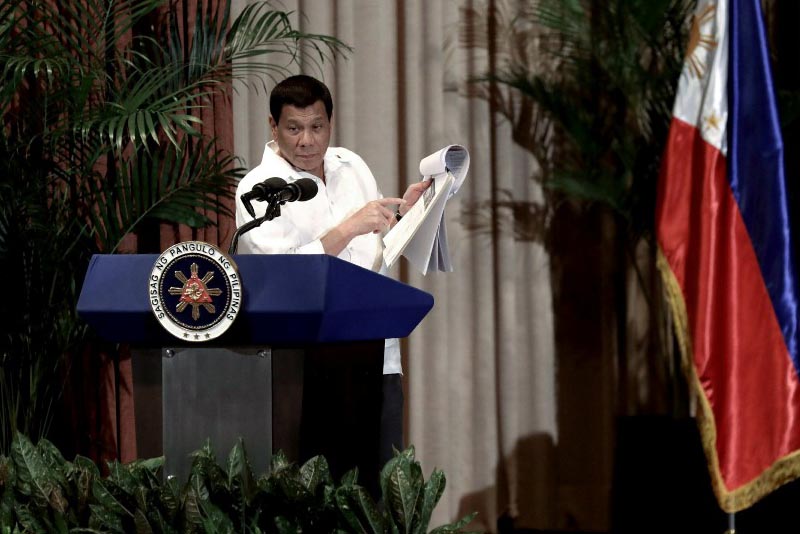 MANILA, Philippines — President Rodrigo Duterte on Tuesday said Filipinos are not yet ready for a federal system, which he had promised to establish to end conflicts that had stunted economic growth in the countryside by developing and empowering provinces.
Speaking to Palace reporters, Duterte said failure to find the "right formula" would not bring an end to violence in the insurgency-plagued region of Mindanao.
"Walang mangyari dito if we do not concede somewhere," Duterte said.
"Problem is the Filipinos are not ready for a federal type. It doesn't seem to ring a bell in the Visayas and Mindanao which are those dedicated and are those thinking Filipinos," he added.
Duterte, the first president from Mindanao, had championed the proposed radical shift to federalism to topple the "Imperial Manila" in a bid to curb poverty and long history of Muslim separatist insurgency.
The country currently employs a unitary form of government with much of the power emerging from the central government.
Federalism provides more powers to local governments, including the power to establish courts, implement business regulations and impose taxes.
READ: Federalism: What Filipinos need to know
"Kailangan talaga magbigay kayo diyan. If Congress fails, and I'm not hurrying them up, there will be trouble," Duterte warned.
The amendments to the Constitution, particularly the shift to federalism, were among the 27 priority bills identified during August's Legislative-Executive Development Advisory Council meeting.
Amid claims of his supposed strongman tendencies, Duterte had repeatedly assured the public he would not use the planned change to federalism to perpetuate himself to power.
The issue of amending the Constitution is a sensitive topic in the Philippines, a country once under Marcos rule for two decades, over fears that it will be used to prolong the term of the chief executive.
A move to amend the charter during the term of President Gloria Macapagal-Arroyo, an ally of Duterte, was met with protests as concerns that it was intended to extend her term loomed.