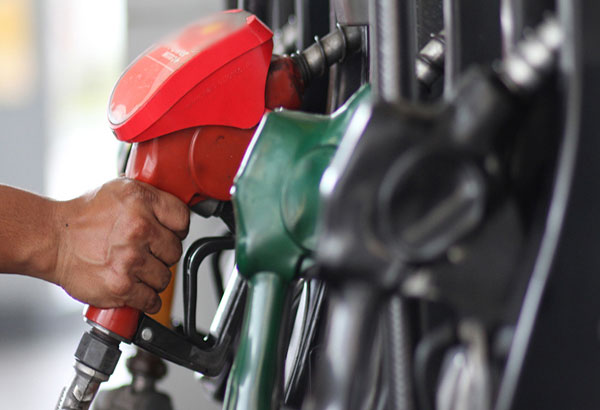 Pilipinas Shell Petroleum Corp. was the first to announce adjustments, at P0.20 per liter for gasoline, P0.65 for diesel and P0.75 for kerosene. This is the second consecutive week that diesel and kerosene prices are being raised. File
Fuel prices increase, but it's not yet TRAIN
MANILA, Philippines — Motorists and consumers will have to pay more for fuel today – the first working day of the year – but it will be due to global supply concerns rather than the new tax law, which took effect yesterday, officials stressed.
Pilipinas Shell Petroleum Corp. was the first to announce adjustments, at P0.20 per liter for gasoline, P0.65 for diesel and P0.75 for kerosene. This is the second consecutive week that diesel and kerosene prices are being raised.
Other oil companies are expected to make the same announcement.
This developed as the Department of Energy (DOE) urged the public not to panic as it clarified that the newly enacted Tax Reform for Acceleration and Inclusion (TRAIN) has nothing to do with the latest price hikes. President Duterte signed TRAIN, along with the 2018 national budget program, last Dec. 19.
On New Year's Eve, motorists rushed to gas stations to fill up their gas tanks in anticipation of the price surge resulting from the TRAIN implementation.
While the higher value-added taxes on petroleum products under TRAIN took effect yesterday, the DOE said they should not be used as justification for today's rise in pump prices.
The DOE, through the Oil Industry Management Bureau (OIMB) and in coordination with the Department of Finance (DOF), said the new excise tax rates do not apply to old stocks of petroleum products and therefore should not be used as justification for price adjustments.
"The OIMB has issued an advisory to petroleum products stakeholders not to levy new excise tax rates on old stocks, considering that excise taxes are levied upon importation and not at the point of sale to the consumers," Assistant Secretary Leonido Pulido III said.
The DOF said "oil increase done by companies on Jan. 1 might be considered profiteering" as the "excise is paid at the port of importation or refinery." It added that it would take a few days for the 2017 oil stock to be used up.
The DOE also urged the public to be vigilant and to report any unlawful price adjustments to info@doe.gov.ph or to Consumer Welfare and Promotion Office at tel. no. 479-2900 loc. 329.
Under the TRAIN law, gasoline is subject to higher excise tax of P7 per liter from the previous P4.35. The new tax rate for diesel and auto liquefied petroleum gas (LPG) is P2.50 per liter; for kerosene, P3.
The DOE said last week's international oil trading might result in upward adjustments in domestic prices of gasoline, diesel and kerosene.
Based on earlier DOE estimates, gasoline prices might increase by around P0.15 per liter, diesel by around P0.60 per liter and kerosene, P0.55 per liter.
At last week's trading, energy undersecretary Felix William Fuentebella said OIMB's monitoring noted that oil prices soared to two-and-a-half-year highs as a result of an explosion of a crude pipeline in Libya this week and of voluntary supply cuts by the Organization of the Petroleum Exporting Countries (OPEC).
With the explosion in Es Sider port pipeline, Libya saw a 90,000 barrel per day drop in crude oil production.
Earlier, a North Sea pipeline suffered an outage. Higher oil prices also resulted from stronger demand for crude imports in China and the US's drawing more crude from its inventories for refining.
US inventories decreased by six million barrels for the week ending on Dec. 22, DOE monitoring showed.
The DOE regularly monitors oil trading in the international market and analyzes its effects on domestic pump prices as mandated under the Oil Deregulation Law of 1998.
The DOE also reminded oil retailers of the "price freeze" on kerosene and household LPG in effect in areas declared under a state of calamity.
The agency said the price freeze is applicable for 15 days, commencing one day after the declaration of a state of calamity.
The onslaught of Typhoon Vinta prompted authorities to declare several areas under a state of calamity, including Naujan and Baco in Oriental Mindoro province, as well as Lanao del Norte, Zamboanga del Norte and Davao City in Mindanao.
Safety measures
As higher prices of fuel loom, the DOE and the Energy Regulatory Commission (ERC) should take steps to ensure that consumers are protected from unwarranted price hikes, lawmakers said.
Rep. Ron Salo of party-list Kabayan asked Energy Secretary Alfonso Cusi "to take preemptive action to head off any attempt by any oil firm in the country to raise fuel prices using fuel stocks imported before" the law took effect yesterday.
"I also ask Secretary Cusi to make sure the true effect of the higher excise taxes is computed into future fuel price hikes of the oil firms," he said.
"While it is true that the higher excise taxes on fuel take effect on Jan. 1, it will still take weeks for the impact of the higher taxes to be reflected in pump prices under the current deregulated oil market," Salo pointed out.
At the same time, Salo – a member of the House committee on economic affairs – said both Cusi and Executive Secretary Salvador Medialdea should ensure that the ERC – a majority of whose officials have been suspended by the ombudsman – is able to perform its function.
Administration lawmaker Rep. Michael Romero of 1-Pacman party-list said the Duterte administration has allotted P24.4 billion in cash transfer subsidy program for the poor to cushion the impact of oil price hikes.
"The Land Bank of the Philippines has P24.488 billion for its tax reform cash transfer project subsidy for which Land Bank and DSWD (Department of Social Welfare and Development) will soon have guidelines," he said. The DSWD's tax reform cash transfer budget is P1.184 billion.
"Between just these two agencies (LBP and DSWD), government has P25.672 billion for cushion versus consumer price impacts of the TRAIN Law," Romero said in a statement.
DSWD and Land Bank have been tasked in the 2018 General Appropriations Act to issue guidelines for the tax reform cash transfer subsidy.
Aside from these funds, Land Bank and the Development Bank of the Philippines (DBP) also have P1.133 billion each for the public utility vehicle modernization program loans to PUV operators, according to the administration lawmaker.
Reps. Bernadette Herrera-Dy of party-list Bagong Henerasyon and Frederick Siao of Iligan City pointed out that the P3.7-trillion budget for this year has substantial allocations for the DSWD and other key departments.
"DSWD has a P1.184-billion Tax Reform Cash Transfer Program allocation aside from the P89.4 billion for the 4Ps program, P19.26 billion for indigent seniors, P3.42 billion for supplemental feeding and P38.9 million for street children," Dy, chair of the committee on public information of the House of Representatives, said.
Dy also said that aside from the budgets of state universities and colleges, CHED has P5.86 billion for Tulong-Dunong grants and incentives, plus P3.9 billion for college faculty taking master's and doctoral studies as part of the K-12 Transition program. – Delon Porcalla, Lawrence Agcaoili