Reuters pushes back, insists it gave Duterte's office time to air side
December 21, 2017 | 1:32pm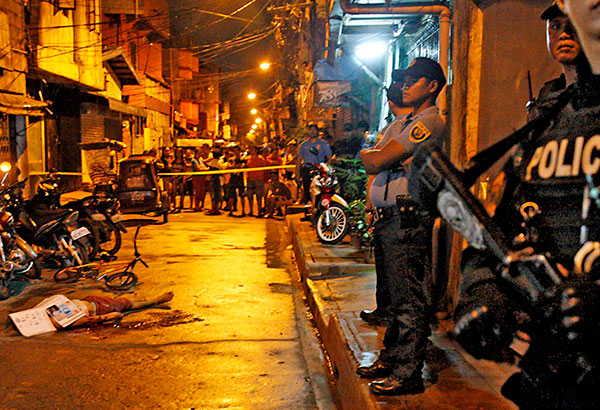 MANILA, Philippines — Award-winning news agency Reuters pushed back Thursday against insinuations that its reporting on a police station in Quezon City manned by cops from Davao City was irresponsible for failing to get the government's side.
It said President Rodrigo Duterte's office was given enough time to air its comment.
Reuters journalists Clare Baldwin and Andrew R.C. Marshall detailed in a report how Quezon City Police District Station 6, where policemen from Duterte's hometown of Davao City operated as a unit, launched deadly anti-drug raids over the past year.
These operations, the report said, made the station the "most lethal" in Quezon City after its officers killed 108 suspects from July last year to June 2017, accounting for 39 percent of the city's total deaths.
The allegations prompted Harry Roque, a spokesperson for the president's office, to pan the news organization, which he said gave them only one hour to respond to the story's contents.
"That was a foul report. Reporter demanded our version within the hour at 11 a.m. yesterday (Wednesday)," Roque said Wednesday.
He doubled down on his criticisms of the news agency on Thursday, calling the report an example of "very bad journalism" as the organization did not get the side of the government. Roque, however, admitted that he had not yet read the story.
Reuters pushed back on Thursday and essentially belied Roque's assertion.
"The claim that Reuters gave the president's office just an hour to respond is untrue," the wire agency said in a statement.
Reuters said that questions were sent to Duterte's office a week before the publication of the story, and it confirmed receiving the queries.
The agency said it followed up with phone calls and emails, but the president's office never responded to its questions.
READ: NUJP: Dela Rosa reacting without reading Reuters report
This is not the first time that Reuters released an article critical of the government's ferocious war on drugs, a central component of Duterte's anti-crime and anti-corruption platform during the 2016 presidential elections that propelled him to the country's highest office.
On November 27, it published an investigative story basically debunking police claim that suspects killed in a village in Manila offered violent resistance as they were being arrested.
The story, complemented with a security camera footage, detailed how cops in plain clothes cleared an alley in Tondo district before shooting a drug suspect.
READ: Manila police video disputes 'nanlaban' narrative, bishop says
During Senate hearings on the alleged liquidation squad that operated in Davao City during Duterte's term there as mayor, a witness narrated how the town's cops carried out the killings upon the orders of the tough-talking leader.
Since July last year, between 7,000 to 12,000 have died in the government's war on drugs, but government authorities disputed this figure. Senior officials have also denied allegations that the president is condoning rights abuses in his administration's drug war.
READ: Palace 'authenticating' video in Reuters report on drug war