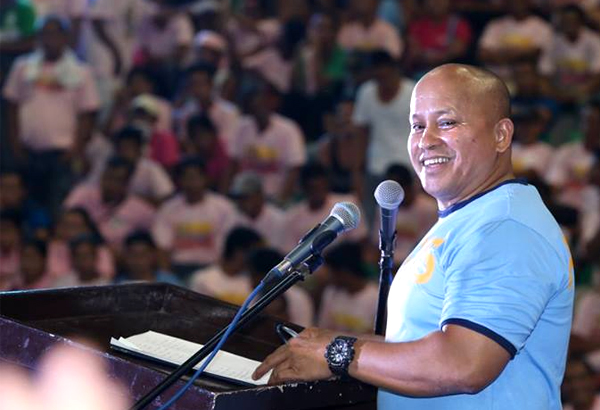 Philippine National Police Director General Ronald dela Rosa said the police force had "many victories" in 2017. He remarked this despite the criticisms over the alleged police abuses in the government's bloody campaign against illegal drugs. File Photo
Bato: PNP had 'many victories' in 2017
(philstar.com) - December 15, 2017 - 8:38am
MANILA, Philippines — Philippine National Police Director General Ronald dela Rosa on Friday thanked his fellow cops for supposedly overcoming trials in the service this year.
In a statement, Dela Rosa said the police force had "many victories" in 2017. He remarked this despite the criticisms over the alleged police abuses in the government's bloody campaign against illegal drugs.
"We end 2017 with deep gratitude in our hearts for the countless blessings and many victories we have achieved during the year and look forward to 2018 with great optimism as we receive from the good Lord the gift of another new year of service," the police chief said.
Dela Rosa said that the opportunity to serve the country is "perhaps the best gift from the Lord."
"In gratitude, let us celebrate the birth of Lord Jesus Christ by offering to Him and for His greater glory all our victories, our good deeds, our sacrifices and even our defeats," he said.
The PNP director urged his fellow policemen to use the Christmas season to renew and strengthen their commitment to another year of service filled with "integrity, love of country and compassion for fellowmen."
"We must remember that Jesus Christ is the ultimate public servant whose selfless service and the sacrifices he made for mankind must inspire us as we perform our duties to serve and protect or country," Dela Rosa said.
The PNP, under his watch, nabbed alleged supporters and financiers of the Maute group who fought government forces in Marawi City for five months.
The police force also foiled attempt of suspected Abu Sayyaf members who planned to terrorize the 31st Association of Southeast Asian Nations Summits and Related Meetings in mid-November.
Dela Rosa, who will retire January 21 next year, has been confirmed to lead the Bureau of Corrections.
On Wednesday, President Rodrigo Duterte said he is extending Dela Rosa's term for "two to three months" to help introduce reforms in Mindanao.
READ: Duterte to extend PNP chief Dela Rosa's term, Duterte to appoint Bato dela Rosa as next BuCor chief
Defeats
Before Duterte barred them from joining the war on drugs campaign in October, cops have received criticisms both at home and abroad for alleged abuses and accusations of extrajudicial killings related to the drug war.
Following the deaths of teenagers at the hands of the police force, Duterte had ordered the Philippine Drug Enforcement Agency to the lead in the administration's anti-drug campaign.
Responding to what he called "public clamor," Duterte signed a memorandum on December 5 bringing back the police in the crackdown on illegal drugs.
According to human rights watchdogs, Duterte's war on drugs has claimed over 12,000 lives.
The government has disputed these numbers. According to the latest #RealNumbersPH data release, there have been 3,967 drug suspects killed in government operations since July 2016. Government officials, including Foreign Affairs Secretary Alan Peter Cayetano, said all of those killed were drug pushers.
The data releases no longer include information on "deaths under investigation," a tally of murders and homicides that police have yet to determine motives for.
The PNP was also in hot water after the kidnapping and murder of South Korean businessman Jee Ick-joo by policemen. This prompted Duterte to suspend PNP's role in drug war for the first time.