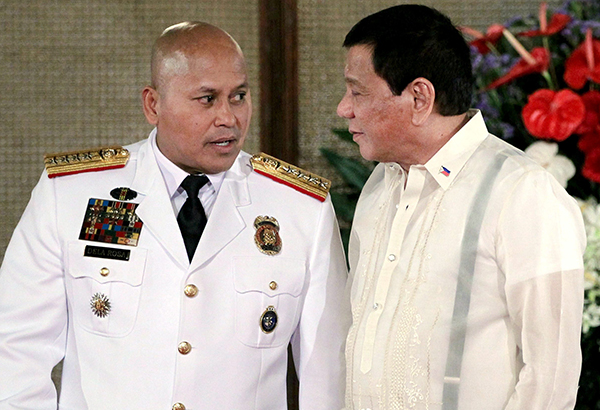 Duterte earlier confirmed he was set to appoint Dela Rosa as as the next head of the Bureau of Corrections when the PNP chief retires on January 21 next year. KRIZJOHN ROSALES
Duterte to extend PNP chief Dela Rosa's term
(philstar.com) - December 13, 2017 - 10:33am
MANILA, Philippines — President Rodrigo Duterte on Wednesday said he is extending the term of Philippine National Police Director General Ronald dela Rosa for "two to three months" to help introduce reforms in Mindanao.
Duterte made the announcement in a press conference after attending the ceremonial demilitarization of firearms seized during the Marawi rebellion in Mindanao.
"I want to do some things in Mindanao of utmost importance. And I need to extend the tour of duty General dela Rosa to something like two to three months," Duterte told reporters.
"It's mainly infrastructure. And maybe the physical setting of the headquarters of the Armed Forces and the police to suit the demands of the moment," he added.
"[As] the chief of the executive department, who has jurisdiction over the Armed Forces of the Philippines and the Philippine National Police, I have that discretion to extend [anyone's term] even beyond retirement age."
Duterte earlier confirmed he was set to appoint Dela Rosa as the next head of the Bureau of Corrections when the PNP chief retires on January 21 next year.
Sought for comment on his next job, Dela Rosa also on Wednesday said: "Who am I to refuse the president, he is my boss ever since he will be my boss forever."
According to Duterte, Dela Rosa will be transferred to the BuCor once the president's plans for Mindanao are "in place and operational."
"May ililipat ako tapos may gagawin akong mga kampo na bago. But at this time, I am not prepared to spell it out before the public," he said.
Asked about his retirement plans, Dela Rosa, who had described his last year as the country's top cop as a "roller coaster ride," earlier said he is expected to be designated to the "most challenging agency in the government where everyone failed."
"He (Duterte) said 'I expect you to succeed.' Imagine that he is giving me the most difficult job," Dela Rosa recalled.
An attached agency of the Department of Justice, the BuCor is tasked to implement effective rehabilitation and safekeeping of prisoners.
The drug trade in the New Bilibid Prison, a facility managed by the BuCor, was a talking point for Duterte during the 2016 election campaign.
He accused the Aquino administration of doing nothing to curb the drug-trafficking in the national penitentiary, which he said is the center of the drug trade in the country.
Sen. Leila de Lima, a Duterte critic and former Justice secretary, is in jail for allegedly receiving money from drug convicts in Bilibid to fund her senatorial campaign.
But she had denied the allegations as a demolition job against her for opposing the president's policies, particularly his war on drugs.
Elite police Special Action Force troopers had been deployed to Bilibid to guard against the return of illegal drugs.
READ: BuCor chief quits over resurgence of Bilibid drug trade