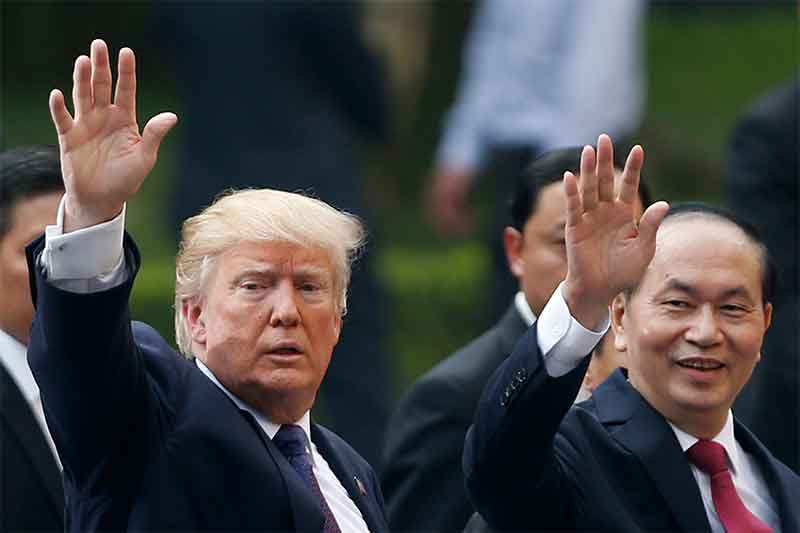 US President Donald Trump, left, and Vietnam's President Tran Dai Quang wave their hands after a press conference at the Presidential Palace in Hanoi, Vietnam Sunday, Nov. 12, 2017. Kham/Pool Photo via AP
US, Vietnam urge South China Sea claimants to clarify claims
MANILA, Philippines — US President Donald Trump and Vietnamese President Tran Dai Quang called on all South China Sea claimants to comply with international law as reflected in the 1982 UN Convention on the Law of the Sea.
In a joint statement, the US and Vietnam emphasized the importance of free and open access to the disputed South China Sea.
The two leaders urged all claimant states "to implement their international legal obligations in good faith in managing or resolving these disputes."
"They called for the full and effective implementation of the Declaration on the Conduct of Parties in the South China Sea, and an early conclusion to an effective, legally binding Code of Conduct for the South China Sea," the statement read.
China claims more than 90 percent of the South China Sea, which is being disputed by the Philippines, Malaysia, Vietnam, Brunei and Taiwan.
Trump and Quang noted that the there is a need to respect freedom of navigation and overflight in the disputed waters in order to observe unimpeded lawful commerce.
"The two sides reiterated the stance on the South China Sea in the previous United States-Vietnam and United States-ASEAN joint statements, including their call on parties to refrain from escalatory actions, the militarization of disputed features, and unlawful restrictions on freedom of the seas," the joint statement read.
Trump, in a meeting with Quang, had offered to serve as a mediator on the South China Sea.
The US president said that he is a "very good mediator and a very good arbitrator" and that he is willing to help.
DFA Secretary Alan Peter Cayetano had expressed his gratitude to Trump for his "generous offer."
"We thank him for it. It's a very kind, generous offer because he is a good mediator. He is a master of the art of the deal," Cayetano said.
RELATED: Duterte trusts Xi's word that buildup in disputed sea is 'nothing'