De Lima asks SET to cite Tolentino in contempt
October 24, 2017 | 4:00pm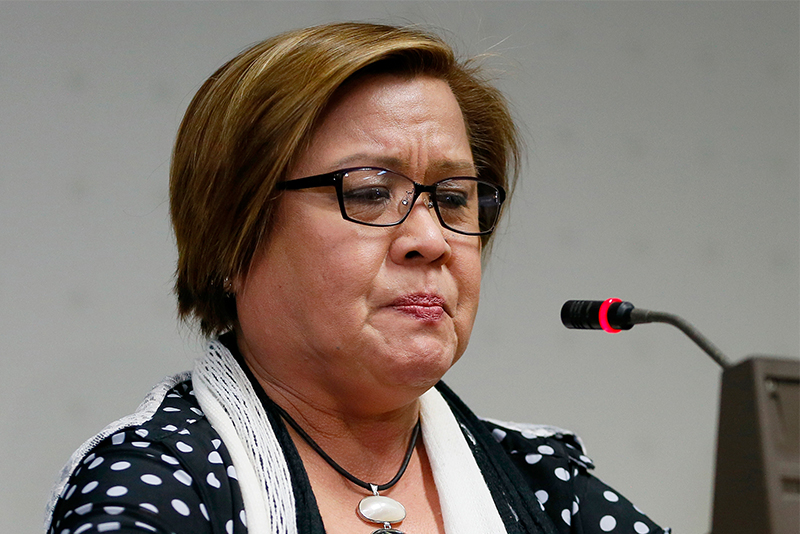 MANILA, Philippines — Detained Sen. Leila de Lima yesterday asked the Senate Electoral Tribunal to cite in contempt defeated senatorial candidate Francis Tolentino for attempting to mislead the SET and the public in connection with his election protest case.
De Lima's lawyers filed the motion, citing recent news reports quoting Tolentino as claiming there were ballots from the 2013 elections found in several ballot boxes in precincts of Calbayog City, Western Samar that were opened for the recount of contested votes in the 2016 senatorial elections.
"This statement (of Tolentino) serves no purpose but to mislead the public and this Tribunal," De Lima said in her petition, adding the defeated candidate knew only one ballot box pertaining to Clustered Precinct No. 60030008 of Calbayog City, Western Samar referred to the 2013 elections.
"But by impressing upon the public that 2013 ballots are mixed up with the 2016 ballots, protestant Tolentino is trying to insinuate fraud or irregularity that is not really there," she added.
De Lima said in the same articles, Tolentino also made it appear there was statistical improbability in some precincts in Turtle Island; Tawi-Tawi; Isabela City; Sumisip and Tabuan-Lasa, Basilan; and Parang and Matanog, Maguindanao, and that he got zero votes in these areas despite winning in these provinces.
De Lima earlier responded before the SET that the doctrine of statistical improbability does not apply, especially since she also garnered zero votes in the same precincts that Tolentino identified as his pilot precincts.
She said in the three revision – or vote counting – days, Tolentino "made no recovery on physical count in the areas where he alleged the existence of fraud and irregularities, and yet publicly he acts as though he was a victim of fraud and the perpetrator" was her.
"Finally, in the 74 ballot boxes opened so far, Tolentino was able to recover 19 votes on physical count, while my votes even increased to 40 more votes, a net gain of 21 more votes in my favor," De Lima said in a separate statement.
De Lima said when Tolentino makes false and misleading utterances, the integrity of the tribunal's proceedings is put in question. Such public utterances also tend to violate the sub-judice rule.
De Lima landed in the 12th slot in the senatorial elections last year followed by Tolentino in 13th place.
De Lima stressed she won with a margin of 1,332,972 over Tolentino, who got only 12,811,098 votes.
She is currently detained at the Philippine National Police Custodial Center in Camp Crame on drug charges, which she continues to vehemently deny.