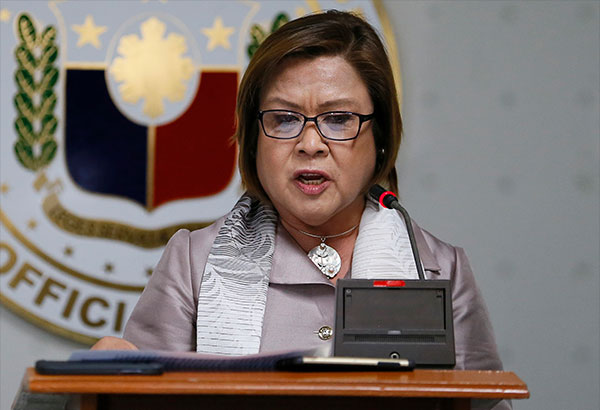 Detained Leila De Lima vowed that she will continue the "good fight" for human rights, democracy and rule of law. AP/File
De Lima thanks Int'l lawmakers group, vows to continue 'good fight'
(philstar.com) - October 20, 2017 - 9:53am
MANILA, Philippines — Detained Senator Leila De Lima has welcomed the move of an international lawmakers group to send a "trial observer" as her drug case before a trial court continues.
"Despite the Duterte administration's obvious effort to intimidate and silence me through my continued unjust detention, I am grateful that the Inter-Parliamentary Union vows to fight for my right to fair trial," De Lima said in a statement Friday.
She said the support of international groups like the IPU gives her "more courage and strength to keep fighting the good fight."
De Lima, the staunchest critic of President Rodrigo Duterte, is facing three counts of illegal drug trading in connection with the alleged drug proliferation in the national penitentiary during her stint as Justice Secretary.
A warrant of arrest was issued against her on February 24 by the Muntinlupa Regional Trial Court Branch 204, and she has been detained in the police headquarters since then.
READ: Int'l lawmakers group calls for De Lima's release
The members of Geneva-based Inter-Parliamentary Union went to the senator's detention cell in May to conduct a fact-finding mission.
On October 18, the IPU released its report that said it will send "a trial observer to monitor and report on respect the fair trial standards in the case before the RTC Branch 205, should the trial proceed."
De Lima's motion to quash before the Muntinlupa RTC Branch 205 has already been dismissed, while the case before RTC Branch 206 remains on hold.
The IPU also called for her immediate release as the group said that De Lima's criminal case "came in response to her vocal opposition to President [Rodrigo] Duterte's war on drugs, including her denunciation of her alleged responsibility for the extrajudicial killings, and that there is no evidence to justify criminal cases against her."
De Lima, for her part, said she thanks "the IPU for defending my causes and vouching for my integrity. I know that my fight is not my fight alone as this is the fight for human rights, democracy and rule of law."
The senator elevated her case to the Supreme Court, asking for the nullification of her arrest. But the high court, on October 10, voted 9-6 to junk De Lima's petition citing lack of merit. Her camp said that it will file a motion for reconsideration on the case.
READ: SC votes 9-6 to junk De Lima petition to nullify her arrest
The IPU said that it "trusts the Court will give full consideration to the arguments presented by Sen. De Lima and her lawyers in her motion for reconsideration."
"I will never be cowed until this government decides to value democratic principles and respect for human rights," De Lima also said.