AFP: Hapilon, Maute bounties for informants, not for soldiers
October 17, 2017 | 7:26am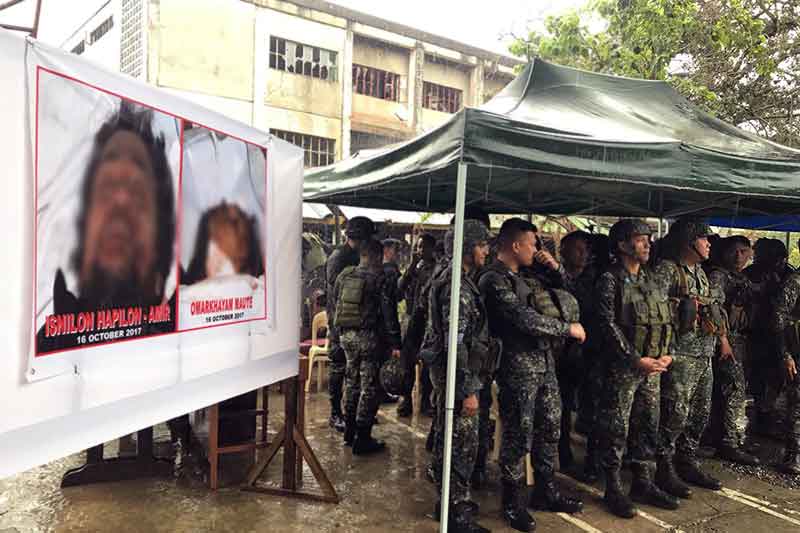 MANILA, Philippines — A joint Armed Forces of the Philippines-Philippine National Police committee would process the reward for the informants who assisted the military in locating the two surviving leaders of the Marawi siege.
On Monday, the military confirmed that Abu Sayyaf leader Isnilon Hapilon and Maute group leader Omar Maute have been killed in a gunfight in Marawi City.
Maj. Gen. Restituto Padilla, spokesperson of the AFP, clarified that the reward for Hapilon and Maute would not be for the soldiers.
The US government has placed a $5-million bounty for Hapilon while the Philippine government has a reward of P10 million for Hapilon and P5 million for Maute for those who could inform of their whereabouts.
"The rewards included in our wanted list are in the care and decision of the joint AFP-PNP rewards and valuation committee and this committee will check the basis of the grant and it is usually reserved for informants," Padilla said in a press briefing.
However, the additional P5 million reward that President Rodrigo Duterte had announced would be under the decision of the Office of the President.
The joint AFP-PNP committee, composed of the PNP Director for Intelligence and the AFP Deputy Chief of Staff for Intelligence, will deliberate on the basis of rewards for the informants.
"There are lawyers here to check the requirements if it is true that these in the wanted list are the ones who died in the fight and who really gave the most important and specific information that resulted in or neutralized these high-value targets," Padilla said.
Padilla stressed that government troops never had the reward in mind when they started the operation to neutralize Hapilon, which eventually led to the siege of Marawi City.
"Our countrymen have to understand that from the start, the rewards did not enter the minds of our soldiers," the AFP spokesperson said.
The reward from the US would be decided on by Washington, Padilla added. The US Embassy in Manila has yet to release a statement regarding the reward for Hapilon.
Duterte, meanwhile, has announced that Marawi has been liberated from terrorists.
"Ladies and gentlemen, I hereby declare Marawi City liberated from the terrorist influence that marks the beginning of rehabilitation," Duterte said.
RELATED: Military: Hapilon, Maute deaths may turn terrorists 'more violent'