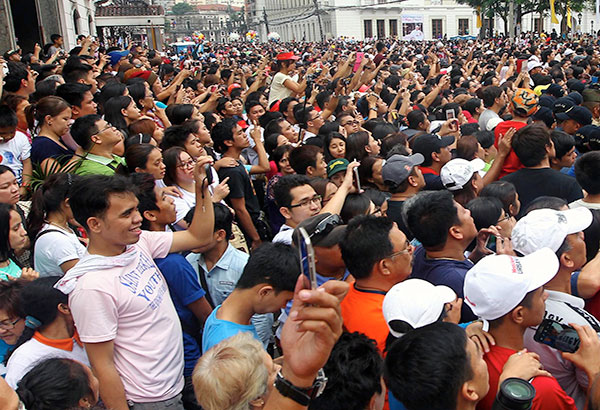 One in every three Filipinos has a mental health problem, a local psychiatrist told the National Academy of Science and Technology (NAST), as she called for more vigorous government effort in making mental health care available all over the country. File
'1 in 3 Pinoys has mental health problem'
MANILA, Philippines — One in every three Filipinos has a mental health problem, a local psychiatrist told the National Academy of Science and Technology (NAST), as she called for more vigorous government effort in making mental health care available all over the country.
University of the Philippines College of Medicine professor emeritus Dr. Lourdes Ignacio, who was conferred the Geminiano T. de Ocampo Visionary Award for Medical Research 2017 by the NAST yesterday, said that with the country's population hitting the 110 million mark, the number of Filipinos who have mental problems could reach 28.48 million.
Ignacio said she made this estimate from a population survey conducted by the UP-Philippine General Hospital in Western Visayas more than 20 years ago, which found 36 percent of the population to have mental health problems.
Ignacio said the extent of the problem was also manifested in many other subsequent surveys done in municipalities such as those that she led in the Yolanda-hit areas after the super typhoon hit the country in 2013, particularly in Marabut, Samar and in Carles and Estancia, Iloilo.
She said only around five percent or 4.45 million cases have been detected by public health workers and given mental health care.
In her lecture on "Reaching the unreached: Integrating mental health care in general health care" before national academicians and national scientists of the NAST yesterday, Ignacio said that sectors of the population such as returning overseas Filipino workers and residents of typhoon-prone areas in the country as well as families that have abusive parents could suffer psychiatric problems due to these "extreme life experiences."
By "extreme life experiences," Ignacio referred to living through disasters, violence in the home and the streets, terrorism and armed conflict which, she noted, are part of people's lives here in the Philippines.
Ignacio said there was a need to intensify the detection of mental health cases, so that these can be treated or prevented from developing into psychiatric disorders.
"When you say (psychaitric) disorder, you already say (he or she is) non-functional. You cannot go to school, you cannot go to work," Ignacio told The STAR.
"(Those with) mental health problems (are) those who are still functional but limited," she further explained.
By integrating mental health care into primary health care in the rural health units and barangay health centers, Ignacio said more Filipinos suffering from mental health problems would be detected and therefore given the appropriate intervention.
The NAST said it conferred the award on Ignacio to recognize her advancement of mental health services in the Philippines as well as in other Asian countries.