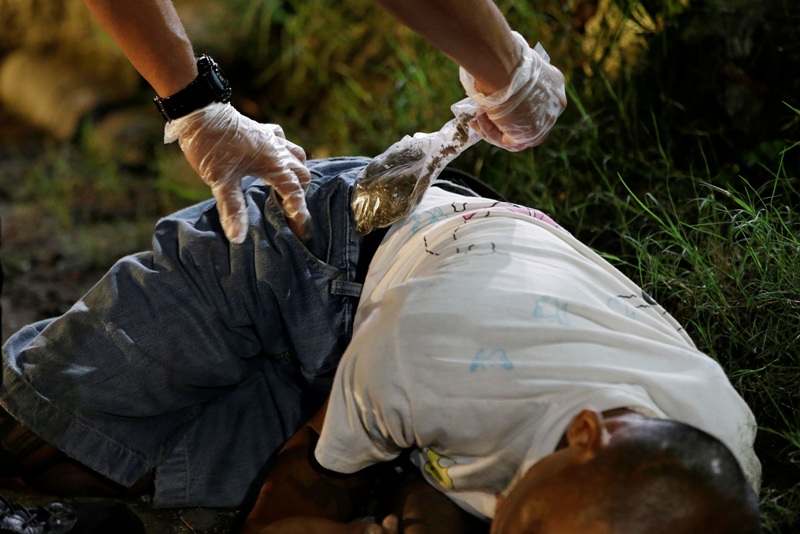 In this Sept. 6, 2016 photo, police take out a bag of marijuana from the pocket of one of two unidentified drug suspects after they were shot dead by police as they tried to evade a checkpoint in Quezon city, north of Manila, Philippines. AP/Aaron Favila
Government can't 'define dead bodies away,' says HRW
MANILA, Philippines — The government position that there have been no extrajudicial killings under the Duterte administration contradicts international law, a senior official at Human Rights Watch's Geneva office said over the weekend.
"Extrajudicial killings simply means this is happening without due process, without judicial process or court hearings or legal warrants," John Fisher, HRW advocacy director, told Philstar.com.
He said the government's position "is not a credible claim" in the face of cases of suspected police abuse, of disappearances and of summary executions.
"It's clear that many of the killings taking place here are happening without judicial process," he said.
Fisher said that the concept of extrajudicial killings stems from the Universal Declaration of Human Rights — which upholds the right to life — and the International Covenant on Civil and Political Rights. The ICCPR holds that everyone has the right to life and that it shall be protected by law.
"No one shall be arbitrarily deprived of his life," the treaty, which the Philippines ratified in 1986, reads.
Fisher added there is a UN special rapporteur on extrajudicial killings "whose entire mandate is to define the boundaries of these terms and explore violations of these rights."
The Philippines has imposed certain conditions on investigations by Agnes Callamard, that UN special rapporteur.
Andanar: No death penalty, no EJKs
On Sunday, Presidential Communications Secretary Martin Andanar argued that without a death penalty in place, there can be no extrajudicial killings.
"We do not have judicial killing, we do not have capital punishment. It is prohibited to kill in our country. So why is there extrajudicial killing when there is no judicial killing? Why put 'extra?'," Andanar, whose office figured in several editorial lapses this year, said.
"So there are no extrajudicial killings in our country. There is no judicial killing, it is not state sponsored, it is not legal, it is not in our Constitution," Andanar said in a radio interview.
Presidential spokesperson Ernesto Abella said on Saturday that the government's claim is based on Administrative Order 35, which President Benigno Aquino III signed in 2012 to create a multi-agency body to investigate EJKs.
The order defines EJKs as "killings wherein the victim was a member of, or affiliated with an organization, to include political, environmental, agrarian, labor, or similar causes; or an advocate of above-named causes; or a media practitioner or person(s) apparently mistaken or identified to be so."
Abella stressed that AO35 — which human rights advocates have said since May is only binding on the Inter-Agency Committee is too narrow — has not been repealed or revoked.
"Having said that, we wish to emphasize that one death is one too many. Regardless of this definition, these deaths are being addressed to ensure the accountability of perpetrators, even as it calls upon witnesses and individuals who can provide valuable evidence that will lead to speedy resolution of cases," he added.
READ: Palace backs PNP's 'No EJKs' claim
Government data on killings
But Fisher said that even the government's own numbers show that thousands have died in the government's war on drugs.
"With regard to EJK, the government has real numbers and only 3,000 died because of drug operations," Andanar said Sunday although an October #RealNumbersPH release has already hiked that number to 3,906.
Here is your #RealNumbersPH monthly update, covering numbers from July 1, 2016 to September 26,2017 (1st part of 2) pic.twitter.com/z3x0drTfV1

— Presidential Comm (@PresidentialCom) September 30, 2017
The police earlier said there had been 6,225 drug-related deaths between July 2016 and September 2017, with 3,850 people having "died in police operations."
This suggests that these are drug suspects who engaged arresting officers in shootouts although Rep. Harry Roque (Kabayan party-list), a Duterte ally in the House minority bloc, has pointed out that there is no presumption of regularity when suspects die in police operations. He has asked the Philippine National Police to submit its inquest reports on these operations.
READ: Bato told: Probe drug war deaths instead of calling critics ingrates
The police also said another 2,290 "deaths under investigation," have already been determined to be "drug-related."
According to government's #RealNumbersPH release on June 30, with data updated until June 19, there were 8,200 deaths under investigation out of 12,833 homicides recorded since July 1, 2016.
The #RealNumbersPH no longer releases numbers on deaths under investigation.
Fisher said the government "cannot get to define those bodies away."
Human rights organizations, in contrast, have estimated around 13,000 deaths related to the crackdown on drugs since Duterte became president last year.