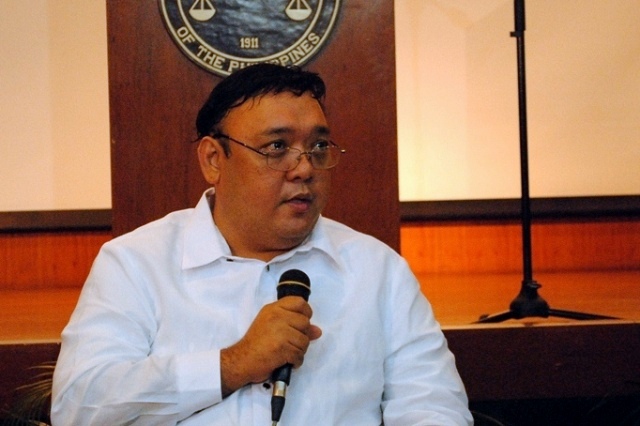 Deputy Minority Leader and Kabayan Rep. Harry Roque told PNP chief Bato Dela Rosa that public officers "should not expect gratitude for a job well done because it is their duty to perform their jobs to the best of their abilities." ICC Coalition Photo
Bato told: Probe drug war deaths instead of calling critics ingrates
(philstar.com) - October 4, 2017 - 2:26pm
MANILA, Philippines — A solon has called out Philippine National Police Director General Ronald Bato Dela Rosa over his ingrate remark against critics and said he should probe drug war-related killings instead.
In a statement, Deputy Minority Leader and Kabayan Rep. Harry Roque said Dela Rosa should focus on investigating the more than 3,000 deaths connected with the drug war.
Dela Rosa on Tuesday said that those who are critical of the government's drug war are ingrates.
"You also benefited from the peace and order brought about by war on drugs. You can criticize us… You are ingrates," Dela Rosa said.
But Roque pointed out that: "Before you call your critics ingrates, you should first produce the inquest proceeding reports of all the deaths committed in the PNP's war on drugs. Without these reports, the peace and order you claim people are enjoying now is highly suspect."
According to the latest statistics released by the PNP, there have been 6,225 drug-related deaths since July 2016.
The PNP said that 3,850 have "died in police operations," suggesting these are drug suspects who engaged arresting officers in shootouts, while there are 2,290 "deaths under investigation," that have already been determined to be "drug-related."
Roque said that he has received a report from the PNP on drug-related deaths.
He added: "The report sent to my office included the case of South Korean businessman Jee Ick Joo case, where four police officers were involved, and the much earlier Wheel Torture case, which involved six police officers."
"There is no indication in the report that any of these 3,906 or so deaths arising from drug operations underwent inquest proceeding," Roque stressed.
According to the government's #RealNumbersPH released on June 30, with data updated until June 19, there were 8,200 deaths under investigation out of 12,833 homicides recorded since July 1, 2016.
READ: Flawed, fuzzy numbers in the war on drugs

The Presidential Communications Operations Office said then that 2,098 were drug-related. But human rights groups tallied more than 12,000 deaths under the 15 months of the administration's war on illegal drugs.
The trial for the kidnapping for ransom with homicide case against Supt. Rafael Dumlao III and other police officers implicated in the Jee slay case is currently ongoing before the Angeles City Regional Trial Court.
Roque also pointed out the latest Social Weather Stations survey that reported nearly half of Filipinos believe that many of those killed in the police's anti-drug war operations did not fight back.
He added that "while survey shows fewer crimes in Metro Manila now, these were only for common crimes including pick-pocketing, robberies, car theft, or physical violence."
"The crimes surveyed do not include murders and extra-legal killings," Roque added.
The solon slammed Dela Rosa for hitting critics: "Public officers should not expect gratitude for a job well done because it is their duty to perform their jobs to the best of their abilities."