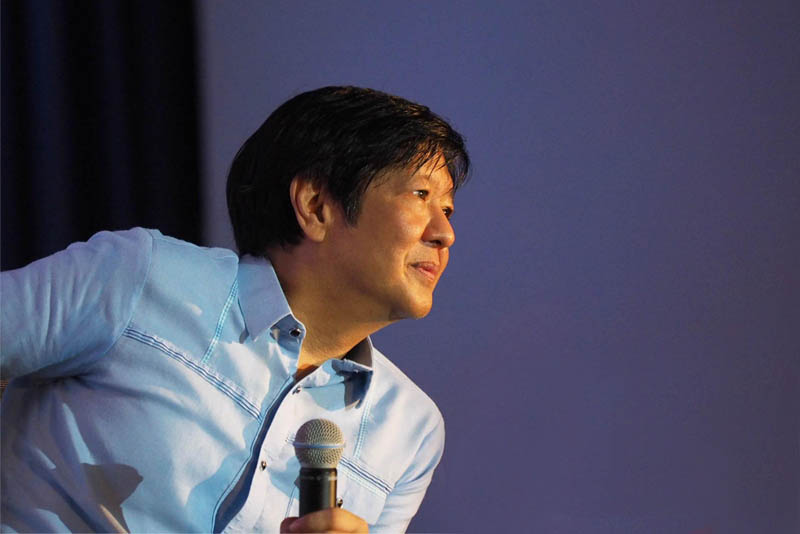 Former senator Bongbong Marcos Jr. speaks on the occasion of the 100th birth anniversary of his father, late strongman Ferdinand Marcos. BBM staff/Released
Bongbong on Marcos wealth: If you see it, take it
(philstar.com) - October 5, 2017 - 8:01am
MANILA, Philippines — Amid his family's negotiations on a deal with government, Ferdinand "Bongbong" Marcos Jr., son of the late strongman, appeared to have given a go-ahead to seize their wealth—if government could find some.
This is despite government agency PCGG already has as its function to recover the ill-gotten wealth from the deposed family.
"Kung meron kayong makita, eh di kunin ninyo. (If you see it, take it)," Marcos said at a media forum on Thursday.
Marcos was addressing a question from the press on their offer extended by President Rodrigo Duterte in August allowing the family to return part of their ill-gotten wealth, including a "few gold bars."
The Supreme Court in 2003, however, affirmed the forfeiture of the Marcos family wealth. Experts knowledgeable of the case said that any of the late dictator's kin could not legally control the loot or decide what to do with it, which may include an initiative to return it to government.
The Marcos family has always maintained that they have not looted from the country during the 21-year rule of patriarch, Ferdinand Marcos Sr.
But Duterte has disclosed that a representative of the family has approached him and made an offer to return part of their ill-gotten wealth.
However, Bongbong said that "nothing substantial" has been agreed upon between the family and the government. The talks have also become "sporadic."
He added that he cannot divulge details on the settlement talk as he is not privy to the conversation.
NEWSLAB: Money Trail: The Marcos billions
'No need for immunity, I am innocent'
Bongbong was also asked if the family is offering such to receive immunity from suit, but the son of the late dictator, in an increasingly agitated tone, said: "No no. It's a settlement, wala naman akong kasalanan eh."
"I didn't commit any crime. What we're saying is we're settling the case," he said.
"Pag-usapan natin kung ano ang dapat gawin para ma-settle na," Bongbong added.
Duterte was earlier quoted as saying: "If I were the Marcoses, kung isauli ko man yan, sabihin ko sa kanila, manghingi kayo ng immunity."
Several courts in Switzerland, Singapore, United States and the Philippines held that part of the Marcoses' wealth are ill-gotten.
As the late dictator's son and namesake, Bongbong enjoyed special privileges while growing up. In his 20s, Bongbong reportedly sat as chair of telecommunications empire known as a crony corporation linked to his family. — Video by Efigenio Toledo IV and Camille Diola