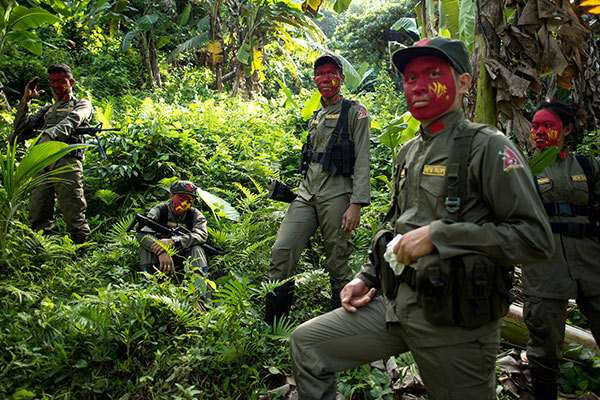 This photo taken on July 30, 2017 shows guerrillas of the New People's Army resting among bushes in the Sierra Madre mountain range, located east of Manila. Fuelled by one of the world's starkest rich-poor divides, a Maoist rebellion that began months before the first human landed on the moon plods on even though the country now boasts one of the world's fastest-growing economies. Noel Celis/AFP
Duterte says peace talks a useless expense
(philstar.com) - September 30, 2017 - 7:42am
MANILA, Philippines — President Rodrigo Duterte does not seem hopeful about the prospect of peace talks with communist, dismissing it as a worthless expense.
"Gastos lang yan. Wala talagang mangyari niyan," Duterte said on Friday in an interview on state-run PTV4, as he expressed his disinterest in the resumption of peace talks.
He was asked if he would send his chief negotiators to Norway for the reboot of talks with the left.
"Kasi akala nila kaibigan nila ako na nung nanalo ako, ora mismo na kaagad. Hindi," Duterte, a self-styled socialist, said, adding that the rebels' supposed "impatience" was a turnoff.
"I would need about almost three years to hammer something... Nakakadala kasi. Kasi kung anong pinagsasabi na ganun," he added.
"You know, when you come to a negotiation and you bring along a dream. Sometimes, it's really impossible... You start to dream of things that are not really, that are unreachable stars. Mahirap 'yan."
Duterte scrapped the peace talks last July after the communist leadership ordered leftist fighters to launch offensives against government troops to resist Duterte's imposition of martial law in Mindanao.
Duterte earlier expressed readiness to resume peace negotiations with the communist rebels following the release of a policeman who was kidnapped by the guerillas three months ago.
But he stressed that as long as the communist rebels do not stop guerrilla attacks, the peace negotiations will remain suspended.
With the peace talks in virtual limbo, the Armed Forces of the Philippines is just awaiting orders to re-arrest and haul back to jail the freed communist consultants to the peace process.
"Sabi ko, ''Di gusto ninyo ng away.' Well, we have been at war 50 years. If you want another 50 years, fine," the president said.
Duterte—who won on a platform of peace and order— activated the peace talks with Reds and Bangsamoro insurgents that, if successful, can unlock the stunted economic potentials of conflict-affected areas in Mindanao and elsewhere.