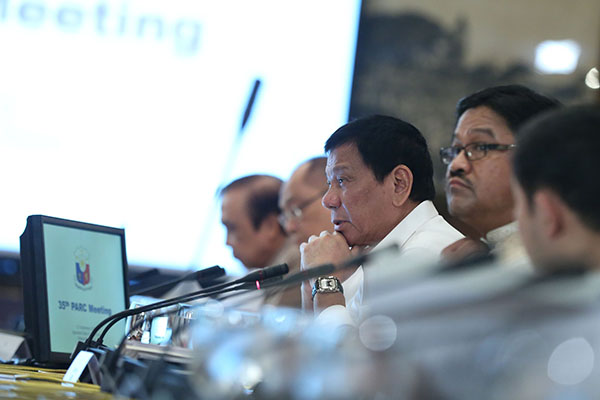 In this Sept. 13, 2016 photo, President Rodrigo Duterte sits with Department of Agrarian Reform Secretary Rafael Mariano during a Cabinet meeting. PPD/Released, File
Appointments body rejects Mariano as DAR chief
MANILA, Philippines (First Published Sept. 6, 2:41 p.m.) — The Commission on Appointments has rejected the ad interim appointment of Agrarian Reform Secretary Rafael Mariano, an activist farmer whom representatives of landlords have accused of abusing his authority.
On Tuesday, representatives of Cojuangco-owned Hacienda Luisita accused Mariano of favoring farmers with Alyansa ng mga Manggagawang Bukid sa Asyenda Luisita, a group affiliated with the Kilusang Mambubukid ng Pilipinas. Mariano, a former Anakpawis party-list representative, is also former chairman of KMP.
Mariano has denied favoring any farmers' groups.
In July 2016, Mariano invalidated the "tambiolo agraryo", a lottery system that awarded lots to agrarian reform beneficiaries that KMP Secretary General Antonio Flores described in a 2016 report in a San Fernando, Pampanga-based Punto! Central Luzon as "ridiculously non-contiguous."
The distance between lots, KMP said, was meant to keep farmer beneficiaries apart, "displace the farm workers and divide their ranks." The group said this made farmer-beneficiaries more prone to the "aryendo" system, where farmers allegedly lease back lands they already own.
In April 2017, DAR cancelled the sale and leasing out of Hacienda Luisita farm lots under the aryendo system.
He said the department found "that local politicians, utilizing an illicit leaseback system known as 'aryendo', have duped thousands of cash-strapped agrarian reform beneficiaries of Hacienda Luisita into letting go of farm lots already awarded to them." This was illegal since Certificates of Land Ownership Award specify that land cannot be sold or leased out within 10 years of the award.
In a DAR release, Mariano said his work has been in "rectifying the policy mistakes of the old DAR to begin the process of implementing genuine agrarian reform in the first 100 days of the Duterte administration."
In May of this year, DAR helped install 159 farmers with the Madaum Agrarian Reform Beneficiaries Association Inc. (MARBAI) at the 145-hectare San Isidro (Sanid) farm area inside the former Hijo Plantation in Tagum, Davao del Norte.
The agrarian-reform beneficiaries had tried twice before to install — or take control of land already awarded to them — in April but had been turned away by Lapanday Food Corp., which disputes the beneficiaries' ownership of the land.
DAR said the previous attempts were "opposed by LFC owners with the help of their armed goons and the failure of the Region XI local police to come up with operational plan to execute the writ the of installation."
Manolito Dagatan and Hernani Geronimo of Lapanday Foods Corp. are among those opposing Mariano's confirmation. They said Mariano is not fit to be Agrarian Reform secretary and have said he has ties to the New People's Army,
which attacked LFC plants in Davao in April.
Mariano has denied these links and his supporters have said that implying the secretary has links to the NPA is a form of "red tagging", a practice which has put many activists in danger.
Ranch owners in Nueva Ecija have also accused Mariano of "inciting and supporting the illegal, armed, forced entry of more than 250 men with bolos, machetes, and samurai swords" in October 2016. Although the group involved was the KMP, Mariano said he had no personal involvement in the incident.
Gains in first year
According to data Philstar.com requested from the DAR, a total of 22,085 farmers were given CLOAs between July 2016 and March 2017, with more recent field reports yet to be validated as of the data release. That accounts for 21,088 hectares of land distributed in the first nine months that Mariano was Agrarian Reform secretary.
In contrast, according to the same DAR data release, it distributed land to 30,107 ARBs in 2015. It must be noted, however, that then Agrarian Secretary Gel de los Reyes did not have to deal with the transition period that a new appointee needs to contend with.
Region 12 had the most ARBs given land in 2016 — 2,327 farmers and around 3,895 hectares covered — 1,453 of those beneficiaries in North Cotabato province, where 1,748.47 hectares of land was distributed.
But CLOA distribution is just a huge first step towards the farmers tilling their own land, since they also need to be installed and take control of the land, often in the face of opposition by former landowners or by farmers' groups disputing the award.
"Eight out of the 11 haciendas in the Iloilo Province have already been physically installed since Secretary Mariano was appointed as Agrarian Reform Secretary. These cover a total of 424.45 hectares of agricultural lands with 363 farmers installed. Cumulatively, a total of 358 landholdings with collective CLOAs covering 10,751 hectares of agricultural lands are subject for subdivision among the 6,690 ARBs of Iloilo," DAR also said.
Mariano has also instituted an "open door" policy, symbolized by the opening of the central office's gates. They had been closed and barricaded to keep out farmers who camped out in front of the office in protest and to demand action on their cases.
Because of the new policy, "12,292 farmers have been involved in 209 consultation-dialogues with DAR officials between July 2016 and June 2017," DAR said. "This is more than double the 97 consultation-dialogues held and almost thrice the number of farmers accommodated with only 4,850 in the previous year."
'Mariano crucial to inclusiveness of Duterte admin'
Anakpawis party-list Rep. Ariel Casilao said in a statement that Mariano's confirmation is "crucial to President Rodrigo Duterte's promise of an inclusive governance and for fundamental reforms."
"If the CA rejects Ka Paeng, we could wave goodbye to the president's pledge for an inclusive governance, and say hello again deplorably to a rule of big hacienderos, oligarchs and militarists," he said.
Gina Lopez and Judy Taguiwalo, seen as progressive appointees to the Duterte Cabinet, had earlier been rejected by the powerful CA.
In another statement Casilao said Mariano's pushing for the moratorium on land use conversion — from agricultural to other purposes — has "earned criticisms from the 'neoliberal' cluster or economic managers of the Duterte cabinet, such as National Economic and Development Authority Director General Ernesto Pernia and even Vice President Leni Robredo."
He also said Mariano has been pushing for free land distribution under the proposed Genuine Agrarian Reform Bill. The GARB was included in the priority legislation discussed by at a recent Legislative-Executive Development Advisory Council meeting. Free land distribution has also been included in the suspended talks on the Comprehensive Agreement on Socio-Economic Reforms (CASER) between the government and the NDFP.
"The inclusion in the Cabinet of Mariano, Taguiwalo and Lopez works well for the entire peace process because they are in a position to help push much-needed socio-economic reforms," the DAR quoted the NDFP as saying in a May 2017 press release in support of Mariano's confirmation.
According to Kaisahan, a land rights advocacy group not affiliated with KMP, "the appointment of Ka Paeng brought renewed hope given that he came from the farmer sector."
"In one farmers' forum attended by the secretary, wherein farmers from our areas (Negros Occidental and Leyte) attended, he mentioned in his keynote speech, 'walang magsasakang mapapaalis sa kanyang lupa.' The farmers held on to this message and gave them inspiration in their land struggle. With this renewed hope they became more confident and eager in pursuing their land issues," Kaisahan said in an email to Philstar.com.
Fairness to farmers?
Kaisahan noted, however, that Mariano may have a tendency to favor issues raised by KMP affiliate groups.
"Since his assumption to office, Kaisahan and farmer beneficiaries from areas we assist have repeatedly attempted to seek an audience with him. Unfortunately, we have not received favorable response from him. This has also been the experience of other agrarian reform groups not allied with him," the group said.
"In fact, we have heard that there are groups that have already camped out of DAR provincial offices and refuse to leave the area until Ka Paeng will address their issues personally."
Despite this, the DAR officials in Ormoc City have been supporting farmers that Kaisahan helped install on former hacienda land in June 2016 .
In April, members of the Sumanga Farmers' Association began clearing land in preparation for planting on land they had previously been barred access to. The DAR and the Department of Agriculture have pledged support services for the farmers.
Kaisahan also said that KMP affiliates Samahan han Gudti nga Parag-uma ha Sinirangan Bisayas in Leyte and National Federation of Sugar Workers in Negros Occidental have become "more aggressive on the ground" sometimes at the expense of other ARB groups.
"After Ka Paeng's appointment as DAR secretary, the NWSF has attempted to forcibly occupy the lands awarded to the farmers. When the farmers stood firm on defending their rights as owners, the NFSW poisoned the crops planted by the CLOA holders," Kaisahan, which also assists farmers' groups, said.
Like the incident in Nueva Ecija, however, it is unlikely — and Kaisahan is not saying — that Mariano is personally involved in these disputes.
"It will either be very good or very bad," Kaisahan Executive Director Anthony Marzan said of Mariano's appointment as the Duterte administration was set to take over in June 2016. "But it will definitely not be business as usual," he said.