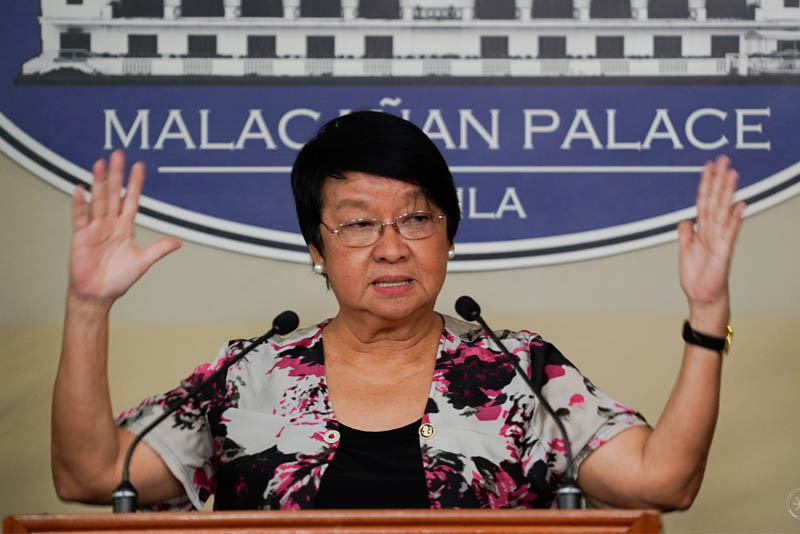 In this June 22, 2017 photo,Secretary Judy Taguiwalo of the Department of Social Welfare and Development speaks at a press briefing at Malacañan Palace. PPD/King Rodriguez
DSWD's Taguiwalo fails to hurdle appointments body
(Philstar.com) - August 16, 2017 - 6:01am
MANILA, Philippines (UPDATE 2, 2:39 p.m.) — The congressional Commission on Appointments on Wednesday rejected the appointment of Social Welfare and Development Secretary Judy Taguiwalo.
After being bypassed twice, the commission rejected the ad interim appointment of Taguiwalo.
Majority of the members of the panel deliberating on her appointment voted against the confirmation of Taguiwalo, who was nominated by the National Democratic Front of the Philippines as DSWD chief.
At the start of his administration, President Rodrigo Duterte announced that he would offer leadership of some government departments to Leftist nominees, particularly from the national democratic movement.
Taguiwalo was among the NDFP nominees along with Agrarian Reform Secretary Rafael Mariano and National Anti-Poverty Commission Lead Convenor Liza Maza. Former Kabataan party-list Rep. Terry Ridon was also appointed to the Presidential Commission on the Urban Poor but was not among the NDFP's nominees.
Some senators lamented the congressional commission's decision to reject Taguiwalo's appointment.
Sen. Ralph Recto said that Taguiwalo should not be dismissed as a "leftist" in the Cabinet.
"She holds DSWD post by virtue of her ability and not by her affiliation," Recto said.
In a prepared speech that Recto was supposed to deliver to endorse her at the CA in plenary, the senator said: "If the ideal DSWD secretary is one who possesses competence, compassion and commitment, then it can be said that UP gave her the first, her activism gave her the second, and her underground years gave her the third. We can never ask for a package as complete as her. She had been serving DSWD's clientele long before Digong (Duterte) thought of running for mayor."
Sen. Francis Pangilinan said that all four Liberal Party members in the CA voted for Taguiwalo.
Meanwhile, Malacañang said that they were saddened by the rejection of the DSWD chief.
"Secretary Taguiwalo had served the Duterte administration with passion, profession and integrity. She made and impact in the lives of many Filipinos in her tenure as DSWD secretary," Presidential spokesperson Ernest Abella said in a statement.
Taguiwalo is the third Cabinet appointee of President Rodrigo Duterte to be rejected by the body, which is mandated to screen appointments to the Cabinet, diplomatic posts and promotions to higher military ranks.
Duterte's choice for Foreign Affairs secretary, Perfecto Yasay Jr. was rejected over questions on his citizenship. Former Environment Secretary Gina Lopez, whose appointment members of the mining industry opposed, also failed to hurdle CA hearings.