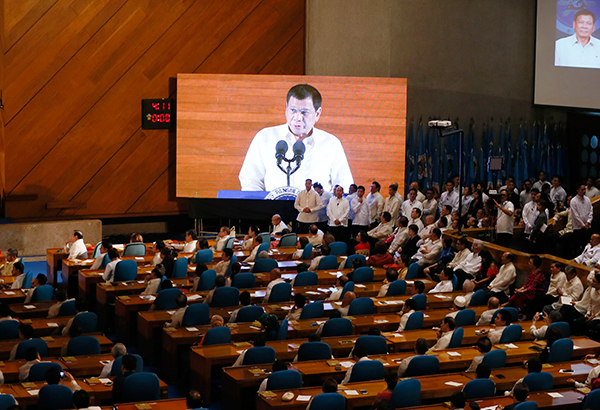 After a five-year hiatus, the Duterte administration reconvened LEDAC for the first time on Jan. 30. The advisory body held its second meeting last month where the council approved the administration's legislative agenda. AP Photo/Bullit Marquez, File
LEDAC convenes to harmonize measures, agrees to file BBL next week
(philstar.com) - September 20, 2017 - 4:00pm
MANILA, Philippines – The Legislative Executive Development Advisory Council on Wednesday night met to fine-tune some of the Duterte administration's key legislative measures, including the Bangsamoro Basic Law that is set to be submitted to Congress next week.
The 20-member advisory body convened at the Malacañan Palace's Aguinaldo State Dining Room. The meeting was presided over by President Rodrigo Duterte, who also sits as the council's chair.
In a text message to reporters, House Majority Leader Rodolfo Fariñas said the BBL will enter the legislative mill next week, adding that the President told lawmakers that it is up to them to decide on the final version of the bill.
The BBL seeks to create a new Bangsamoro political entity in Mindanao with greater economic and political powers.
To recall, Duterte earlier assured the Moro Islamic Liberation Front that the pending Bangsamoro law remains a priority of his administration and has vowed to meet with congressional leaders to fast-track its passage.
Meanwhile, the LEDAC also agreed to determine first if the Government Procurement Policy Board can "carry out" in its implementing rules and regulations the proposed amendments to Republic Act 9184 or the Government Procurement Reform Act.
"If not, it will inform the Congress of the amendments that need to be legislated upon," Fariñas said.
On the postponement of barangay and Sangguniang Kabataan elections, Fariñas said lawmakers present during the meeting were "informed" by Duterte that he agrees to the plan to allow incumbent barangay officials to stay in a holdover capacity.
"The House of Representatives (HOR) will decide by Monday if it will adopt the Senate version of the postponement of the elections, since the latter has substantially adopted the version of the HOR except for some minor changes," the congressman said.
"If the HOR adopts the Senate version, no Bicam Conference Committee will be needed and we will submit on Tuesday the Enrolled Bill for the approval of the President," he added.
The Senate also on Wednesday passed on third and final reading the bill providing for the suspension of barangay and SK polls to May 2018.
After a five-year hiatus, the Duterte administration reconvened LEDAC for the first time on Jan. 30. The advisory body held its second meeting last month where the council approved the administration's legislative agenda.
LEDAC was established under Republic Act 7640 during the administration of former president Fidel Ramos.