Historical revisionism legitimized? NHCP issues marker for Marcos monument
September 11, 2017 | 10:13am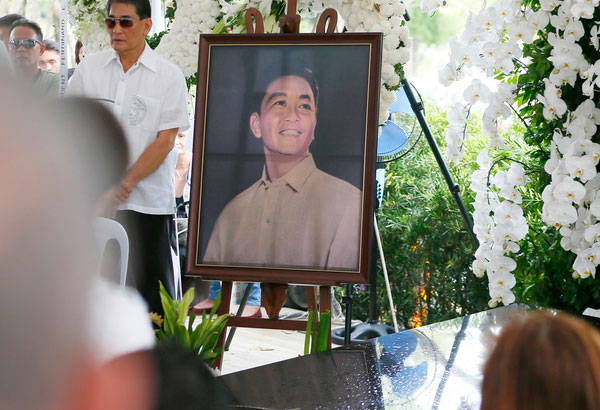 MANILA, Philippines — Is historical revisionism being institutionalized?
The National Historical Commission of the Philippines on Sunday officially turned over the biographical marker of late dictator Ferdinand Marcos at a monument in his hometown of Ilocos Norte to mark the ex-leader's 100th birth anniversary.
The unveiling came despite NHCP's mandate to "resolve historical controversies or issues" and the agency's outright opposition to the Nov. 18, 2016 burial of the strongman's remains at the Libingan ng mga Bayani.
READ: 'Wiki warriors' fighting Marcos myths on Wikipedia
According to Ilocos Norte Tourism Officer Aian Raquel, the government-issued marker serves as "real commemoration" to Marcos as president and former soldier, adding that it is one of NHCP's functions to celebrate historical milestones.
"We were made to understand that [NHCP's] mandate to really commemorate historical milestones, and they see a centennial anniversary of the birth of [Marcos] as a historical milestone," Raquel said.
Accused of committing massive human rights abuses and stealing billions of dollars from state coffers, Marcos was ousted by a bloodless "People Power Revolution" in 1986 and died while in exile in Hawaii in 1989. His body was flown back to the Philippines after the family agreed to certain conditions with then President Fidel Ramos.
Last year, President Rodrigo Duterte, an ally of the political clan, granted the longstanding wish of the Marcos family to bury the Marcos patriarch at the Libingan in a surprise ceremony.
The controversial interment prompted then NHCP head Maria Serena Diokno and two of the body's board members to resign. Diokno is the daughter of former Sen. Jose "Ka Pepe" Diokno, who strongly opposed the Marcos dictatorship.
On July 12, 2016, NHCP published an e-book explaining why the late strongman should not be buried at the LNMB as part of its mandate to conduct and disseminate historical research and resolve historical controversies.
Marcos' NHCP marker reads:
Nagtapos ng abogasya sa Unibersidad ng Pilipinas, 1939. Nanguna sa Pagsusulit sa Pagkaabogado, 1939. Kasapi ng 14th Infrantry USAFIP-NL ng Kilusang Gerilya, 1944-1945. Nanungkulang Kinatawan ng Ikalawang Distrito ng Ilocos Norte, 1949-1959; Senador, 1959-1965. Pangulo ng Senado, 1963-1965. Pangulo ng Pilipinas, 1965-1986. Isinailalim ang Pilipinas sa batas militar, 1972-1981. Nagpatupad ng mga programa, proyekto, at batas sa ilalim ng balangkas ng 'Bagong Lipunan.'
Last week, Duterte declared September 11 a "special non-working day" in Ilocos Norte, the Marcos bailiwick, upon the family's request.
READ: Duterte defends declaring Marcos' birthday a holiday

— with a report from Artemio Dumlao