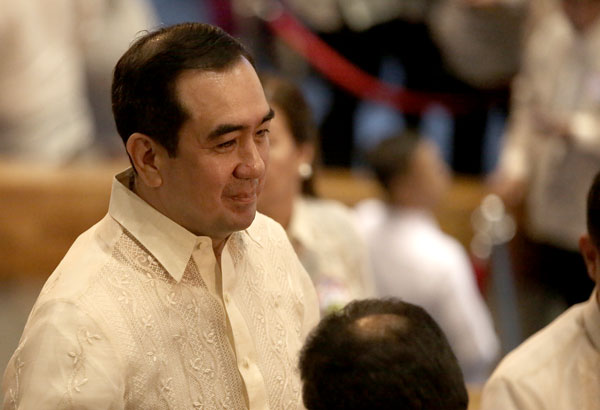 The lead complainant is former Negros Oriental congressman Jacinto Paras, who lost to incumbent Rep. Jocelyn Limkaichong in the May 2016 polls. Paras was accompanied by lawyer Manuelito Luna. Philstar.com/AJ Bolando, File
Impeach rap vs Bautista filed, endorsed
MANILA, Philippines - Three members of the House of Representatives led by Deputy Speaker Gwendolyn Garcia yesterday endorsed the impeachment complaint filed against Commission on Elections (Comelec) Chairman Andres Bautista for his alleged P1-billion ill-gotten wealth.
The lead complainant is former Negros Oriental congressman Jacinto Paras, who lost to incumbent Rep. Jocelyn Limkaichong in the May 2016 polls. Paras was accompanied by lawyer Manuelito Luna.
Malacañang stressed it has nothing to do with the impeachment complaint. "The Palace does not have anything to do with that," presidential spokesman Ernesto Abella said.
"We don't have any official notice. If there are any, let it be properly processed," he added.
Paras and Luna were also joined by lawyer Ferdinand Topacio, whose impeachment complaint against Bautista – a former chairman of the Presidential Commission on Good Government – was endorsed by Kabayan party-list Rep. Harry Roque and Cavite Rep. Abraham Tolentino.
Tolentino is the brother of former Metropolitan Manila Development Authority chairman Francis Tolentino, who lost his senatorial bid in May 2016 to now detained Sen. Leila de Lima. Tolentino, current political adviser to Duterte, has a pending electoral protest before the Senate Electoral Tribunal.
"The grounds are basically anchored on his unexplained wealth, because if we check on his declared assets alone, then we can already see that it's highly questionable. His assets are just mind-boggling," Paras told reporters in a chance interview.
"Another fatal (mistake) that we have included here in our complaint is the referral fee, where he admitted taking money from the Divina law office," he said, referring to the legal counsel of Smartmatic, the IT provider for the Comelec.
Garcia, a former Cebu governor, said she endorsed the Paras complaint so as to clear once and for all what she called lingering doubts on the integrity of the country's electoral system, as managed by Comelec, more particularly the 2016 polls which Bautista supervised.
"I think this is the right time because marami nang tanong ang taumbayan (the public has many questions). And we have to check the veracity of the automated elections," she said, adding that there was a big discrepancy with his statement of assets, liabilities and net worth.
Bautista declared P176 million in total assets in 2016, but his estranged wife Patricia Paz revealed that he actually has more than P1 billion in cash and properties, P329 million of which had been deposited in 35 accounts in Luzon Development Bank.
The Comelec chief admitted the amount, but argued it was co-owned by his family.
Roque, a lawyer like Garcia, expects the impeachment complaint to pass the "personal knowledge" requirement set by the House leadership, as emphasized by House Majority Leader Rodolfo Fariñas, based on the affidavit and testimony of Bautista's wife.
Tolentino, for his part, is hopeful the impeachment complaint would be an avenue for Bautista to prove them wrong.
"We will give him an opportunity to clear his name," he told reporters after they endorsed the complaint filed at the office of House secretary-general Cesar Pareja.
The complainants declared that Bautista committed betrayal of public trust and culpable violation of the 1987 Constitution for his failure and refusal to declare his complete assets, graft and corruption, among others.
"We are very confident that this would be given very serious thought by the House committee on justice," Luna said, adding they have evidence to prove Bautista's "receipt of referral fees" from Divina law office. – Jess Diaz, Alexis Romero