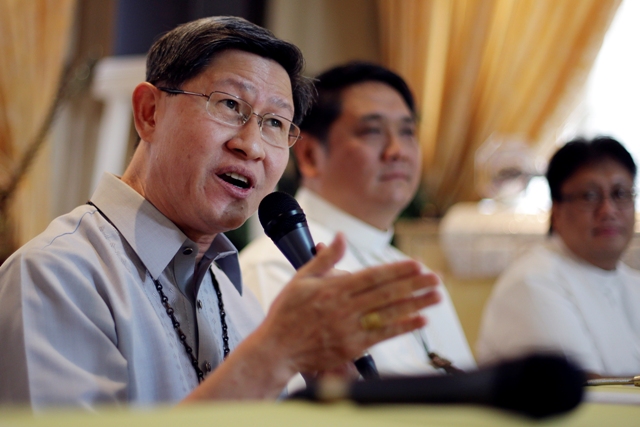 Manila Archbishop Luis Antonio Cardinal Tagle and Lingayen-Dagupan Archbishop Socrates Villegas appealed to the public's conscience amid the killings in the country due to war on drugs. AP/Aaron Favila
Top CBCP officials issue call to conscience over drug war casualties
MANILA, Philippines — Two top officials of the Catholic Bishops' Conference of the Philippines have condemned a spate of drug-related deaths and appealed to the conscience of the supposedly predominantly Catholic country.
In separate statements, both Manila Archbishop Luis Antonio Cardinal Tagle and Lingayen-Dagupan Archbishop Socrates Villegas — CBCP president — called for the public to examine its conscience amid the increase of killings in the country linked to the war on drugs.
For Tagle, the public does not only need statistics but also human stories to understand the grave effect of war on drugs. He encouraged the families with members who have been killed in the drug war, especially those who had nothing to do with the illegal drug trade, to tell their stories.
"We knock on the consciences of those manufacturing and selling illegal drugs to stop this activity. We knock on the consciences of those who kill even the helpless, especially those who cover their faces with bonnets, to stop wasting human lives," Tagle said in a letter read in Sunday masses.
Villegas, on the other hand, questioned the manner that the campaign against drugs affects those who are not involved in drugs. Suspected drug personalities are presumed innocent unless proven guilty in court, as are all suspects.
"Ang multo ng mga pinatay ay humihingi ng awa. Ang isip ng mga buhay ay puno ng lungkot at takot 'Baka ako na ang isusunod? Sino ang nakatitiyak,'" Villegas said.
"Ang opisyal na pumatay ay may parangal. Ang pinatay ay sinisisi. Hindi na makapagpaliwanag ang mga bangkay sa bintang sa kanila "Nanlaban kasi". Hindi na nila masabi "Nagmakaawa po ako hindi ako lumaban!" Sino ang magtatanggol sa kanila?" he added.
The war on drugs, where at least 3,000 suspects have been killed in police operations since last year according to government data, enjoys public support.
Critics and human rights advocates say the actual number of drug-related deaths is much higher, with estimates between 7,000 to 9,000 in May.
READ: 17-year-old's death jolts senators to speak vs killings
'The public has lost its conscience'
The CBCP president also expressed concern on how the public seems to have lost its conscience.
"Bakit kakarampot na lamang ang kababayang naaawa sa mga ulila? Hindi na ba tayo marunong umiyak? Bakit hindi na tayo nasisindak sa tunog ng baril at agos ng dugo sa bangketa?," Villegas asked.
"Bakit walang nagagalit laban sa drogang ipinasok galing Tsina? Bakit ang mga mahihirap na lang lagi ang binabaril at kapag mayamang "malakas sa itaas" ay kailangan muna ng imbestigasyon at affidavit?" he continued.
According to the Philippine Statistics Authority in its "Philippines in Figures 2015" report, more than 92 million Filipinos claimed to be Roman Catholic in 2010.
Villegas emphasized the need for the faithful to repent.
"May pagkukulang tayo sa Diyos kaya may gulo at dugo. May dapat tayong gawing tama upang manumbalik ang paghahari ng Diyos sa ating bayan. Hindi likas sa atin ang matuwa sa patayan," the CBCP president said.
Villegas also announced that from August 22, the Feast of the Queenship of Mary, until November 27, the Feast of Our Lady of Miraculous Medal, the church in Lingayen, Dagupan will continuously ring its church bell at 8 a.m. The bell will ring for 15 minutes as a prayer offering for those who have passed away due to the war on drugs.
"Matanggap nawa nila ang kapayapaang hindi nila naranasan noong sila ay nabubuhay pa," the CBCP president said.
"Ang tunog ng kampana ay tinig ng Diyos na sana ay gumising sa konsensiyang manhid at bulag. Huwag kang papatay! Kasalanan yan! Labag sa batas yan! Yan ang sabi ng kampana!," Villegas said.
"Ang bagting ng kampana ay tawag ng pag gising sa bayang hindi na marunong makiramay sa ulila, nakalimutan ng makiramay at duwag na magalit sa kasamaan. Ang tunog ng kampana ay tawag na ihinto ang pagsang ayon sa patayan!," he added.
'Unite for a common path'
Tagle, who also said the drug war should not divide the Filipinos, urged all the parishes in the Archdiocese of Manila "to mark the nine days from August 21 (Memorial of St. Pope Pius X) to August 29 (Beheading of St. John the Baptist) as time to offer prayers at all masses for the repose of those who have died in this war, for the strength of their families, for the perseverance of those recovering from addiction and the conversion of killers."
"Recall the words of God to Cain who killed his brother Abel, 'Your brother's blood cries out to me from the soil' (Genesis 4:10). Those with sorrowful hearts and awakened consciences may come to your pastors to tell your stories and we will document them for the wider society," Tagle said.
"Given the complexity of the issues, no single individual, group or institution could claim to have the only right response. We need one other. We cannot disregard each other," he said.
Tagle also invited families, national government agencies, local government units, people's organizations, schools, faith-based communities, the medical profession, the police and military, recovering addicts etc. "to come together, listen to each other and chart a common path."
"The illegal drug problem should not be reduced to a political or criminal issue. It is a humanitarian concern that affects all of us. The Archdiocese of Manila would be willing to host such multi-sectoral dialogue," the Manila archbishop said.
READ: Palace sees more dialogue, cooperation with incoming CBCP head