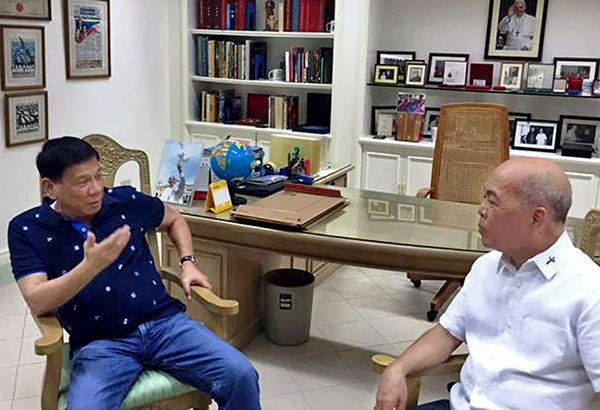 In this Dec. 4, 2015 photo, then presidential candidate Rodrigo Duterte speaks with Davao Archbishop Romulo Valles days after his controversial speech where he complained about Pope Francis' visit in the Philippines. File photo
Palace sees 'more dialogue, cooperation' with incoming CBCP head
MANILA, Philippines -- Malacañang is looking forward to having a "more open" dialogue and cooperation with the Church with the election of Davao archbishop Romulo Valles as president of the Catholic Bishops' Conference of the Philippines (CBCP).
Valles, a friend of President Rodrigo Duterte, was elected president of the bishops' collegial body last Saturday during its 115th plenary assembly at the Pope Pius XII Catholic Center in Manila.
He will replace Lingayen-Dagupan Archbishop Socrates Villegas, who has been critical of the government's bloody crackdown on illegal drugs. Villegas' term will expire on Nov. 30.
Presidential Spokesman Ernesto Abella said the election of the Davao archbishop "signals a new day of peace for a multi-cultural Philippines."
"Our warm congratulations to Archbishop Valles as he leads the Catholic faithful in the country, towards developing a deeper spiritual life and for the Church to have a more open dialogue and cooperation with the government, especially in working for the poor and the marginalized," Abella said in a statement.
Abella said Valles' firm grasp of Mindanao would be beneficial for the country as it seeks to rebuild Marawi City, which has been ravaged by the clashes between government forces and Islamic extremists.
"Archbishop Valles has served Mindanao as a Catholic priest for four decades. His familiarity with Davao and Mindanao would augur well for the country as we promote interfaith dialogue and intercultural understanding as part of our efforts to rebuild Marawi and to transform Mindanao into a land of fulfillment," the presidential spokesman said.
The Roman Catholic Church, the religious affiliation of more than 80 percent of Filipinos, and Duterte has been at odds over several issues including the revival of death penalty and the iron fist approach to the war on illegal drugs.
The Church has criticized the spate of deaths linked to the war on narcotics, believing the killing of drug suspects will not solve the problem.
Bishops have also called on the Duterte administration to respect the sanctity of life and to rehabilitate drug addicts to make them productive members of society.
Duterte responded by badmouthing the Church and accusing members of the clergy of hypocrisy. He also accused members of the clergy of not doing anything to solve the drug menace even if some Catholic parishes have instituted various programs for former addicts.
While Duterte does not hesitate to curse at clergymen who are critical of him, he seems to have a soft spot for Valles, who has been heading the Archdiocese of Davao since February 2012.
In a speech in Tacloban City last Jan. 25, Duterte admitted that he was admonished by Valles for his habitual swearing.
"Bishop Valles in Davao is a businessman. Every time I curse, he asked me to pay P100. I just keep on paying…I said 'Father don't...,' he said 'That was meant to discipline you.' My bishop made a business out of me," the President said in jest.
Valles was also present when Duterte apologized for cursing at Pope Francis two years ago. Duterte called the pope "son of a whore" for causing traffic jam during his historic visit to the Philippines in 2015.
The Davao archbishop also baptized Mark Digong, Duterte's youngest grandson and son of presidential daughter Davao City Mayor Sarah Duterte-Carpio.
Valles favors 'friendly sharing of ideas' with Duterte
In an interview with reporters in Davao City on June 18, 2016, Valles said he and Duterte have a "very okay" relationship.
Asked what would be the best way to engage with Duterte, Valles replied: "I have difficulty describing… I'm just coming from Davao and having observed him, I don't have that fear… But I would say, it seems that friendly sharing of ideas would be good."
"I have not thought of that area, but just offhand, to think of myself also as a sinner, as a friend, like a friend-sinner, that we would journey together," he added.
Valles was interviewed weeks after Duterte called the Catholic Church "the most hypocritical institution" for its supposed failure to correct the wrongdoings of some prelates.
Pressed if he thinks the relationship between the Church and Duterte would improve, Valles said: "I am always hopeful because, with me, I think he considers me as somebody (who is) friendly, his friend…Just like that. I'm just a simple archbishop of Davao."
Valles said Duterte was "very good" and "fair" to everybody when he was mayor of Davao City.